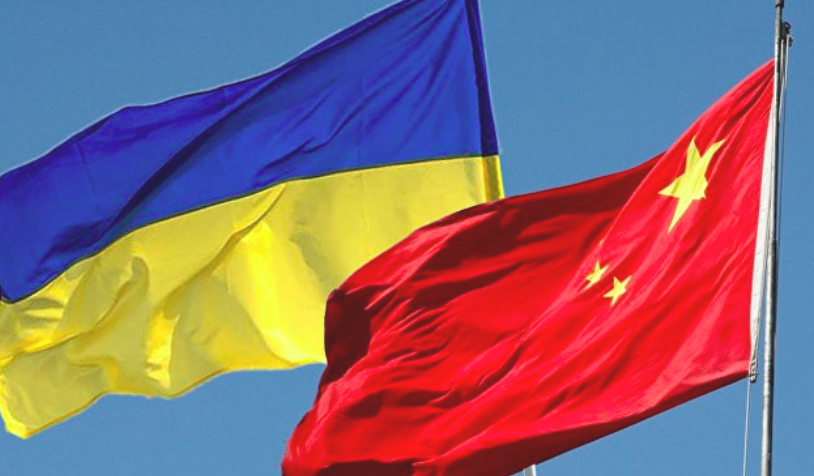 Tuesday, January 14
China Tops Russia for Ukraine Trade...Grain Exports to Grow 8%...Air Passengers up 18.5% to 24 Million in 2019...Zaporizhia To Get Flights to 12 EU Cities...Ukraine Passport Opens Twice as Many Doors as a Decade Ago...Tourism Tax Receipts Double in Kyiv
China displaced Russia last year as Ukraine's top single nation trading partner, according to trade statistics for the first 10 months of the year. China-Ukraine trade was $10.5 billion, 21% more than the Russia-Ukraine trade, which was $8.6 billion. In the last weeks of the Poroshenko administration, bilateral trade sanctions were increased. To duck sanctions, much trade between Russia and Ukraine passes through Belarus. After Germany at $7 billion and Poland at $6.2 billion, Belarus came in as Ukraine's 5th largest trading partner, with $4.4 billion.
Ukraine's grain exports will be up 8% to 54 million tons, the second record year in a row, forecasts the Economic Development, Trade and Agriculture Ministry. During the first half of the current 2019/2020 marketing year, Ukraine's exports were up 32%, to 32 million tons. Measured in million tons, exports were: wheat –15.1; corn – 12.8; and barley 3.8. The 2019 harvest was up 7%, to 75 million tons. With domestic consumption virtually flat, all harvest increases are exported.
Passenger traffic at Ukrainian airports grew by 18.5% y-o-y, to 24.3 million people, reports the State Aviation Service of Ukraine. By comparison, air passenger traffic in 2018 grew by 24.5%, to 20.5 million people. Last year, international travel grew by 20%. It accounted for 90.5% of all air travel in Ukraine.
Kyiv Boryspil increased its passenger traffic by 21.1%, to 15.3 million people. Once again Ukraine's busiest airport, Boryspil handled 63% of the nation's traffic. With the re-opening of Terminal F last spring for international low-cost carriers, Boryspil saw its international traffic increased by 22.2%. Its domestic traffic grew by only 8.3%. To improve airport amenities and to earn more revenue, the State Property Fund announced Monday that it intends to rent at public auction 14 lots in Terminal D and 15 in Terminal F.
Traffic at Kyiv's second airport, Sikorsky, was down 7% last year, to 2.6 million passengers. Traffic suffered with the move by SkyUp and half a dozen airlines last spring to Boryspil's Terminal F. With last weekend's closing of Ernest Airlines, Sikorsky now is essentially a Wizz Airport. The Budapest-based discount airline accounts for 86% of the airport's foreign destinations. Last year, 98% of the traffic out of Sikorsky was international.
With fog frequently diverting flights to Boryspil, Sikorsky's operators want to extend the airport's sole runway by 25%, to almost 3,000 meters. Boryspil has two runways: one 3,500 meters long and the other 4,000 meters. As part of a €100 million expansion plan, Denis Kostrzhevsky, head of the airport's board of directors, has asked Kyiv City to expropriate 12 hectares for an expanded runway and improved navigation systems. Located on the Right Bank, Sikorsky first opened as a military airfield in 1923, almost four decades before Boryspil.
Zaporizhia Airport is to emerge this year as the dominant airport for Ukraine's southeast. In March, the airport opens a $20 million new steel and glass terminal capable of handling one million passengers a year. This follows a resurfacing of the runway last fall. Despite the runway closure for six weeks, Zaporizhia airport recorded an 8% increase in passengers last year, to 434,400.
Timed to the opening of the new terminal, Wizz Air and SkyUp plan to launch service this spring from Zaporizhia to 12 new foreign cities. Today, there are flights to only three foreign cities. At the end of March, Wizz Air launches direct flights to Budapest, Gdansk, Krakow, Vienna, Vilnius, and Wroclaw. In late May, SkyUp plans to base a Boeing in Zaporizhia and start flights to Barcelona, Batumi, Burgas, Lanarca, Rimini and Sharjah. SkyUp already offers flights to Kyiv-Boryspil and Tel Aviv.
A Ukrainian passport gives its holders visa-free travel to 128 countries in the world, double the number of a decade ago, according to the latest ranking by Henley & Partners, a global migration consultancy. By doubling since 2010, Ukraine became the world's sixth-biggest climber in travel freedom over the past decade. Now located in 43rd place, Ukraine is well above Russia, in 51st place.
Kyiv doubled income from its tourist tax in 2019, to $2.6 million. Foreign visitors pay $1.75 per night in tax. It is unclear how much is levied from the estimated 10,000 Airbnb beds in the center of Kyiv. Marina Honda, deputy head of the Kyiv City State Administration, said of the tax revenue surge: "This indicates that Kyiv is becoming more and more interesting for tourists both from Ukraine."
During the first half of 2019, 900,000 foreign tourists visited Kyiv, Honda said. In the summer and fall, this figure was boosted by an advertising campaign with Ryanair that targeted Germany, Ireland and the UK.
Ukraine's government has budgeted $10 million for tourism promotion in 2020. By the fall, a single tourism portal – online and by telephone – will open to help foreign visitors with their trips to Ukraine, says Prime Minister Honcharuk. He says: "It is necessary to create all conditions for increasing the flow of tourists coming to Ukraine." The Culture, Youth and Sports Ministry is setting up a national agency and local tourist information centers in the regions.
By spring, Ukraine's first three Tesla Supercharger stations should open, probably on the Kyiv-Lviv highway, reports Nazar Shimon-David, head of Tesla Club Ukraine. The latest model can give Tesla another 120km of driving power in five minutes.
Ukrainians registered 7,542 additional electric vehicles last year, a 42% jump over 2018, reports UkrAutoProm, the car industry association. Of the 7,012 passenger cars, 92% were used imports. The average age was four years. Nissan Leaf accounted for almost half of new registrations. Of the nearly 500,000 new registrations of cars in Ukraine last year, electric cars represented only 1.4%.
Kyiv Metro ridership was virtually unchanged last year, with the system selling almost half a billion fares. The ranking of the three lines also is unchanged: Redline – 203 million rides; Blue line – 173 million; and Greenline – 119 million. The busiest and least used stations of the 52 in the system were both on the Redline. Akademmistechko, the line's Western terminus, handled 21.3 million passengers.  Dnipro handled 939,000.
From the Editor: It's lucky that most foreign tourists can't read Ukrainian. At the metro station for Golden Gate, a jumping-off point for Kyiv's historic core, a sign informs riders that an escalator is undergoing a three-month repair (!) At Boryspil, tourists pass a parking garage that took a decade to build. At TSUM, they see a pedestrian passage under Kreschatyk that has been closed since May. Why, 30 years after the collapse of communism, is such incompetence by government workers tolerated? With best regards Jim Brooke jbrooke@ubn.news