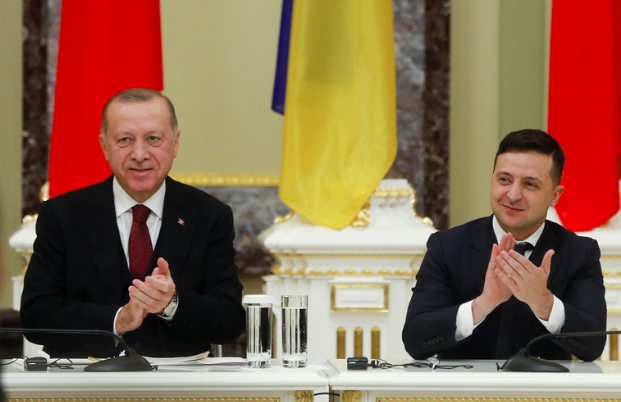 Tuesday, February 4
Presidents Energize Turkey-Ukraine FTA...Vodaphone Bond Deal 6 Times Oversubscribed...SMEs Jump for Cheap Money...Rivers of Grain Flow Through Black Sea Ports...Discount Air Revolution: Ukrainians Flying to Poland Triple...UIA Cuts Airplane Fleet by 20%
Aiming to double Turkey-Ukraine trade to $10 billion by 2023, the presidents of both countries placed a priority Monday on completing a bilateral free trade agreement. "I hope we will be able to report good news very soon," Turkish President Recep Tayyip Erdogan told a bilateral business forum in Kyiv. President Zelenskiy expressed similar urgency to wrap up the 10-year-old negotiations, saying: "We have agreed to give impetus to our representatives working on the text of the free trade agreement…This will give an impetus in many areas: agriculture and food industry, housing, energy and energy efficiency, transport and tourism."
Addressing dozens of Turkish business leaders, Zelenskiy appealed for Turkish investment in privatization and infrastructure concessions. "One of our priorities is the large-scale modernization of infrastructure – roads, airports and seaports, the launch of river transport," he said. "Now we are preparing new competitions at airports and seaports, as well as concession road projects." Determined to turn around Ukraine, Zelenskiy said: "Ukraine should be covered by an avalanche of investments, both foreign and domestic."
Urging Turks to look across the Black Sea, Zelenskiy called for investment in tourism projects in Kherson and Odesa. Erdogan said Turkish companies have $3 billion invested in Ukraine. Last year, 217,000 Turks visited Ukraine. In return, 1.5 million Ukrainian tourists visited Turkey, 12% more than in 2018. This is equivalent of 4% of Ukraine's population. Building on the existing no-passport travel regime between the two countries, officials signed Monday a bilateral deal allowing for mutual recognition of driver's licenses.
Vodaphone Ukraine placed $500 million worth of 5-year Eurobonds at 6.2% per annum, reports Interfax-Ukraine. Reflecting strong foreign investor demand for Ukrainian bonds, the placement was six times oversubscribed, with $3 billion in demand. In addition, the yield was 300 basis points below a €90 million Eurobond placed nine months ago by Vodaphone. Last week's roadshow was led by J.P. Morgan and Raiffeisen Bank International. In December, these two banks helped finance a $464 million bridge loan, allowing Azerbaijan's Bakcell to buy the Vodaphone unit, Ukraine's second largest mobile operator, after Kyiv Star.
Ukraine's entrepreneurs respond to cheap credit. Almost 17,000 small and medium businesses signed up for the government new "Credits 5-7-9%" — before the program was launched Monday. Prime Minister Honcharuk writes on Facebook: "No exaggeration: Ukrainian small businesses were waiting for this program. Already before the official launch we received almost 17 thousand preliminary applications."
Through 2024, the program is to funnel $1.2 billion to SMEs. This year, 50,000 loans are expected to be given out, largely by three big state banks: Ukrgasbank, Oschadbank and PrivatBank. Terms are: up to 5 years and up to $60,000. The interest rate varies according to the number of jobs to be created. For the first year, interest rates are subsidized by $80 million from the Finance Ministry and €10 million from the German-Ukrainian Fund, or NUF.
The program could become redundant if the National Bank of Ukraine meets its target of cutting Ukraine's prime rate to 7% by year end. Honcharuk said: "In the coming years, it may not be necessary for such a program, because the cost of credit in the markets will be 7-9%. With 4% inflation, this is a completely real story." Until then, PrivatBank and Oschadbank officials say they are processing 200 loan applications a day.
Today, Nova Poshta starts construction of its latest automated sorting center – a 4,000 square meter depot in Bila Tserkva, 75 km south of Kyiv's Ring Road. At the same, Nova Poshta is building in Kharkiv, a heavily automated sorting and cargo center. Equipped with Dutch sorting machinery and robots, this center should be ready in September. Last September, Nova Poshta opened a similar center in Lviv.
Ukraine's farmer harvested a record 75 million tons of grain last year, up 7.2% from 2018, reports the Economic Development, Trade and Agriculture Ministry. While corn was flat at 35.8 million tons, wheat was up 15%, to 28.3 million tons, and barley was up 21%, to 8.9 million tons. In the first seven months of the grain marketing year, Ukraine exported 36.3 million tons, up 30% from the prior July-January period.
Remittances from Ukrainians working outside the country grew 12% y-o-y last year, to $12.9 billion, reports the National Bank of Ukraine. This volume of money offset Ukraine's $12.1 billion 2019 trade deficit. In the last week, the central bank registered two new money transfer systems: Pay Place Ukraine and NovaPay, a unit of Nova Poshta. There are now 31 registered payment systems in Ukraine.
As discount airlines change Ukrainian travel habits, the number of Ukrainians flying to Poland has more than tripled in three years, reports Europe Without Barriers, a Kyiv-based NGO. Last year, 700,000 Ukrainians flew to Poland, up from 204,000 in 2017. With four airlines flying between Kyiv's two airports and Poland, it is now possible to fly from Kyiv to eight Polish cities.
Szczecin, Poland is lobbying to win direct flights to Ukraine. The fear is that Germany, 15 km to the west, will lure away Szczecin's Ukrainian workers, reports Rynek Lotniczy, Poland's aviation market magazine. Germany is adopting laws to ease immigration of skilled non-EU workers, moves that worry Western Pomeranian employers. Ukrainians account for about 20,000 workers in this Baltic seaport of 400,000 people. Known as Stettin in German, Szczecin is a 15-hour bus ride from Kyiv.
Iran's Civil Aviation Organization has stopped cooperating with Ukraine in its investigation into the Jan. 8 downing of the UIA passenger jet by Iranian missiles. The Civil Aviation investigations director complained that Ukrainian media posted Sunday a recording of a pre-dawn conversation between Tehran airport's control tower and a pilot landing a domestic flight. "Flares on route, as if from a missile," reports the pilot of an Aseman Airlines flight from Shiraz to Tehran. "That surely is light from a missile," the pilot said. Later, he adds: "We saw an explosion, a big flare from the explosion."
For the next three days, Iran's Civil Aviation Organization director flatly denied that Iranian missiles downed the plane. Last Sunday, Ukraine's President Zelenskiy said Iran should hand over the plane's black boxes. He also told Ukraine's 1+1 Channel TV that he is rejecting Iran's offer of $80,000 compensation for each of the 11 dead Ukrainians. "It is not enough," he said. Saying he will sue in an international court, he said: "We will press for bigger compensation."
Including the loss of the Boeing 737 over Tehran, UIA's fleet is shrinking this year by 20%, to 34 aircraft, UIA President Yevhenii Dykhne tells avianews.com. Before coronavirus, UIA was phasing out its China flights as non-competitive. After the Tehran shootdown, Ukraine ordered all Ukrainian flag carriers to fly around Iraq and Iran. With flights to Dubai and Bangkok no longer competitive, UIA stops flying to Bangkok in mid-March.
From the Editor: Apologies to readers for the delay in delivery of yesterday morning's UBN to your email inboxes. Over in New York, Andrew Pryma's computer suffered a meltdown Sunday night. Best Regards, Jim Brooke jbrooke@ubn.news