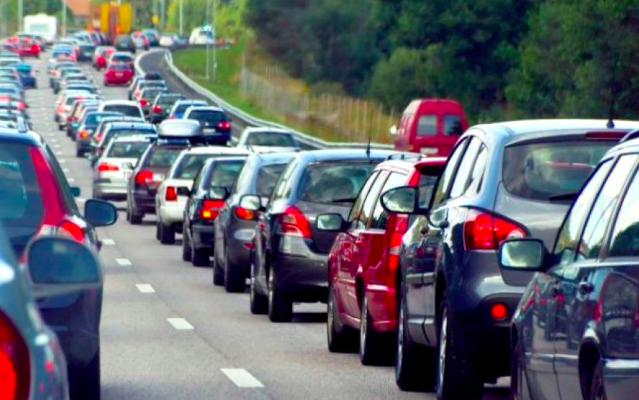 A $500 million windfall in duty payments on illegally imported cars will help fund an election month bonus for the nation's 10 million pensioners.
 On Friday night, a 90-day window closed for 50% duty discounts on cars illegally imported from the EU. Instead of a forecast $37 million in duties, owners of 218,000 cars paid the hryvnia equivalent of half a billion dollars. The State Fiscal Service says the top paying areas were Kyiv and the four westernmost regions: Volyn, Lviv, Zakarpattia, and Chernivtsi. Owners of cars in violation now have until May 23 to pay the full duty. After that, they face a $6,000 fine. The Finance Ministry suggests remaining violators drive their cars back to the EU, or sell them here for parts.
 The $500 million windfall, Social Policy Minister Andrei Reva announced Monday, will be channeled to the nation's 1.9 million pensioners who receive the smallest pensions. Before the March 31 presidential election, each is to receive a $90 bonus. The remaining $339 million will help fund across board pension hikes to be received by all 10 million pensioners, also in early March.
 President Poroshenko responded hotly to critics who call this cash infusion to elderly voters a "bribe." "Yes, we will, over the next five years, as part of our fight against poverty, bribe pensioners, increase their pensions, for working people, increase their wages, for large families, increase their benefits – this is our strategy to fight poverty," he said Monday at a televised meeting of the Pension Fund.
Chickens to Ghana, eggs to Singapore, milk to Macedonia, and sheep to the Emirates – these are some of the 85 new markets developed last year for Ukraine's food exports. "Last year, our country expanded the geography of our products exports and the number of enterprises that received the right to export food of animal origin increased as well," said Volodymyr Lapa, Head of Ukraine's Food Safety and Consumer Protection agency. "This allowed to level the economic impact of the loss of the market of the Russian Federation and contributed to raising the level of Ukraine as reliable trading partner." Last year, Ukraine's food exports to the EU grew by 8.7% y-o-y to $6.3 billion.
Ukraine's grain exports should be up 23% this marketing year over 2017-2018 levels, Elena Kovaleva, deputy minister of Agrarian Policy and Food, said Monday in Geneva at the annual meeting of the Rapid Response Forum of the Agricultural Marketing Information System. Encompassing producing and consuming countries of corn, rice, soybeans and wheat, the forum promote policy coordination for food crises. "Ukraine remains a stable, reliable partner and exporter of agricultural products," Kovaleva said. Raising her ministry's forecast by 4%, she said: "In this marketing year, we expect that grain exports from Ukraine will reach 49 million tons."
Ukrainian wheat exporters could see an opening this year in Indonesia, the northern neighbor of Australia, reports UkrAgroConsult. During the last half of 2018, Australia, Indonesia's traditional source, saw its wheat exports drop by 41% y-o-y. Due to a drought, Australia's wheat harvest may be down 20% in the marketing year ending in June. The latest forecast is 17 million tons, the lowest in a decade.
Corteva Agriscience, the agricultural division of DowDuPont Inc., has achieved a 21% market share of Ukraine's corn seed market and 16% of its sunflower seed market, says Serhiy Kharin, head of Corteva's Eastern Europe division. He cited a survey of Ukrainian farmers conducted last year for the Kleffman Group, a Germany-based agricultural market research company. Over the last five years, Corteva has invested heavily in its Ukraine production complex, attaining full capacity in 2017: 500,000 corn seeds per year, and 250,000 sunflower seeds per year.
In a step toward food processing, Mover Mill LLC has opened a $4 million mill capable of producing 350 tons of flour, semolina or bran a day. The mill is located in the village of Kryvi Kolina, Cherkasy region, 250 km south of Kyiv. Despite the government's push to add value to agricultural exports through processing, exports of Ukrainian flour were down 54% July-November, compared to the same period in 2017. According to UkrAgroConsult, Ukraine exported 94,300 tons of flour during that period, the lowest in five years.
"Individual entrepreneurs," a low-tax status enjoyed by about 130,000 Ukrainian IT workers is threatened by a draft law prepared by the Social Policy ministry, according to a report by OpenDataBot. Since 2015, the number of IT 'individual entrepreneurs' increased by 45%. They generally pay a 5% income tax rate, a rate credited with cutting Ukraine's IT brain drain to the EU. This year's elections may decide the future of this low tax rate.
High speed internet should be provided across Ukraine, wherever there is electricity, President Poroshenko said in Lviv. Campaigning for a second, five-year term, he said: "The internet over the next five years should be everywhere where there is electricity. Broadband in every village…How will we train IT, specialists, if there is no internet in rural areas?" In Lviv, IT companies are growing so fast they recruit software engineers from Belarus and Moldova.
"Chinese investors" plan to work with Ukraine's government in a $100 million plan to develop Motor Sich air engine factory and its design affiliate, Ivchenko-Progress, both in Zaporizhia,  Delo.ua reports, citing Yuriy Brovchenko, deputy minister of Economic Development and Trade. Last September, citing national security concerns, the State Security Service, or SBU, blocked a $100 million bid by Beijing's Skyrizon Aviation to take a controlling state in Motor Sich. In a move opposed by the US and Japan, China wants to learn how to make Motor Sich turbofan engines for its own military helicopter, cargo and trainer aircraft. Anatoly Malysh, head of the Motor Sich Supervisory Board, later told Interfax-Ukraine that he does not know of any state investment plans.
Dragon Capital writes: "Confirmation of a budget to finance the company and a firm statement by a government official about joint investment with the Chinese could mean that legal pressure on Motor Sich from [Ukrainian] state authorities may ease soon."