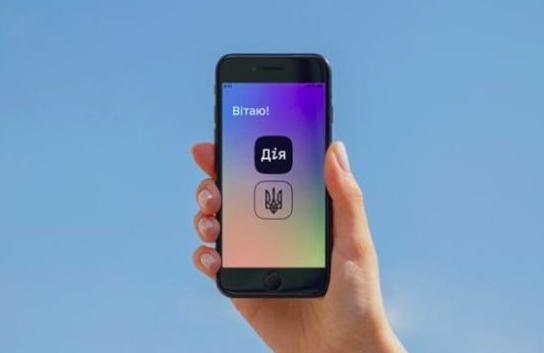 Tuesday, February 25
Business-in-Smartphone Revolution….Vodafone brings 4G to Kyiv Metro….Grain Exports up 4x last Decade….Capital Investments Up….Tech Solutions to Construction Sector….Home-grown Startups Awarded Grants….Airports Prepare for Coronavirus….Support for Zelenskiy Slides..
The Digital Transformation Ministry launches Diya.Biznes, a smartphone app designed to transform creating and maintaining a business. On Telegram, Digital officials say the app will be a tool where "every small and medium-sized business owner will find important information: ideas, a list of services and support programs from the state, as well as be able to get professional business advice." According to the World Bank's Doing Business 2020 study, Ukraine lags behind Russia, Belarus, and Kazakhstan
Vodafone successfully tests 4G communications infrastructure in Kyiv's metro. "All services are working and the network is ready to receive the Internet traffic of our subscribers,"  Andrey Bolshakov, deputy general director of Vodafone Ukraine, said of tests conducted Monday.
Ukraine quadrupled grain exports in the last decade, according to Mykola Pugachev deputy director of the National Scientific Center's Institute of Agrarian Economics. In 2019, 56.7 million tons of grain were exported to foreign markets – four times more than in 2010 and 36% more than in 2018. Egypt, China, Spain, Turkey, Bangladesh were the top five purchasers of Ukraine's grain exports in 2019.
The most recognizable home-grown Ukrainian brands? ATB, Silpo, Lvivske beer, Morshynska water, and Intertop fashion make the list by The Power of Money magazine.
Construction permitting will be visible to all online, according to the State Architectural and Construction Inspectorate. It says: "From now on, town planning entities and the public will have the opportunity to personally monitor the work of the commission and the basis on which documents decisions are made to grant a permit or refusal."
Digital Transformation Minister Mykhailo Fedorov joins the fight against corruption in the construction sector. "Very soon, all construction services will become automatic and electronic," he writes on Facebook. "For two months, bandits, who have earned billions of hryvnia for years on bribes and are already suffering heavy losses from the first steps of digitization, are trying to deceive and discredit the [Ministry]."
A farmland market is not a precondition for an IMF deal, says Economy Minister Timofei Milovanov. "The IMF is important because it certifies for investors that the economic policy of the government is correct. For this, we essentially need a program."
The state should support high-tech industries, Milovanov says on Ukraine 24. "We will provide such support somewhere, maybe on a competitive basis. It must be effective. It is not subsidies, it is state support of those who are the most promising for us."
Ukraine will cut government subsidies to farmers, says Taras Vysotksy, deputy Economy Minister. In 2020, the maximum financial support that can be disbursed to any one entity will be $2 million.  Among the major food exporters, Ukraine has among the lowest farm subsidies.
Eight Ukrainian startups won grants worth a total of $360,500. Companies include IT, retail, fashion, and non-profit startups. The country's Startup Fund is a government fund baimed at ientifying and nurturing promising domestic tech companies.
Capital investments increased by 15.5% in 2019, reports Interfax-UA citing the State Statistics Service. The regions attracting the most investment are Volyn, Kherson, Mykolaiv, Poltava, and Kyiv.
Due to mild weather and over supply in Europe, Naftogaz will charge 37% less for gas this month than one year ago, the state oil and gas company says.
Dnipro city has Ukraine's most expensive urban utilities charges, according to a study by Liga.net. Other cities in the top 10 are: Rivne, Ternopil, Chernihiv, Kyiv, Mariupol, Kharkiv and Mykolaiv.
Moldova bans Ukrainian poultry and egg products to prevent the potential spread of the bird flu, reports Ukraine's Ministry of Economic Development, Trade. Earlier this week, China place a temporary ban on Ukrainian poultry imports for the same reasons..
Ukraine expands flight quotas with Turkey, reports Ukraine's State Aviation Service of Ukraine. As part of the February 2020 high-level negotiations in Ankara, restrictions on freight transportation will be lifted.
Ukraine's airports are implementing tight screening procedures for all passengers arriving from any country with a Coronavirus outbreak, Prime Minister Oleksiy Honcharuk said at a press conference on Monday. Previously only arrivals from Asian countries with confirmed cases of the outbreak were checked. A new focus for controls are flights to and from Italy.
Zelenskiy's Servant of the People party faces headwinds as public support slides. In a February poll by the Razumkov Center, 51.5% of respondents expressed confidence in the president – down from 79% in September. Of respondents, 28% said they trust the Rada – down from 57% in September.
From Editor: Dear Readers, Ukraine Business News are published in four languages English, Russian, German and Ukrainian. Best Regards James Brooke jbrooke@ubn.news