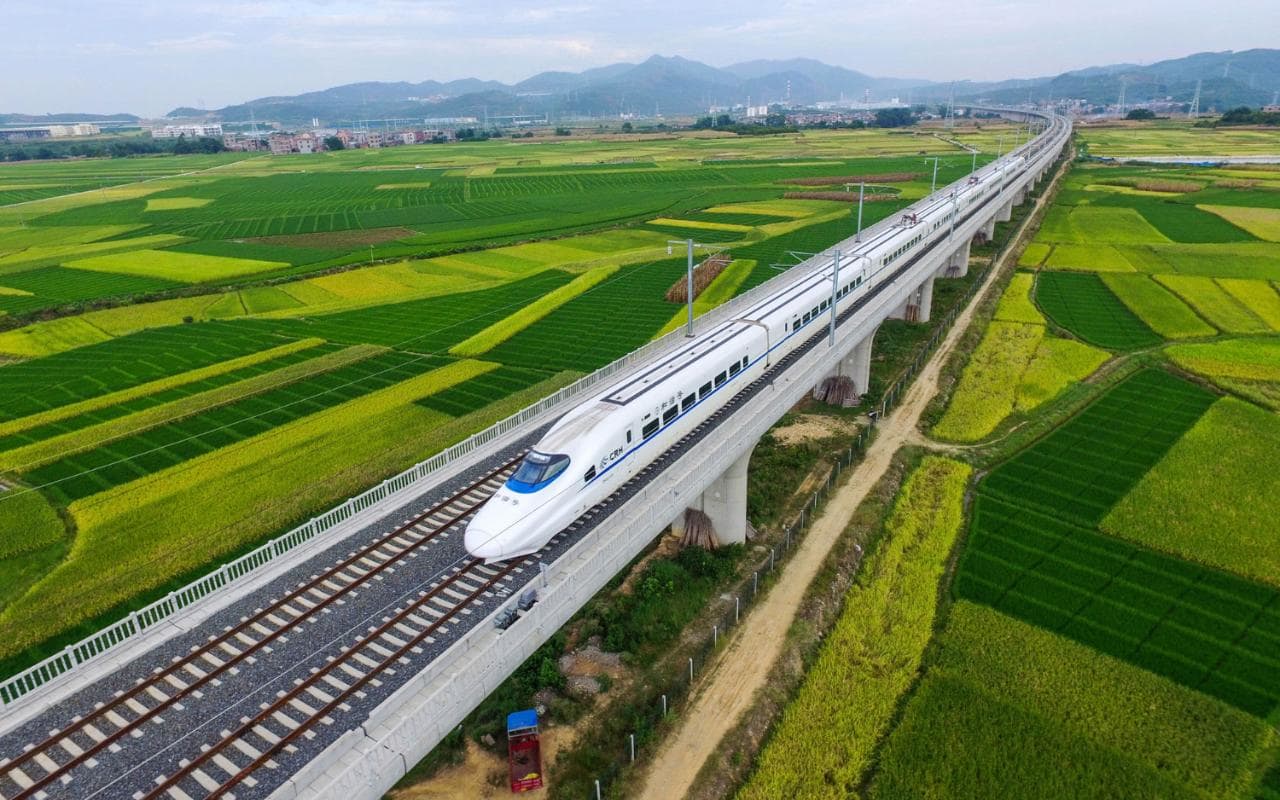 Tuesday, February 23
Goal: Lviv to Kharkiv by Bullet Train in 4 Hours…South Korea's Hyundai Wants to Build It…New Airports for Donbas, Zakarpattia…To Boost Domestic Flights: a State Airline, Antonovs and No VAT…Ze: IMF Money by Year End…Health Min: Vaccines by Weekend
Construction starts this year on the first leg of a planned network of high speed, European gauge tracks across Ukraine, Infrastructure Minister Vladyslav Krikliy told a national infrastructure conference yesterday. At buildout of the 2,000 km network, it will be possible to travel from Lviv to Kharkiv at speeds up to 250 km an hour, completing the trip in "3-4 hours" promised President Zelenskiy. Currently, this 1,000 km trip takes 14 hours by car or by InterCity fast trains.
The first step will be to start building this year of 80 km of EU gauge tracks from the Polish border to western Lviv's Sknilov station, near Lviv airport. This would allow travel from Poland to Lviv without delays associated with the gauge change at the border. As outlined yesterday, Ukraine's high speed rail network would radiate out of the capital: Kyiv-Lviv-Polish border; Kyiv-Odesa; Kyiv-Kharkiv; and Kyiv-Dnipro-Zaporozhia. By the end of this decade, the network is to have 39 trains carrying 5 million passengers a year.
South Korea's Hyundai Corp. is ready to start negotiating with South Korea's government and multilateral lenders to win financing for a major part of track construction and for 10 high speed trains, Eun Soo Choi, Hyundai's vice president for commercial transport, told the Infrastructure forum. "We are ready to provide financing for several projects," he said in a video address. He said that Hyundai will spend $2 million for a pre-feasability study for the high speed rail network. Next month, Ukrzaliznytsia and Infrastructure Ministry officials are to travel to South Korea to advance discussions.
Ukraine plans to launch a state-owned national airline by the end of this year, Kyrylo Tymoshenko, deputy presidential chief of staff, told reporters yesterday at the infrastructure forum. "We have an ambitious goal of creating a state air carrier," he said.  "Ukraine will receive an understandable state national air carrier that can solve not only tourism issues, but also state issues."
For domestic flights, the airline would use Antonov jets, which are not accepted in the EU. To promote, regional air travel Tymoshenko vowed to follow through on the government's promise to abolish the VAT tax on tickets for domestic flights.
The location of a new airport for Ukraine-controlled Donbas is to be decided this year, President Zelenskiy said yesterday. After seven years of war, the government wants to return air travel to the region. "We could open the Mariupol airport, restore and renovate it, but today the military say that it is dangerous," Zelensky told reporters. Berdyansk and Zaporizhia airports are too far from the Donbas. Other options would be to upgrade Kramatorsk airport in Donetsk or Severodonetsk airports in Luhansk. Both airports are only used by the military and may be considered too close to the front lines for civil aviation.
Zakarpattia's new airport will probably be in Seredenje, a farming town of 4,000 people, midway between the region's two most populous cities, Uzhgorod, the capital, and Mukachevo. Uzhgorod's airport borders on Slovakia, creating air traffic control problems. Mukachevo has an abandoned Soviet-era air strip. The Seredenje compromise means that about 250,000 people would be within a 45-minute drive of the regional airport.
An international brand hotel will soon replace the long-shuttered hotel Odesa at the city's cruise passenger terminal, Tymoshenko, the deputy presidential chief of staff, said yesterday. Opened in 2001, the 158-room hotel on a wharf jetting into the Black Sea was first run by the Kempinski Hotel Group. It closed in 2014 with the suspension of cruise ship port calls to Odesa. Tymoshenko said: "There is already an investor. The final stage is underway."
UAE companies "are talking about a big project – the construction of a large marina in Odesa and a large separate port," President Zelenskiy said yesterday, fresh from a 2-day working visit to the United Arab Emirates. One company comes to Ukraine this week to talk about investing in river ports, he said. Last summer, Dubai's DP World bought a 51% stake in the TIS Container Terminal in Ukraine's biggest port, Yuzhne, 40 km east of Odesa city.
President Zelenskiy said he is 'confident' that Ukraine will get IMF funds by the end of this year. If a deal cannot be reached on the remaining $2.9 billion, "there is plan B, plan C," he told reporters yesterday at the Ukraine 30. Infrastructure Forum. He blamed the pause in talks declared by the IMF 10 days ago on "a lot of lobbyists who are individually working with the IMF and telling them what's going on in Ukraine. They say: 'Oh, things are so horrible here! If only we were (in power), we would have done better'."
From London, Timothy Ash speculates that delays in receiving tranches from the $5 billion program could be because Ukraine's government knows it can borrow at low rates in international markets while it gambles that the Biden administration will eventually lean on the IMF to soften its conditions. Key conditions for a resumption of IMF disbursements are purges of the Higher Court of Judges and the Constitutional Court, steps seen as essential for building a judicial system that investors would trust.
"Zelenskiy needs to understand that the Fund is in the end a creditor," writes Ash, senior emerging market strategist at BlueBay Asset Management. "It sets the terms, as it is lending the money at a discount interest rate…With yields on Ukrainian Eurobonds already 60-70 bps higher over the past few weeks, maybe it would be opportune for the Ministry of Finance to return to market sooner, rather than later."
With the first 500,000 coronavirus vaccines expected to arrive in Ukraine from India this weekend, Health Minister Maksym Stepanov sketched out yesterday the latest information on future deliveries:
15 million doses of the Novavax/AstraZeneca from India's Serum Institute
8 million doses under the global COVAX program for poorer countries.
9 million doses of Sinovac vaccines from China
Ukraine's goal is to vaccinate half of the adult population – about 15 million people – by the end of this year. Ukraine's EU land neighbors – Poland, Slovakia, Hungary and Romania — have already vaccinated 7% of their populations.
Editor's Note: Aside from a few snippets of track leftover from the Hapsburg Empire, all of Ukraine's 20,000 km of track are wide, Soviet gauge — a carryover from Russian railroad construction of the Czarist era. Fearful of overnight invasion by their neighbors, 19th century strategists the world over built track systems with different gauges. Brazil feared invasion from Argentina. Russia feared invasion from China. In west of today's Ukraine, the Russian and Hapsburg Empires put their mistrust into track widths. So, it is geopolitically significant that Ukrzaliznytsia plans to start laying EU 'narrow' gauge track in Ukraine this summer. With Best Regards Jim Brooke