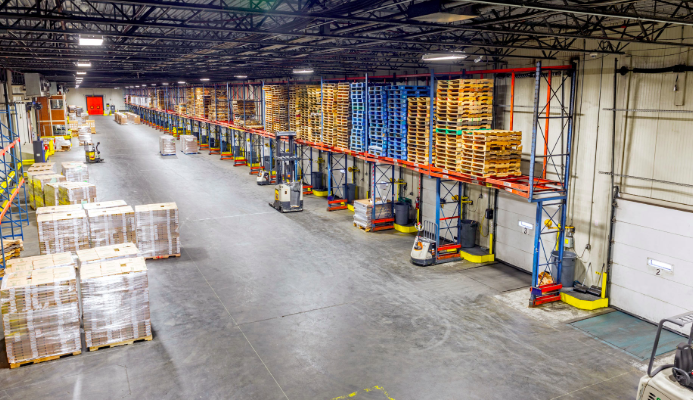 Tuesday, February 19
Dragon Buys Another Warehouse As Vacancies Hit 'Zero'…Kyiv Region To Gain a Cargo Airport: Bila Tserkva…Jackpot from EU Car Imports Will Fund Election Season Pension Hike…Online Ads up 40%...airBaltic Doubles Kyiv-Riga Seats in Bid for Moscow Traffic
Dragon Capital has bought a cold storage warehouse complex on western Kyiv's Ring Road, raising the investment company's warehouse holdings to 300,000 square meters. With the purchase of the Arktika warehouse, "logistics space will constitute 48% of our total commercial property portfolio," says Volodymyr Tymochko, Dragon's managing director for private equity. "Ongoing growth in demand for warehouses, fueled by the expansion of offline and online retailers, is making this particular real estate segment attractive for investment."  Last week at Dragon's annual investor conference, Tomas Fiala, Dragon's CEO, said: "In logistics and retail — not only in Kyiv but across the country — vacancies are close to zero, which we last saw in 2007–2008."
After opening five stores on Kyiv's right bank last year, Rozetka.ua, Ukraine's largest online store, now finds it cannot find warehouse space. "Ukraine is growing fast enough – this is good – but the problem is that the infrastructure is not keeping up with such growth," Vladislav Chechetkin, co-owner of Rozetka, tells Interfax-Ukraine. "The vacancy of the warehouses is zero. Therefore, if you want a warehouse on the right bank, this means that you have to find (land), get approval, permission to build … is a significant time lag." Two years ago, Rozetka bought a warehouse on Kyiv's left bank. Although that space is full, the retailer plans to open a sixth Kyiv store this year, on the left bank.
This fall, Kyiv region gains a cargo airport with the opening of international passport and customs controls at Bila Tserkva Airport, Infrastructure Minister Volodymyr Omelyan announced Monday.  Belotserkovsky Cargo Aviation Complex, a new municipal enterprise, plans to handle cargo at the airport, one hour by truck from Kyiv's circle highway. The airport's new international status also will allow expansion of its existing jet maintenance and repair business. After Kyiv's Boryspil was unable suspended air cargo deliveries during the Christmas period, Omelyan decided to fast track the opening of Bila Tserkva and to push Boryspil to start construction this spring on a new air cargo terminal.
Ukraine has passed the halfway marker in implementing the massive EU-Ukraine Association Agreement of 2017, according to Ivanna Klympush-Tsintsadze, deputy prime minister for European Integration. This year's priority sectors for harmonizing laws and rules are: judiciary, energy, customs, and the digital market. Of the overall task of shifting Ukraine from Russian and Soviet standards, the work is 52% done, she told a Kyiv conference reviewing the Agreement. Hugues Mingarelli, EU ambassador, said: "There are areas where progress has been very, very limited: customs, taxation, transport, intellectual property rights."
Over 15,000 Ukrainian companies have qualified to export to the EU. This business battalion expanded Ukraine's EU exports by two thirds since the Maidan – from 25% in 2014 to 42% last year. According to the EU-Ukraine conference, the main buyers are Ukraine's exports are: Poland – 17%; Italy – 14%; Germany – 10%; Hungary – 8%; and the Netherlands – 8%.
About 70 Ukrainian food exporters are participating through Thursday in Gulfood, a Dubai gathering that claims to be 'the world's largest food trade show.' Ukrainian food exports are growing to Egypt, North Africa, and the Persian Gulf – regions unable to feed their growing populations. Agrarian Fund, the Ukrainian state food trading company, reports on Facebook that its stand features buckwheat, wheat flour, and whole peas. The international trade fair is to draw 100,000 visitors, largely business representatives.
 Soy oil, long overshadowed by Ukraine's sunflower giant, achieved record exports last year — 215,000 tons, reports the Agrarian Economics Institute. By contrast, sunflower oil exports were 26 times greater — 5.6 million tons. Last fall, both crops had record harvests: soy up 13% to 4.4 million tons, and sunflower seeds up 12% to 13.6 million tons. Vegetable oils and seeds accounted for one third of Ukraine's 2018 farm exports, reports the Ministry of Agrarian Policy and Food.
Ukrainian pensions will increase by 17-20% on March 1 – 30 days before the first round of the presidential elections. Pavel Rozenko, a vice prime minister, tells President Poroshenko's Channel 5 TV that March 1 will now be the annual date for pension increases. Much of this year's increase comes from $400 million in custom duties paid over the last 10 weeks by car owners regularizing 200,000 cars illegally imported from the EU. With the import duty amnesty to expire Friday, President Poroshenko said Monday that the state treasury has received 10 times more money than expected.
Net hryvnia loans to individuals increased by 34% last year, reports the National Bank of Ukraine. For comparison, the hryvnia inflation rate last year was 9.8%. In the banking system, nonperforming loans account for 53% of loans. Of this group, 83% are held by state and Russian banks in Ukraine.
Canada's Fairfax Financial Holdings has bought France's AXA Insurance (Kiev) for $16 million. In Ukraine's insurance market since 2007, AXA has 780 employees and 1,220 agents in Ukraine. At the end of last year, the company collected $68 million in insurance premiums. Toronto-based Fairfax has $65 billion in total assets and an investment portfolio of $39 billion.
Ukraine's online advertising grew by 40% last year, to $125 million, reports the Ukrainian Internet Association. In-stream video totaled 42% of spending, banners for 37%, in-page video for 9%, 'non-standard solutions' for 7%, and sponsorships for 5%. Social media and instant messaging platforms accounted for 34.5% of the ad spend, up from 26% in 2017.
Russian Railways is asking Russia's government to temporarily lift a ban on the import of locomotives engines and generators from Ukraine, reports Belprauda, a Belarussian news site. The railroad asked Russia's Industry and Trade Ministry exemption from Moscow's Dec. 29 ban on the Ukrainian-made parts until Russian manufacturers learn how to make their own. Separately, Russian rail car manufacturers, barred from buying Ukrainian wheels, are turning to two Chinese companies to supply 400,000 wheels through 2022, reports Kyiv's Center for Transportation Strategies.
 Next month, airBaltic will double its weekly airplane seats — to 5,760 — between Kyiv Boryspil and Riga, the largest airport in the Baltics. By shifting from Bombardier regional turboprops to Boeing 737 jets and increasing frequencies to three a day, airBaltic takes aim at the lucrative Ukraine-Russia transfer traffic developed by Belarus' Belavia. Last year, Belavia increased its flights between Minsk and Kyiv by 10%, becoming Ukraine's second largest foreign carrier, after Turkish Airlines. In a codeshare with Aeroflot, airBaltic offers up to eight flights a day from Riga to Moscow. This is Riga airport's second busiest route, after London. On April 1, airBaltic starts service from Lviv to Riga. On March 2, Wizz Air starts flights from Kyiv Sikorsky to Riga.