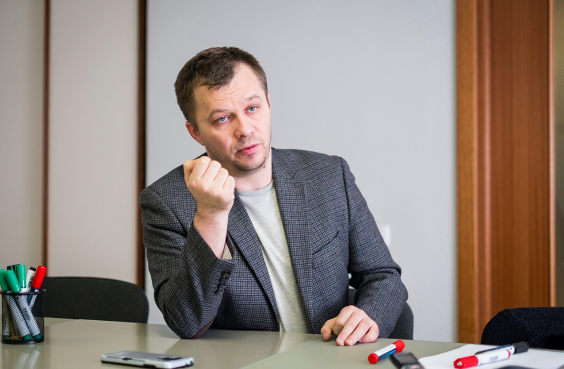 Tuesday, February 18
Goal: Double FDI This Year...Seaports for Sale...Next for Concessions: Hospitals and Universities?...One Quarter of Ukraine's Economy is Off the Books...US-Ukraine Rocket Reaches Space Station Today...Back on Earth, Domestic Flights to Conquer Ukraine's Wide Open Spaces
The government aims to draw $5 billion in foreign direct investment this year – double last year's level, Timofei Milovanov, Minister of Economic Development, Trade and Agriculture, said Monday at the presentation of a Zelenskiy road map – 'Economic Strategy: Growth through Investment.' Keys will be: investments in infrastructure, implementation of Ukraine's nearly 50 industrial parks, and building the rule of law. Hot investment sectors will be: farming, IT, energy, chemicals, pharmaceuticals, the space industry and food processing.
To trim the Soviet legacy of state companies, the government plans to sell five 'big' companies and more than 300 'small' ones, according to the official Economic Strategy blueprint. A 'big company is valued over $10 million. Investors could be eligible for a 5-year corporate income tax exemption. The government hopes to earn $500 million through state company sales this year. Last year, small scale privatizations bought in $33 million.
Ukraine plans to put up for sale three small seaports:  Skadovsk, in Kherson, facing Crimea; and two in western Odesa region — Bilhorod-Dnistrovskyi, on the Dnistr estuary; and Ust-Dunaisk, on the Danube River delta. Infrastructure Minister Vladyslav Krikliy told NV Biznes: "It is unlikely that anyone will go there for concession. They are very unprofitable. They no longer have enough money for the payroll." Last month, foreign companies won tenders for concessions to run two seaports – Kherson and Olvia.
Hospitals and universities could eventually be put up for concession, Minister Milovanov said Monday. He told reporters: "For concessions, we have packages of ports, airports and train stations. In the future, I think it is possible to talk about hospitals and universities."
Eleven private banks want to join four state banks in participating in the "5-7-9%" program to extend low interest loans of up to $60,000 small and medium businesses. In the first two weeks of the program, the four state banks – Oschadbank, Privatbank, Ukrgasbank and Ukreximbank – received about 1,500 applications and issued $1 million in loans, reports Economy Minister Milovanov. Under the formula, the more jobs created, the lower the interest rate. This year, 50,000 entrepreneurs are to borrow from an $800 million fund. Private banks applying to join the program are: FUIB, Raiffeisen Bank Aval, OTP, Alfa Bank, Pravex, Creditvest Bank, International Investment Bank, Alliance, Lviv Bank, Kredobank and Vostok.
With President Zelenskiy calling for 10% home mortgage rates this year, Minister Milovanov said Monday the government is working on a program to offer "an affordable mortgage rate this year." Zelenskiy argues that affordable mortgages will stem emigration and build a strong middle class. The National Bank of Ukraine says banks are reluctant to make mortgage loans for three reasons: the moratorium on foreclosing foreign currency loans, insecurity of creditors' rights, and opacity of the housing market.
Almost one quarter of Ukraine's economy is off the books, according to a new study by Ernst & Young, funded by Mastercard and published by the National Bank of Ukraine. With 23.8% of Ukraine's economy in the black, Ukraine is on the high end of 33 other countries studied by E&Y. In this group, shadow economies ranged from 10 to 27% of GDP.
With Ukraine's 2019 GDP estimated at $154 billion, the shadow estimate would mean that Ukraine's real economy is $190 billion. Using the government's new 37 million estimate of Ukraine's population, this means real GDP per capita is $5,135, almost two thirds higher than the widely accepted estimate of $3,100.
Private gas company production is to increase by 28% this year, while state production is to decline by 2%, Andrei Favorov, head of Naftogaz's integrated gas business, predicted to reporters Monday. UkrGazvydobuvannya, the Naftogaz production unit, will produce 14.6 billion cubic meters, far short of the "20 bcm in 2020" goal set two years ago by the Poroshenko government. Private companies are to increase production to 5.9 bcm. Andriy Favorov, head of Naftogaz's integrated gas business, said the company will pursue a three prong strategy this year: "The first is production from deep deposits, especially under Shebelinka. The second is gas from shale rocks. The third is Black Sea shelf. The result is a trident."
Lemtrans, Ukraine's largest private freight car operator, invested $50 million in capital expenditures last year, up 69% over 2018. Owned by Rinat Akhmetov's SCM Group, Lemtrans bought 1,107 freight cars and repaired 6,904 more. Largely hauling coal and iron ore, Lemtrans moved 52.5 million tons of cargo last year, virtually the same as 2018. Lemtrans is one of several logistics companies studying the purchase of locomotives in the event Ukrzaliznytsia surrenders its monopoly on running freight trains down the state-owned rail network.
Ukraine Prepares To Snub China In Aerospace Deal With U.S. Help, headlines Forbes about a bid by China's Skyrizon to legalize its purchase of a controlling stake in Motor Sich, a leading manufacturer of helicopter and jet aircraft engines. Yuriy Terentyev, chairman of the Ukraine's Antimonopoly Committee, tells Forbes his committee is building a case to block the sale, using US-supplied information about Beijing Xinwei Technology, parent of Skyrizon. "We are investigating the fact that the Chinese side may have illegally acquired control over Motor Sich as of the beginning of 2017," Terentyev tells Forbes contributor Katya Gorchinskaya.
A US-Ukrainian Antares rocket blasted off Saturday from a NASA facility in Virginia. Today, its payload,  nearly four tons of supplies, are to arrive at the International Space Station. Partly designed by Dnipro's Pivdennyi Design Bureau and made by Pivdenmash, the rocket carried into orbit Northrop Grumman's robotic Cygnus cargo spacecraft.
Betting on domestic air travel, Windrose launches regular flights in April from Kyiv Boryspil to Ukraine's largest regional capitals – Dnipro, Ivano-Frankivsk, Kharkiv, Lviv, Mykolaiv, Odesa and Zaporizhia. This will be the only scheduled flight from Mykolaiv. Averaging 90 minutes, the flights carry introductory, one-way fares of $30. Flights will be operated by new ATR72-600 Franco-Italian turboprops, regional planes that seat 70. This spring, to boost domestic air traffic, the Rada is to abolish VAT taxes on domestic flights.
Lviv airport has increased its passenger handling capacity by 50%, to 3,000 passengers an hour. In one step, the luggage belt for international flights was nearly doubled, to 142 meters. The luggage belt for domestic flights was increased by one quarter, to 100 meters. With traffic up 39% last year, to 2.2 million people, Lviv offers direct scheduled flights to 24 EU cities. This spring, scheduled flights start to: Belgrade, Bergamo, Budapest, Naples, Poznan, and Rome.
From the Editor:  It is odd that Ukraine is bigger than France, yet 95% of all air passenger traffic here is international. Now, Ukraine's air travel revolution is spreading to domestic travel. Low cost carriers SkyUp and Windrose are unveiling domestic route networks. The government is wooing Wizz Air to set up a Ukraine unit and fly locally. Blink your eyes: one day soon there could be an hourly, $25 air shuttle from Kyiv Sikorskiy to Odesa. Domestic tourism generates jobs. With Best Regards, Jim Brooke jbrooke@ubn.news