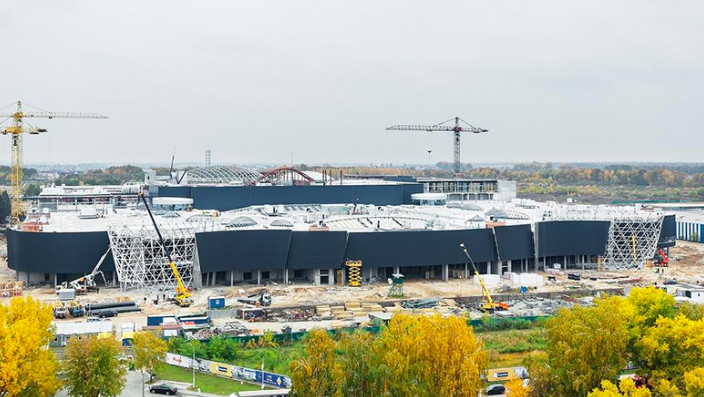 Six new shopping centers, containing a record 400,000 square meters of rentable space, are to open in Kyiv this year, according to the Ukraine Retail Center. This would be eight times the new leasable space of last year and a record for the capital, says Daryna Kulaga, a market analyst for Jones Lang LaSalle Ukraine. Although developers often do not reveal construction costs, the six could total around $350 million.
By June, these Kyiv shopping entertainment centers are to open: Smart Plaza Obolon – 10,000 sq.m; Oasis, Heroes of the Dnipro metro station – 13,200 sq.m; Blockbuster Mall, Stephan Bandera Ave. — 135 000 sq. m; and River Mall, Dnipro Embankment Left Bank –59,682 sq. m.
By September, two more are to open: Ocean Mall, next to Ocean Plaza, Lybidska Metro station — 100,000 sq. m.; and Retroville, on Pravda Ave. — 80 718 sq. m.
In Odesa, Gargarin Plaza is to open by May with 20,000 sq. m.
In Lviv, Spartak is to open this spring with 23,000 sq.m.
The overall vacancy rate at Kyiv shopping centers fell to 3.7% at the end of last year, Jones Lang LaSalle reports. This is down from 5.6% at the start of 2018. Annual store rents rose to $1,140 per square meter, almost the level of 2013.
Ukrainians are among the world's fastest adopters of contactless, cashless payments systems, Inga Andreeva, general director of Mastercard Europe SA, tells reporters. Last year, Ukraine registered the fourth fastest growth rate in the world for taking to this technology, which typically involves waving a smartphone or digital wrist watch in front of a terminal to pay with Google Pay or Apple Pay. Common in the Kyiv metro system, contactless terminals start working this week in the busiest station of Kyiv's suburban 'elektrichka' trains.
With 38% of Ukrainians businesses accepting cashless payments, there is room to grow. The EU average is 60%, Mastercard says. Some businesses resist going to credit cards and contactless because it means paying taxes. But 64% of business managers surveyed by Mastercard say they prefer cashless for its simplicity and potential to boost sales. By last September, according to National Bank of Ukraine estimates, cashless payments accounted for 44% of transaction in Ukraine – a 13% increase since the start of the year.
The shadow economy accounted for 32% of the official GDP during the first nine months of last year, the Economic Development and Trade ministry reports. This is 1% point below the level for the same period in 2017.
PrivatBank customers can now receive cash from their accounts when they make a bank card or Mastercard purchase at a WOG gas station.  Cutting the need to find an ATM, customers can receive up to UAH 500 – about $18 – at any of the 400 WOG gas station mini markets across Ukraine.
Foxtrot plans to double online sales this year, to 20%, Valery Makovetsky, chair of the supervisory board of home appliances and electronics chain, tells Interfax-Ukraine. In traditional bricks and mortar, Foxtrot plans to invest $10 million this year reformatting about one third of its 162 stores. Last year, it opened 18 new stores across Ukraine, largely in small cities. Depot Development Group, the umbrella group controlling Foxtrot, also is building or expanding shopping centers in regional cities – Chernihiv, Kriviy Rih, Kropyvnytskyi, and Zaporizhia.
Danish furniture retailer JYSK plans this year "to dynamically expand the network in different regions of Ukraine," Yevhen Ivanytsia, JYSK Ukraine director. tells Interfax-Ukraine. Last year, JYSK expanded its Ukraine store network by one third, to 48. With stores in 20 cities, JYSK expanded into new neighborhoods – with three stores in Khmelnytskiy and five in Odesa.
Novus, the supermarket chain, opened five supermarkets and a 7,000 square meter warehouse last year in Kyiv, the retailer reports. Founded a decade ago, Novus now has 43 stores, 34 of them in Kyiv and Kyiv region. One year ago, the EBRD opened a $25 million credit line to Novus to open more stores and the logistics center.
ATB, the discount shop chain, plans to keep expanding this year, after opening 80 new stores and rebuilding 41 more last year, the Dnipro-based company reports. With 990 outlets, there are ATB stories in 253 cities and towns in 22 regions of Ukraine.
Brocard intends to open 5-7 new perfume and cosmetics stores this year in Ukraine, increasing its network to nearly 100, Brocard-Ukraine LLC tells Interfax-Ukraine. Three stores – for Dnipro, Kharkiv, and Lviv – will be in a new compact format: Brocard Niche Bar. Last year, Brocard opened four stores – two in Kyiv and two in Odesa.
Owners of one of Ukraine's largest restaurant groups plan to open 200 new restaurants by 2021, largely in Ukraine, Oksana Serediuk, co-owner of the chain, tells Interfax-Ukraine. Serediuk and her husband, Taras, operate restaurants under the brands Mafia, Casta, Bao, Nam, Georgia, Brilliant Bar, and Yakitoriya. This year, the group plans to double its restaurants in Moldova to six. In Ukraine, six are under preparation, including one in Volnovakha, Donetsk, 15 km west of the front line.
Dmytro Borysov, the Kyiv restaurant entrepreneur, plans to open 100 'fast casual' restaurants in Kyiv this year, he tells the Kyiv Post. According to his surveys, 70-80% of Kyiv residents eating out want to pay no more than $5.25 per person. One of his big hits, Bilyi Nalyv, on Kreschatyk, charges €1 or 29 UAH per menu item. In the last year, he has taken this successful formula to Kharkiv, Lviv, Lutsk, and Odesa.
Coca-Cola has launched a €10.5 million production line in Brovary, Kyiv region. Capable of bottling 40,000 bottles an hour, the line expands the Brovary plant capacity to 100 million cases a year.
Ukrainians spend 44% of their income on food and non-alcoholic beverages, according to the latest household survey conducted by the State Statistical Survey. The average household cash income during the third quarter of 2018 was $335. The average household was 2.1 people.
Real estate developers now are moving from residential to offices and warehouses, says Volodymyr Mysak, head of capital markets for the Ukraine office of Cushman & Wakefield. Offices vacancy rates have dropped to 4.9% and monthly rental rates have increased to $29 per square meter. Similarly, warehouse vacancies are at a cyclical low – 3%. Last year, investment in commercial real estate hit $300 million, a 10-year high, he told the Ukrainian Steel Construction conference.