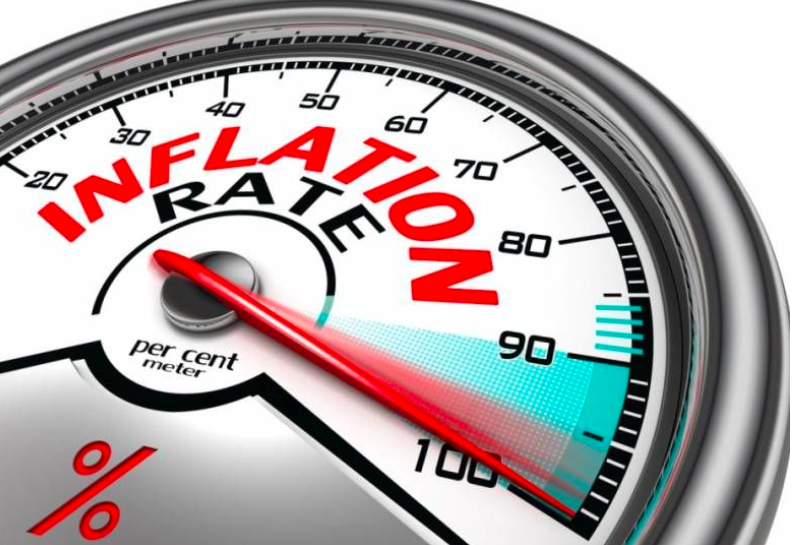 January inflation was 0.2%, dragging y-o-y inflation down to 3.2%, reports the State Statistics Service. Last year, inflation was 4.1% — less than half the 9.8% recorded in 2018. Pulling down prices, natural gas prices dropped by 21% in January. Two weeks ago, the National Bank of Ukraine lowered its 2020 inflation forecast to 4.8%. The median forecast of economists surveyed by Bloomberg puts 2020 inflation at 4.6%.
The government will continue its low inflation policy because low inflation will allow the central bank to cut interest rates this year, Timofei Milovanov, Minister of Economic Development, Trade and Agriculture, writes on Facebook.  Milovanov, a former economics professor in the United States, writes: "Low and controlled inflation is the key to long-term economic growth and a condition for low nominal and real interest rates. In economic history, there are almost no examples of stable economic growth at high rates with significant inflation."
With Ukraine's 11% prime interest rate more than three times the inflation rate, analysts predict another big cut in interest rates at the central bank's next monetary policy meeting – on March 12. Timothy Ash writes from London: "Makes real rates at 11% look very high – lots of room to cut."
"For Ukraine's Zelenskiy, GDP Warrants Cloud Economic Good News" headlines a story in Bloomberg. Noting that the GDP-linked warrants have tripled in price since they were issued during the 2015 restructuring, Bloomberg reports: "The government estimates its cumulative obligations for the warrants could exceed $10 billion by maturity in 2040." Higher GDP, over 3%, means higher payouts. The jump in warrants price to over $1 is part of a wider financial recovery for Ukraine. The article reports: "Ukraine's currency and foreign bonds handed them the highest returns among all emerging markets in 2019, according to the Bloomberg Barclays Index."
Prime Minister Honcharuk expects 2020 GDP growth to be 4%. He tells Ukrainska Pravda: "According to our estimates, we can reach 4%."
"Zelenskiy must not miss his chance to change Ukraine" writes Anders Aslund in the Atlantic Council Ukraine Alert blog site. "Ukraine looks ready for an economic lift-off," the Swedish-American economist writes. But then he warns: "The government now needs to free the forces of growth by guaranteeing private property rights and thus attracting both domestic and foreign investment." He sees two problems: cuts in ministerial salaries invites corruption, and lack of a reform leader invites drift. He concludes: "President Zelenskiy needs to stand up and embrace his reforms."
Foreigners can "soon" apply for Ukrainian e-residency, a status modeled after Estonia's six year old virtual residency program, Jaanika Merilo, Estonian-Ukrainian advisor to Ukraine's new Ministry of Digital Transformation and Innovation, writes in the Kyiv Post. She asks: Why would they want to? Taxes, she replies. IT entrepreneurs are taxed in Ukraine at 5% — well below 50% European rates. In reverse, 4,000 Ukrainians are already e-residents of Estonia, getting access to PayPal, securing EU property rights and taking advantage of Estonia's ease of doing business and declaring taxes. With Ukraine's new government announcing new digital steps weekly, Estonia often is in the background as a digital role model.
"The Entrepreneur Helping Ukraine's Startup Talent To Go Global," headlines a Forbes article about David Gilgur, founder of Vimes Consulting. Last year, Gilgur launched Blue Lake, a British-Ukrainian startup accelerator. Building on a first crop of 17 Ukrainian startups going through the program, Gilgur plans to "have 30 Ukrainian startups per year at the Blue Lake Accelerator in London," Alison Coleman writes for Forbes.
The new $18-million Ukrainian Startup Fund has issued grants ranging from $25,000 to $50,000 to eight startups. Chosen from finalists at the Fund's first Pitch Day, on Jan. 25, the winners came from a field of over 1,000 applicants.
Odesa-based Intertelecom is buying a 4G license for over $7.4 million, becoming Ukraine's fourth carrier to provide the high-speed mobile internet. Valid for a decade, the license will allow the company to provide 4G across Ukraine.
Ukraine, the world's top sunflower oil exporter, increased exports by 59% during the first half of the 2019/20 season, APK-Inform consultancy reports.  Exports totaled 2.1 million tons, up from 1.3 million tons during the same time last year. Last year, Ukraine exported 6 million tons.
Kyiv Commercial Court has lifted a two-week old hold on the privatization of Centrenergo, one of the big five state company sales planned for this year. In Dec. 2018, a separate court ruling froze privatizations of companies with assets over $10 million. Last summer, after the presidential and parliamentary election results, Kyiv judges started to unblock privatizations. With three power stations – Trypilska,  Vuhlehirska and Zmiivska – Kyiv-based Centrenergo has the capacity to generate 7,690 MW. The state owns 78.3% of company shares.
Flush from cashing a $2.9 billion check from Gazprom six weeks ago, Naftogaz continues to sue Russia for $8 billion for assets – including offshore oil platforms – stolen by Russia during the 2014 annexation of Crimea. In a case started in 2016, the International Court of Arbitration in The Hague acknowledged jurisdiction. Yuriy Vitrenko, Naftogaz executive director, writes on Facebook that the December settlement with Gazprom does affect the Crimea suit, which is against the Russian state.
Hungary's József Váradi, co-founder and CEO of Wizz Air, and Infrastructure Minister Vladislav Krikliy discussed in Kyiv on Monday, the possibility of Wizz Air flying passengers between Ukrainian cities. Only two years after returning to the Ukrainian market, Wizz Air is now the airline flying to the largest number of countries from Ukraine – 13. Last year, Ukraine's the overall air passenger traffic increased by 18.5% — far above the 4.2% worldwide increase. But domestic air travel remains anemic for a country larger than France. Last year, 96% of Ukraine's 24.3 million air travelers flew internationally.
The first two Ukrainians infected by China's coronavirus are hospitalized in Yokohama, Japan. The two, a 25-year-old man and a 37-year-old woman, worked in the kitchen of the Diamond Princess cruise ship. A total of 25 Ukrainians work on the ship, which is in an open-ended quarantine in Yokohama harbor.
Ukraine is the third cheapest place to live in Europe, topped only by Macedonia and Kosovo, reports a new survey of 132 countries worldwide compiled by Australia's Ceoworld Magazine. Five factors were analyzed: cost of living, rent, groceries, eating out, and purchasing power. The five most expensive countries were: Switzerland, Norway, Iceland, Japan and Denmark.
From the Editor: Inflation matches GDP growth: 3-4%. Sounds like macroeconomic stability to me. With Best Regards, Jim Brooke jbrooke@ubn.news