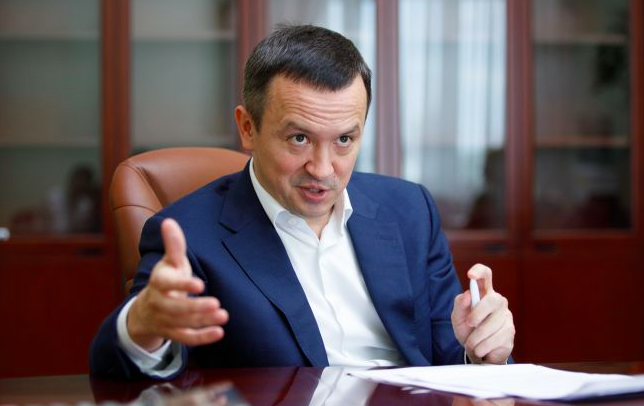 The prolonged coronavirus pandemic will stretch Ukraine's economic recession through the winter, Economy Minister Ihor Petrashko predicted yesterday. But after a 3% GDP yoy drop in the first quarter, growth will resume in April, he told the Ukrainian Investment Roadshow. Growth will continue strongly, allowing Ukraine to end 2021 with 4.6% GDP growth, he said. Such a U-shaped economic recovery would cancel out the 5% GDP drop forecast for 2020.
Big government spending on infrastructure is singlehandedly pulling the construction sector into positive territory this year, according to analysis by Alfa-Bank Ukraine. Through October, construction is up by 1.9% yoy. A 10.6% rise in infrastructure investment was enough to offset a 18.7% drop in housing construction. Alfa reports: "Spending on roads more than doubled compared to the previous year."
Overall, the government's Big Construction's share of GDP grew from 2.8% in the first quarter, to 10% in the fourth quarter, Mikhail Kukhar, chief economist of Ukraine Economic Outlook, said last week at a road industry forum. He said: "The decline in our country's GDP would have been 11% in the fourth quarter, if not for the Big Construction project." The Q4 decline is expected to be about 3.7%.
By the end of this month, the goals of the Big Construction project should be 95% complete, Kyrylo Tymoshenko, deputy presidential chief of staff, tells Interfax-Ukraine. The completion scorecard is: 200 schools and kindergartens: 93% complete; 4,000 km of state roads: 92% complete: and 100 sports facilities – 87% complete. For schools, the construction means new buildings for 8,338 students and renovated buildings for 55,000 students.
Europe's biggest floating crane is being towed from Istanbul to Zaporizhia to complete the long-delayed bridge over the Dnipro, reports Ukravtodor. When erect, the crane rises 148 meters — nearly the height of Kyiv's Parus office tower. The bridge complex is 9 km long. Onur, the Turkish company which is carrying out the $400 million contract to complete the bridge says part of the route will open to vehicles at the end of this month.
Since March $518 million in loans have been extended to small businesses, a factor in mitigating the impact of the coronavirus recession, the Finance Ministry reported yesterday.  Under the '5-7-9% Loans' program, 6,300 loans have been extended to businesses with less than $3.5 million in annual revenue. Of the total, 68% of the loan money has gone to refinance existing debt, the Finance Ministry reported yesterday. There are 23 private and state banks participating in the program.
Home mortgage loans, long a rarity in Ukraine, are up 23% yoy, totalling almost $100 million through October. The average size is for $26,000, and 87% are for second homes, reports the National Bank of Ukraine. The secondary home market is more popular because rates are lower — 14.3% — than for first homes — 17.2%.
By replacing 'Black Friday' sales with 'Black Week' sales, merchants managed to save what could have been a bleak start to the holiday season, Ukrainian bankers tell Interfax-Ukraine. Charges with Akkord bank cards were up 38% this year, compared to a 47% increased last year. At Kreditvest Bank, Chairman Vasily Nevmerzhitsky said the week over week sales were up only 20-30%. He said: "If we compare sales on Black Friday in 2019 and in Black Week in 2020, the total drop in sales was about 40%."
By contrast, the MOYO chain of electronics stores says it doubled its sales on Black Friday. Sales were boosted partly by a 16% increase in stores, to 36, and by keeping one store in Kyiv open around the clock. MOYO CEO Valentin Ivakin said: "The number orders and their amount twice exceeded the record of 2019."
JYSK, which has a chain of 71 furniture stores in Ukraine, recorded a 10% increase in sales in November compared to last year. Evgeniy Ivanitsa, country director of the Danish-based firm, said this increase was reached by stretching the sales over eight days and attracting 1.5 million visits to their online store.
Real wages jumped 11% yoy in October, reports the State Statistics Service. Reflecting the impact of the coronavirus epidemic, the fastest growing wages were in healthcare — up 54%. The worst performing were in hotels and restaurants, where pay was stagnant.
The national monthly average wage is $430. The highest wages are in: Kyiv City — $618; Ukraine-controlled Donetsk — $479; and Kyiv Region — $456. Of the 24 regions, wages grew the fastest in: Chernivtsi and Kherson — 21%;  Rivne and Mykolaiv — 20%; Zakarpatti, Ivano-Frankivsk and Kirovohrad -019%; Ternopil —18%;  Zhytomyr -17%, and Luhansk – 16%.
Concorde Capital's Evgeniya Akhtyrko attributes "the fast growth of real wages to the minimum wage being hiked to UAH 5,000 a month starting Sept.1, relatively low consumer inflation, and the increased demand for labor amid economic stabilization.
Next year's planned 30% hike in the minimum wage will be postponed five months, until Dec. 1, Finance Minister Serhiy Marchenko confirms. The increase, to $228 a month, is being delayed to keep down inflation and to reduce the government budget deficit. Many government payments are indexed to the minimum wage.
For the statistics-addicted, the State Statistics Service has launched a mobile application "Statistics in a smartphone." Oleg Nemchinov, Minister of the Cabinet of Ministers, says the new service offers graphs and numbers for: GDP, population, labor market, prices, industry, agriculture, construction, transport, and trade.
Ukraine is discussing with Turkey the joint creation of launch vehicles for commercial launches of satellites into space, Ukraine's Strategic Industries Minister Oleg Urusky tells Radio Svoboda. Ukraine's Yuzhnoye Design Bureau works with Northrop Grumman to  produce expendable rockets for placing satellites in low-Earth orbits. Ukraine and Turkey would need to use a third country cosmodrome, Urusky said. Until 2015, Ukraine had a project with Brazil to launch Ukraine's Cyclone-4 carrier rockets from Brazil's Alcântara Launch Center, near the Equator.
Editor's Note:  A consensus that Ukraine is heading toward a U-shaped recovery next year emerged from the 'Ukraine Macroeconomic" panel that I moderated yesterday for the Ukrainian Investment Roadshow. Assuming that the coronavirus will come under control during the first half of 2021, renewed growth was the view shared by: Economy Minister Petrashko, Dmytro Sologub, deputy governor of the central bank, Sergiy Nikolaychuk, head of macroeconomics for ICU, and Anders Aslund, economists for the Atlantic Council. Tune in tomorrow for Banking and Wednesday for UK Trade & Investment. With best regards, Jim Brooke