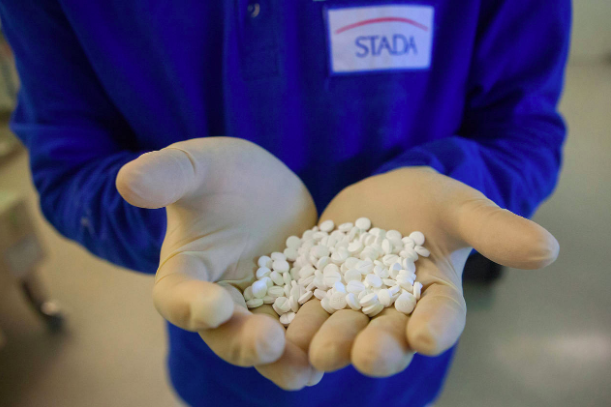 STADA, the German pharmaceutical giant, will buy the drug production business of Ukraine's Biopharma. For an undisclosed sum, STADA will buy factories in Bila Tserkva, 85 km south of Kyiv. An investment of Horizon Capital and Dutch development bank FMO, Biopharma now exports products to 36 countries. Peter Goldschmidt, STADA CEO, said: "We see great potential in the Ukrainian market. Thanks to this acquisition, we will become an important player in the Ukrainian pharmaceutical market with a strong local manufacturing presence." Konstantin Efimenko, the managing partner of Biopharma, said: "This is the first investment by a strategic investor in the pharmaceutical industry in the history of Ukraine and the first European investment since 2014."
Voices from the Ukrainian Investment Roadshow in London:
Dmytro Shymkiv, chairman of Darnitsa Group, the drug maker, on the STADA purchase: "Pharma in Ukraine is highly profitable. It is growing at 11% a year to become a $3 billion market in 2020."
Julia Bereshchenko, business development director for Astarta, the sugar company, on Ukraine's 'cheap land': "Land lease costs are up by one third this year, due to the appreciation of the currency."
Thorstein Jenssen, senior VP corporate finance of NBT on changing green tariffs: "Renewables have an odd business model: all CAPEX has to be paid upfront, payable through 25 years of revenues.
Russia, Ukraine, and the EU may meet Thursday in Brussel to resume 3-way talks on a gas transit deal, Ukraine's Energy Minister Oleksiy Orzhel said Monday. The current 10-year contract expires Jan. 1. Presidents Zelenskiy and Putin, are expected to discuss a deal when they meet in Paris on Monday.
The European Investment Bank launches the Agri-Food Value Chain Project to support small and medium-sized enterprises in Ukraine. Backed by a loan of up to €400m from the EU bank, the program is to help Ukrainian farms and food processors benefit from the Deep and Comprehensive Free Trade Area or DCFTA.
Ukraine's government plans to allocate $18 million to finance startups, reports the press service of the Cabinet of Ministers. "The Government will not directly interfere with business," said Prime Minister Oleksiy Honcharuk. "We will enhance Ukrainian economic development and create more jobs." Targets will include artificial intelligence, big data, blockchain, cybersecurity, defense, healthcare, travel, financial technology, educational technology, e-commerce, and the internet of things.
Ukraine's State Property Fund plans to auction off 147 items in December via the ProZorro electronic system. The initial total value of the lots is $11.5 million.  Up for sale are: a transport complex in Kryvyi Rih; the Prikarpattya Health Complex in Ivano-Frankivsk; unfinished construction near Kyiv's Shuliavska metro station; shares in the Mirogoschanskyi Agrarian Institute; and a research plant belonging to the Institute of Materials Science of National Academy of Sciences of Ukraine. So far this year, 511 small-scale privatizations have been completed.
The government will receive $4.5 million from the sale of three large state-owned entities, reports the State Property Fund. Properties sold were: a wholesale market in Kyiv's Brovary suburb; the Center for Certification of Building Materials, Products and Structures; and Ukraine Tourism company. Prime Minister Honcharuk promises more, saying: "Privatization is one of the key priorities of the Government and one of the effective ways of leveraging investment and combating inefficient property management."
Electronic driver's licenses and passports will be available this year. In the social media selfie video, President Zelenskiy says:  "We are working on a large digitalization project in the country. An electronic driver's license and a registration certificate will be in your iPhone soon, soon, soon. This application has already been sent by our team to Google Play and the App Store, and this year Ukrainians can start using it. But this is only the beginning."
New car sales are up 6% in the first 11 months of 2019 when compared to the same period in 2018. Between January and November 2019, 79,300 new passenger cars were purchased and officially registered in Ukraine, Ukravtoprom reports. France's Renault was the most popular brand, followed by Japan's Toyota and Korea's KIA.
Metinvest, the vertically integrated group of mining and metallurgical companies, reports its 10-year bonds issued on Oct. 17, are now in JPMorgan's corporate emerging markets bond indices CEMBI Broad and CEMBI Broad Diversified. The CEMBI are international benchmarks for tracking US dollar-denominated debt issued by emerging market companies. Dmytro Khoroshun of Concorde Capital writes: "This index inclusion likely was expected by the markets because Metinvest's notes had previously been included in JPMorgan's CEMBI indices. Particularly, its 2023 ($505 million currently outstanding) and 2026 notes ($648 million) were included in May 2018, a month after the company completed its previous restructuring and financing round."
Ukrzaliznytsia plans to modernize 40 passenger cars and purchase 26 new wagons in 2020, reports the Center for Transportation Strategies. $20 million will be spent on refurbishing older passenger cars while $25 million is earmarked for purchases. Over the past four years, Ukrzaliznytsia has bought 70 new passenger cars and updated another 200.
Lviv airport passenger traffic is up 40% in the first 11 months of 2019 when compared to the same period in 2018, the airport reports. The number of flights increased by 24%. Through November, passenger flow exceeded 2 million, compared to 1.5 million in 2018.
Ukraine's Windrose Airlines launches regular flights from Ivano-Frankivsk to Kyiv, Dnipro, and Bucharest. Both airports and airlines are controlled by Igor Kolomoisky. Flights will operate on Mondays and Fridays on Embraer 145 regional jets.
From the Editor:  Through Friday, Li Luo will be reporting the Morning News. I am in London all week for the Ukrainian Investment Roadshow and nine Ukraine investor meetings.  With a record attendance of 200, the Roadshow had a real buzz Monday, with many participants staying through the final reception at the Reuters HQ in Canary Wharf. Best Regards, Jim Brooke jbrooke@ubn.news.