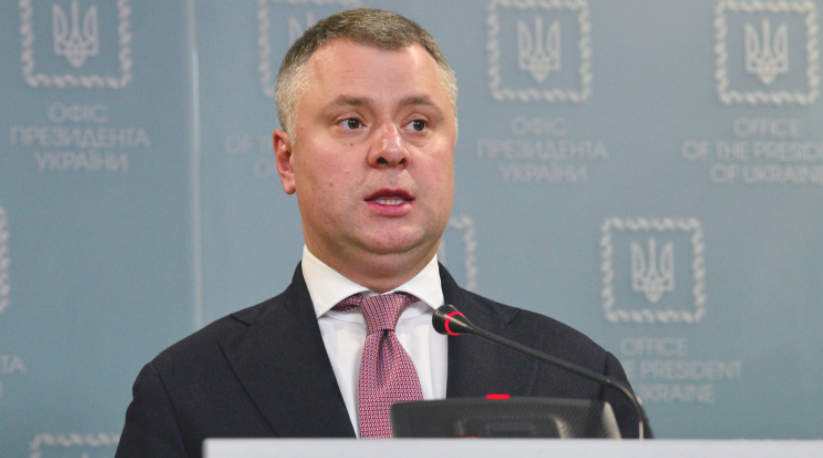 The government last night appointed Yuriy Vitrenko, the former Naftogaz executive, as acting Energy Minister and First Deputy Minister of Energy. Vitrenko replaces Olha Buslavets, who ran the Energy Minister since April. A graduate of the INSEAD, the French business university, Vitrenko spearheaded a successful Stockholm arbitration case against Gazprom. Although Gazprom paid Naftogaz $2.9 billion, a contingency fee payout for Vitrenko's team rankled some. Last week, when his candidacy came up for vote, he won only 82% of the needed Rada votes. In Ukraine, acting ministers often serve for years at a time.
More litigation with Russia and more openness to Western investment may emerge under Vitrenko. Interspersed with stints at Naftogaz, Vitrenko worked for Pricewaterhouse Coopers in Kyiv, Merrill Lynch in London, and Amstar Europe, a private equity fund, affiliated with a Denver group. He is CEO of AYA Capital, a Kyiv-based investment company he founded a decade ago. At Naftogaz, he worked on several large Eurobond placements.
Yulia Kovaliv, a familiar face to foreign investors, resigned yesterday as deputy chief of staff to President Zelenskiy. Kovaliv also headed the Office of the National Investment Council, an organization that promoted dialogue between the government and CEOs of the leading foreign investors in Ukraine.
The government also appointed Vadym Melnyk as head of the State Fiscal Service. The previous fulltime head of the service, Serhiy Verlanov, was dismissed last April.
The Kyiv Economic Court accepted last week a lawsuit alleging that Roman Leshchenko, Ukraine's newly appointed Agriculture Minister, embezzled $430,000 from a Ukrainian farming company owned by Kurt Jacob Groszhans, a North Dakota farmer. The lawsuit indicates more claims will be filed for misappropriated grain. Before Leshchenko's Rada confirmation vote Thursday, he reportedly told questioners that he repaid all debts to the American investor. Groszhans is represented by US attorney Bate Toms.
While the US government labors to determine damage done by cyber infiltrators, Ukraine's government faces almost daily hacker attacks on its government resources and is strengthening its cyber security, Ivan Bakanov, the SBU state security service, wrote Friday on Telegram. "The scale of the infiltration into government information resources is impressive – attacks occur almost daily," he said. In 2019, a virus downloaded in a tax accounting program caused millions of dollars of damages to companies in Ukraine. Russia is believed to be behind the infiltration in the US and the disruption in Ukraine.
With Ukraine recording its first infection with new highly contagious coronavirus strain, the government decided last night not to suspend flights between Ukraine and Britain. First identified in Britain on December 14, the new strain already has been identified in Australia, Denmark, Italy and the Netherlands. Ukrainian infectious disease specialist Viktor Petrov told Ukraina 24 TV  yesterday that a patient, 'Mykola', a labor migrant shuttling between Zakarpattia and the Czech Republic, "had this new variant identified by Britain."
While France, Germany, Turkey and Poland stop flights from Britain, Ukraine's Cabinet of Ministers decided not to suspend air traffic with the UK, Infrastructure Minister Vladyslav Krykliy wrote on his Telegram page. He said: "Now flights are operated mainly to return Ukrainians from studies from abroad home for Christmas holidays." Earlier yesterday, Ukraine's Embassy in London posted a warning suggesting: "Ukrainian citizens temporarily refrain from traveling to London and the south-east of England." The UK government posts its latest coronavirus restrictions here.
Today, there is only one flight from Kyiv to Britain: a Wizz Air flight from Sikorsky Airport to London Luton. Last week, UIA inaugurated flights between Boryspil and London Heathrow. At that time, UIA's holiday schedule called for three flights a week – on Thursdays, Saturdays and Sundays – from Boryspil to Heathrow and to Gatwick, its traditional destination.
With passenger flights unreliable, logistics company Meest China has started weekly cargo flights between Hong Kong and Boryspil. "Regular flights are canceled, delivery times are difficult to predict," commented Mikhail Lymar, general director of Meest China, a unit of Meest Holding, a Canadian-Ukrainian group. He said the new cargo flights on Airbus 330 jet "will allow us to make delivery from China to Ukraine in 12 hours and not depend on airlines."
EU job offerings for Ukrainians have grown by 40% since coronavirus travel controls started to lift in June, reports Jooble, the Kyiv-based job search engine that aggregates international job postings. As of Monday, there were 9,631 vacancies targeted for Ukrainians. Top offerings at the top three countries were: Poland – packers, handymen, tailors, drivers, and builders; Germany – caregivers, tilers, plumbers, electricians, and packers; the Czech Republic – maids, welders, electricians, and drivers.
Starting last Thursday, Wizz Air resumed flights from Kharkiv to all its German and Polish destinations. Ukrainian tourists are not allowed to travel to Poland and Germany. With the exception of Ukrainians with valid work permits who are allowed to fly. Wizz Air, the airline with the most destinations from Kharkiv, now flies to six EU cities, down from 10 last spring, before the coronavirus lockdown.
A 150 km ring road around Kyiv and a 1.7 km suspension bridge over the Dnipro at Kremenchuk are to stem from Cabinet of Ministers' recent approval of an infrastructure agreement with China. "With this agreement, we open the door for Chinese loans to infrastructure," Viktor Dovhan, international advisor to   Infrastructure Vladyslav Krikliy wrote on his Facebook page. The Kyiv Bypass highway will be U-shaped, providing connections to all main highways, from the M-1 to Chernihiv in the north, to the M-7 to Kovel in the west. Capable of handling 300,000 vehicles a day, this 8-lane, restricted access highway is to be completed by 2030.
Aiming to cut road deaths by 30% by 2024, the government has approved spending $85 million in 2021 on the first year of an international highway safety program. The money will be spent on 400 illuminated pedestrian crossings, 300 dampers to minimize head on collisions, Weight-in-Motion systems to detect overweight trucks, speed cameras in fixed positions and in police cars, and the construction of 20 roundabouts to replace dangerous intersections.
Ridership of the Kyiv Metro is down 40% yoy, to 250 million this year, Kyiv Mayor Vitaliy Klitschko told reporters yesterday. Referring to the 2-month lockdown last spring, he said: "For the first time in 60 years of the existence of the Kiev metro, it did not work." By the end of this month, all 52 stations of the system are to have 4G mobile internet. By the end of next year, two new stations should open on the Green Line, extending the line 8 km to the northwest, from Syrets to Prospekt Pravdy and Mostytska. The new unified e-transport ticket now is used for 1 million rides a day, he said.
Editor's Note: It is refreshing to see Zelenskiy return to appointing an A-teamer to his A-team. Ideally, Yuriy Vitrenko can use his political and economic savvy to finally straighten out the $1 billion debt to the solar and wind electricity producers. Why not a Green bond? And Ukraine's litigation with Gazprom could use leadership, starting with compensation for Black Sea oil platforms stolen by Russia in 2014. Ukraine's oil and gas scene has been tarred by foreign companies exiting over the last year: Trident, Vermillion and now Nadra. Why not really open up Ukraine to foreign investment – before the sunset of the oil era? With Best Regards, Jim Brooke