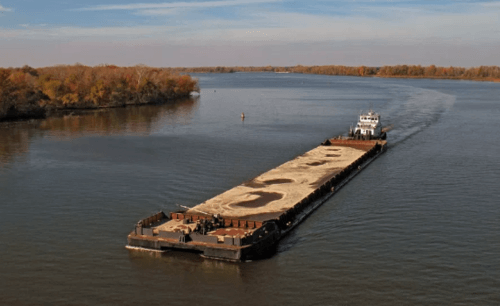 Foreign shipping companies will be allowed to carry cargo up and down the Dnipro, under legislation approved by the Rada recently with President Zelenskiy's backing. The goal is to triple annual river cargo to 30 million tons by 2024. "We need to build 250-300 new vessels," Artem Kovalev, the Rada member who authored the bill, told UNIAN. "It is unrealistic to do this in a short time…so we have agreed to allow vessels flying a foreign flag to operate in our inland waterways." Rebuilding river locks is to be paid through a new Inland Waterways Fund. This will be funded in part by 3% of customs duties paid by foreign flag ships using Ukrainian ports and by 45% of rent payments paid by hydro dams.
Ukrainians spent about $150 million last year to buy 3,200 apartments in Poland, making Ukrainians the largest foreign investor group in Polish residential real estate. The calculations were made by Gethhome.pl, based on data from Poland's Interior and Administration Ministry. Ukrainians buy apartments to live in. Germans, the second largest foreign investor nationality, buy apartments as investments, reports PAP, the Polish Press Agency.
Low oil prices have saved Ukraine $3 billion so far this year, reports the State Customs Service. Through November, Ukraine oil import bill is down 36%, while the import volume is down only 5.6%. The top three sources of petroleum products are: Russia — $1.1 billion, or 35.9%; Belarus –$1.09 billion or 35.4%; and Lithuania — $360 million, or 12%.
Ukraine's power plants reduced their coal consumption by 32% through October and increased their gas use by 31%, reports Expro.com, citing Energy Ministry numbers. Coal consumption fell to 14.1 million tons, while gas consumption rose 3.9 billion cubic meters.
Ukraine is gradually phasing out the use of coal, President Zelenskiy told a UN-sponsored gathering on Saturday, the International Climate Ambition Summit. Promising a "fair transformation of the coal sector," Zelenskiy said in a recorded statement to the online gathering of Heads of Government that Ukraine will cut greenhouse gas emissions until reaching an ultimate goal of carbon neutrality. He blamed climate change for this year's droughts that damaged crops across Ukraine and for forest fires in the east and floods in the west.
With demand dropping for coal, Ukraine's coal mining industry is a shadow of its peak when it employed 500,000 miners, making Ukraine Europe's third largest coal producer, after Germany and Poland. Last year, Ukraine's production was 31 million tons – 17% the level of 1989. This year, it could fall to 25 million tons – the level of 1914.
All unprofitable mines will be closed in this decade, Olha Buslavets, first deputy Energy Minister said last week at the First German-Ukrainian Energy Day. "Unprofitable mines will be closed within ten years," she said. "The minimization of subsidies to the industry from the state budget will take place in the coming years." Addressing the challenge of retraining and relocating thousands of miners, she said: "Care must be taken so that no one is left behind. This is the motto of a fair transformation of the coal industry, laid down in the European Green Deal. This should happen with us, too."
The EU is ready to help Ukrainian miners move out of coal, Torsten Wöllert, a European Commission energy official from Brussels, said at the Germany-Ukraine Day. "We are ready from the EU to help in this start together with the EU member states – Germany, Poland.," he promised. "We will accompany Ukraine in this."
At the German-sponsored Energy Day, Prime Minister Shmygal thanked Germany for its aid, saying "the project for a fair transformation of coal regions under the new energy partnership will begin this month: work will begin at two selected mines in the East and West of Ukraine." Reflecting the shift in Ukrainian government attitudes toward coal, he said Ukraine will join a loose international grouping, the Powering Past Coal Alliance.
With the EBRD planning to invest up to $100 billion to help EU coal mining towns shift to new vocations through 2027, the Bank held an online conference Friday to promote a similar shift in Ukraine – the Platform Initiative in Support of Coal Regions in Transition in Western Balkans and Ukraine. "The EBRD confirmed its commitment to providing finance for investments that will support the transition from coal," a Bank executive said at the meeting, organized with the World Bank, the European Commission and the Polish government. The 'Just Transition Mechanism' is designed "to support workers and citizens of regions where high-carbon assets are located."
Polish tourists traveling to Chervonohrad, a Lviv region border town, will one day visit 'Nadia,' a Soviet-era coal mine turned into "industrial museum," under a plan by Ukraine's Regional Development Ministry. The project is part of a plan by the Ministry to transform mining towns into industrial parks, research centers, logistics complexes and even tourist attractions. Located one hour north of Lviv, Chervonohrad, population 65,000, has a mining college and nine coal mines. But, with coal prices low and payment of wages erratic, almost one quarter of the population left the city over the last decade — many to jobs 10 km across the border in Poland. In September, 40 miners at Nadia stayed underground for several days to protest non-payment of wages.
The government promises to pay this week $50 million in back wages owed to coal miners across the country, ruling party Rada Member Vasyl Mokan promised yesterday. About one quarter of the debt is owed to miners in Lviv, largely in Chervonohrad, Mykhailo Volynets, chairman of Ukraine's Independent Trade Union of Miners, wrote Friday on Facebook.
Editor's Note: Ukraine is embarking on a historic shift away from coal. In 1913, the Donbas produced 87% of the coal of the Russian Empire. A decade later, Soviet posters showed the Donbas as the pulsing red heart of communist industrialization. In modern days, as the experiences of the UK and US show, the shift from coal breaks up communities and leaves behind ghost towns. But, looking at Ukraine's production figures, much of that transition already has started. For the inevitable transition in the 2020s, German and Polish money, experience and advice are welcome. With Best Regards, Jim Brooke