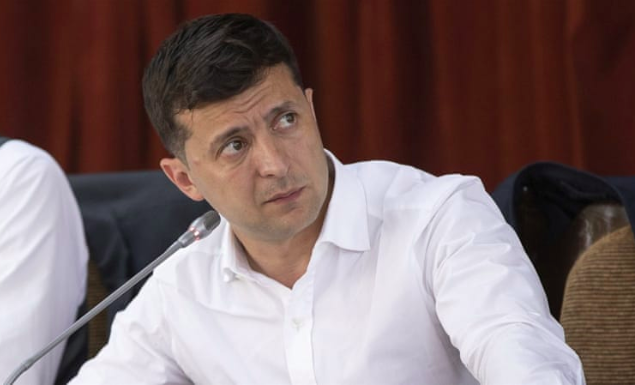 Following the example of Estonia, President Zelenskiy has decreed the creation of a single national website where citizens will perform most interactions with government, including filing taxes, registering land and voting. Last week's decree sets goals for the Cabinet of Ministers: an audit of Ukraine's 350 registers by Oct. 31 and launching the unified e-service website for citizens by Jan. 31. Next year, the website is to allow applications for driver's licenses and online participation in the 2020 population census. By 2021, elections should be conducted by electronic voting.
To sweep away the blizzard of paperwork surrounding the birth of a child, the Zelenskiy administration is implementing 'eMalyatko' or 'eBaby.' Parents will be able to electronically to register their baby's birth and residence and electronically apply for the child's passport and tax identification number. Designed with the help of experts and money from Canada, Estonia, Switzerland, and the US, the project is to start Jan. 1. Zelenskiy, a father of a girl and a boy, told government officials last year that under the current system "parents are forced to go through the bureaucratic hell with a baby in their arms."
"Transparent and reliable work of state registers will be the key to safe business development and effective management of the country as a whole," Zelenskiy's digital advisor Mykhailo Fedorov said about the decree. "Most [registers] are completely inefficient and non-transparent…This is the main cause for raiding, corruption and other schemes in providing various state services, such as construction or land industry."
As part of the "State in a Smartphone," President Zelenskiy's digital team is developing a website to allow developers to get building permits without face to face contact with officials, a classic opportunity for corruption. "The system itself automatically understands whether to give you permission or not. Electronic interaction with other registries takes place," Fedorov told Liga.Tech.
Appealing for joint ventures in broadband internet and electronic identification, Fedorov told member companies of the American Chamber of Commerce last week: "The development of the digital economy should be the number one priority for Ukraine." Fedorov, the founder of the internet marketing agency SMMStudio, said: "We are obliged to digitally transform existing industries and create favorable conditions for the emergence of new ones. Otherwise, we risk falling behind the world's leading economies forever. Together with business leaders and the public, we have set clear goals and goals for 2024."
Moving "one more step closer to digital Europe," an electronic document generated by Ukraine's e-archive system in ASiC format and signed using MobileID based on ECDSA, has been tested for compliance with the EU formats. "In practice, this means that Ukraine has fully regulatory and technologically implemented the EU requirements for electronic documents," Ze!Team said on Facebook. "E-government is not only public things but also complex regulatory and technical work in the back office."
Zelenskiy's e-government drives build on work done by the Poroshenko-Groysman government. This year, the number of government services available electronically is increasing by 50%, to 180, Prime Minister Groysman said at a recent startup conference. The outgoing prime minister said: "Now they are talking about 'the state in the smartphone.' But in fact, my government has been working for several years to create high-quality electronic services, tools that can be used in various areas of life, including for doing business."
At the conference, Groysman launched a $16 million Ukrainian National Startup Fund. With IT industry leaders serving as jurors, the Fund will pick early-stage Ukrainian startups for seed money grants of up to $75,000 apiece. Projects are to be completed within two years.
The number of Kyivstar subscribers who use 4G smartphones jumped 70% y-o-y this spring, hitting 10.5 million. Overall, Kyivstar's smartphone users increased by 19% during the same time, hitting 15.1 million. About 70% of Ukraine's estimated 40 million people now have access to Kyivstar's 4G mobile internet, the company reports. For users of Ukraine's largest cell phone company, Xiaomi and Samsung overtook Apple last year in popularity. Today, the five most popular brands are:
Xiaomi – 28%; Samsung – 22%; Apple – 15%; Huawei – 13%; and Meizu – 8%.
Chinese tech giant Huawei, whose networks reach one-third of the world's population, will now extend into Kyiv's subway system. Huawei won a tender to build a 4G network running through Kyiv Metro's 70 km network, connecting its 32 stations. Due for completion at the end of next year, the Kyiv job will be the biggest of all Huawei's projects in 27 Central, Eastern European and Scandinavian countries, the company says.
Ukraine should benefit from China's ban Monday on state-run agricultural firms buying food from the US. Ukraine already is the largest supplier of corn and sunflower oil to China. Through May, China rivaled Russia for second place as an importer of Ukrainian goods. The top three importers were: Poland – 6.9%; Russia – 6.4%; China 6.2%. Due to Russia's new sanctions on trade with Ukraine, China is on track to displace Russia. Food accounts for most of Ukraine's exports to China.
The central bank bought nearly half a billion dollars last week to keep the hryvnia from continuing to strengthen against the dollar, according to National Bank of Ukraine data. The net $493 million bought last week, was almost double the amount spent the week earlier — $261 million. Since Jan. 1, the central bank has purchased a net $2.7 billion.
On Monday, Ukrainian banks started using the IBAN, o International Bank Account Number. Mandatory in the EU and in 12 other countries, the alphanumeric identification number allows for the harmonizing of EU and Ukrainian payments systems. Usage will be phased in, starting with all new accounts this week and all money transfers after Nov. 1.
President Zelenskiy flies tomorrow to Turkey for a two-day visit that investors hope will unblock the Turkey-Ukraine free trade pact. "Undoubtedly, the first article of the economic agenda between the Turkish President Recep Tayyip Erdoğan and Zelenskiy will be the completion of a bilateral free trade agreement," Burak Pehlivan, chairman of TUID, the International Turkish Ukrainian Business Association, writes in the Kyiv Post. Despite 200 weekly scheduled flights between the two countries, bilateral trade last year was $4.5 billion, barely half the level of one decade earlier.
To promote medical tourism to Ukraine, President Zelenskiy will propose a list of countries whose nationals can come to Ukraine visa-free for treatment. Zelenskiy spoke Saturday at the opening of a medical tourism conference in Truskavets, a mineral springs resort town in the Carpathian foothills, 90 km southwest of Lviv. China and Middle Eastern nations are "promising" markets for medical tourism here, reported Violetta Yanyshevska, president of the Association of Medical Tourism. Last year, about 60,000 foreign tourists came to Ukraine for medical treatment, spending nearly $150 million.
From the Editor: Ukraine Business News is now in English, Ukrainian, Russian and German. Check out our website – www.ubn.news. Share with friends and colleagues who want to follow Ukraine, Europe's next Frontier Economy. Best regards Jim Brooke – jbrooke@ubn.news