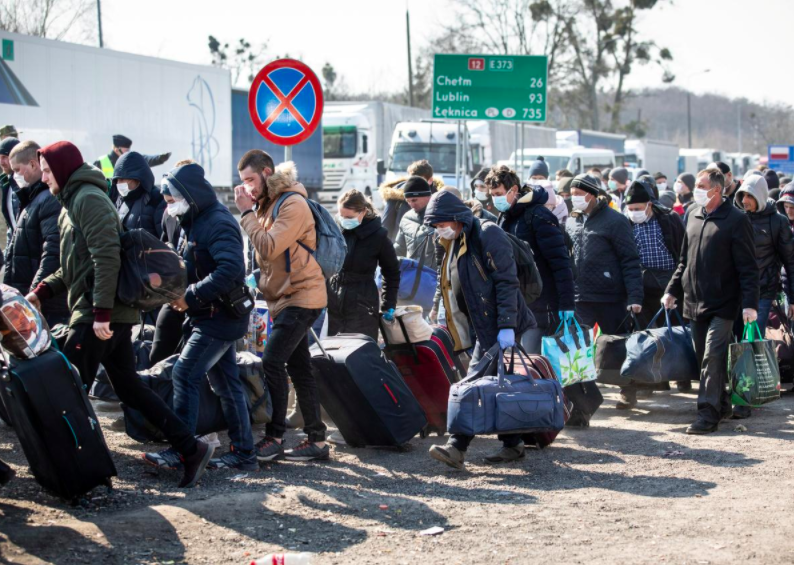 Tuesday, August 4
Despite Corona, Wage Remittances Keep Economy Afloat...This Summer, Half of Ukrainian Workers in EU?...After Poland, Baltics Increasingly Popular...New Ukrenergo Chief Faces Mounting Green Energy Bill...Next Week: Ferry Across the Danube...
Sandwiched between Guatemala and the Philippines, Ukraine has the world's second most dependent economy on remittances from overseas workers, The Wall Street Journal reports, citing World Bank statistics. In a recent story headlined Developing World Loses Billions in Money From Migrant Workers, the Journal reports the remittances last year accounted for 11% of Ukraine's economy, compared to 13% for Guatemala and 10% for the Philippines.
With barriers erected to block coronavirus, remittances worldwide will drop 20% this year, estimates Dilip Ratha, the World Bank's lead economist on these money flows. The Journal writes: "That drop would be four times as big as the fall that followed the 2008 financial crisis and the largest drop since the World Bank began recording remittance data in the 1980s."
Remittances of Ukraine's labor migrants were down 8.5% in June yoy, falling to $856 million, reports the National Bank of Ukraine. After a strong start to the year, remittance fell sharply in in April and May, ending the down by 4% for the first half of this year. After food exports, labor remittances are the second largest source of income for Ukraine. Through banks, private channels and international payment systems Ukrainians sent home at least $1 billion a month last year.
With Ukraine's borders closed during the April-May peak of the lockdown, cross-border money flows via banks actually increased by 13% yoy, Alfa-Bank Ukraine reports, citing Central Bank data. Similarly, money transfers via international payment services also were up, by 3%. Closed borders prevented people from sending money home through friends and family, making for an overall drop of 17% for those two months.
During the summer harvest season, 9 million Ukrainians – or half of the nation's total work force — work in the EU, according to Social Policy Ministry estimates cited by the Kyiv Post in an article titled: "Lured by conditions abroad, Ukrainian workers won't stay home after quarantine eases."  Estimates of Ukraine's workforce range from 16 to 19 million. Noting that EU wages are often four times Ukraine's, the article notes: "In 2019, more than three million Ukrainians were legally working abroad, mainly in Poland, Finland, Germany and the Czech Republic."
Ukrainian workers increasingly want to settle in Poland, according to a new study by the National Bank of Poland. Of Ukrainians surveyed in Warsaw this summer, 52% want to stay for three years or more. In a similar survey in 2015, 8% said they wanted to stay for three years or more. 80% said they wanted to stay in Poland for less than one year. In the new national survey, 24% of Ukrainian workers said they would like to stay in Poland permanently, 14% for three years or more, and 23% for one year or less.
The number of job offers abroad for Ukrainians increased by 20% to 8,000, according to a popular job site analyzed by TSN.ua. "The greatest demand for Ukrainian workers continues to be in Poland, the Czech Republic and Germany," the report said. Only 6% of Ukrainians in Poland are willing to work for Poland's minimum wage, according to a survey by Studium Europy Wschodniej UW.
Estonia's "strawberry war" had a messy ending after the government moved too late to allow Ukrainian workers into the Baltic country. Tons of the red berries rotted in the fields. Last Thursday, Wizzair was allowed to fly between Ukraine and Estonia. But flights were stopped the next day due to a rise in Ukraine's coronavirus rate.
Munich-based FlixBus is aggressively expanding into Ukraine this summer offering new routes: Kyiv-Vilnius and Kyiv-Krakow-Prague. From Vilnius, travellers can connect to 12 other Baltic cities. Ukrainians increasing work in the Baltics where the older generation still speak Russian.
Speaking to business executives in Volyn, an oblast on the Polish border, President Zelenkiy said of the regional labor shortage: "Until there are normal jobs, normal wages, there is nothing that can keep people here."  He said his '5-7-9' lending program will help entrepreneurs start businesses and his program for 10% mortgages will help young families buy homes.
The 5-7-9% lending program has extended $120 million in loans to 1,755 small businesses, Yulia Kovaliv, Deputy Presidential Chief of Staff, said Monday. With the $68,400 the average loan size, 62% have gone to farms and 14% to the processing industry. Eighteen banks are now participating. The three possible rates – 5%, 7% or 9% – depends on the size of the business, number of employee and length of the loan.
Volodomyr Kudritskiy was elected CEO of Ukrenergo by the state electricity transmission company' Supervisory Board on Sunday.  A five-year veteran of Ukrenergo, Kudritskiy previously worked for Ukrtransnafta and TNK-BP. A unit of the Finance Ministry, Ukrenergo operates main power transmission lines and the centralized dispatching of the country's unified energy system.
Since the start of this year, Ukrenergo's 'Guaranteed Buyer' unit has paid for only 27% of the power it took from solar and wind producers. For the last four months, this unit known as 'GarPok,' has only paid 5% of its debts to renewable energy producers, according to its website. As of July 20, this debt was $657 million. Under the 'Green Tariff' law signed Friday by President Zelenskiy, the government commits to repaying this debt by the end of next year.
The EBRD will lend state gas producer UkrGazVydobuvannya €52 million to increase energy efficiency and to maintain gas production. With a payback period up to 15 years, the interest rate is about 2.5% per year. The state guarantee costs 1% of the loan. UGV will use the money to upgrade its workover rigs for depths over 5 km and to introduce energy efficiencies at its  Lokachinsky field, in Volyn region.
Next Monday, the long-delayed cross Danube ferry crossing will open between Isaccea, Romania, and Orlivka, Odesa region. For drivers between Odesa and Constanta, Romania, the ferry will cut out a 2-hour, 100 km detour through Moldova. It will also be Odesa's first border crossing with the EU.
UIA has returned another Boeing 737-800 to the lessor, trimming its fleet to 33 planes. Of the 33, 14 Boeings are in storage – in Ukraine, Spain and the Czech Republic. UIA has 26 Boeings and seven Embraer commuter jets. Last month, UIA cancelled its lease agreement for three Boeing 'Super' Max jets. The planes had not been delivered.
From the Editor: An overlooked, underused feature of the Ukraine Business News is the free and fully searchable archive. Alexa Chopivsky, deputy chair of UkraineInvest, reminded me of this over lunch last Friday. Type in the search window a company, a business sector, a city – and all the relevant citations for the last two years will pop up. Impress your boss – or at least your colleagues – with your in depth business research! With Best Regards Jim Brooke