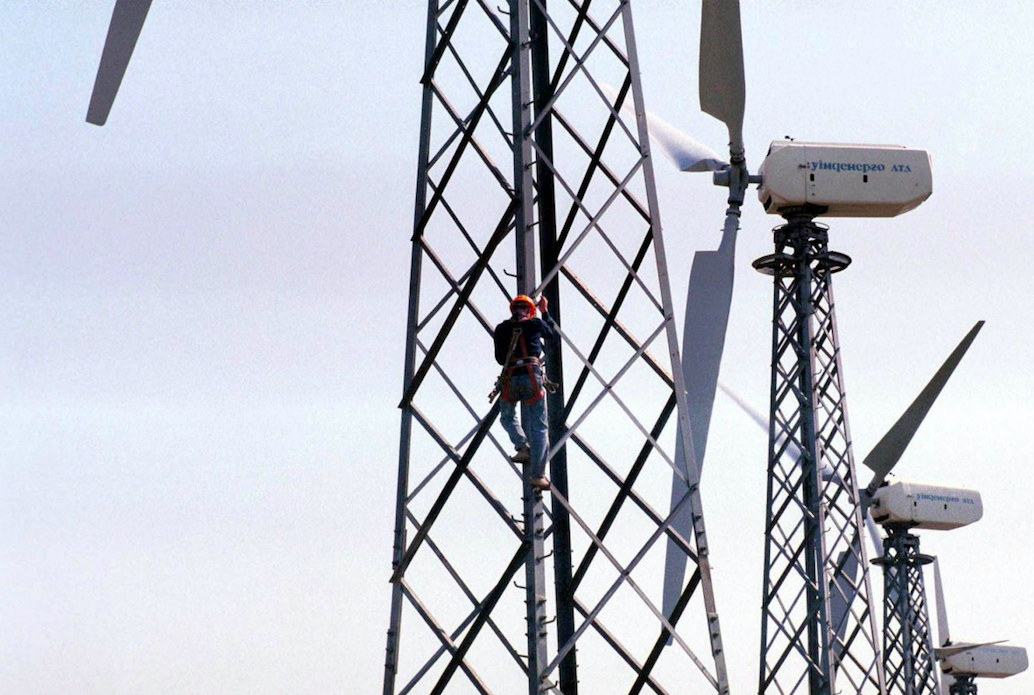 Tuesday, August 13
Wind Energy Projects Draw $1 billion in Foreign Investment...Ukraine Now in Top 5 for Onshore Wind Investment...Electricity Generated by Renewables Doubles This Year...Isolated No More, Kherson Renews Road Ties To Crimea, Restores Ferry Service to Turkey and Courts Flights from Europe
Construction is to start this fall on Europe's second-largest onshore wind farm, located on the Zaporizhia coast of the Sea of Azov. London-based VLC Renewables has reached financial close with LongWing Energy S.C.A. to build the first 98 MW phase of a 500 MW wind farm. If fully built as designed a decade ago, the EuroCape project will be second only in Europe to the 600 MW Fântânele-Cogealac wind farm in Romania.
Eighteen months ago, the US Overseas Private Investment Corporation, or OPIC,  approved up to $150 million in financing and up to $250 million in political risk insurance, for the project, which is located 200 km west of the frontlines. GE Energy Financial Services also is investing in the wind farm, which will use 27 GE 3.6 turbines for the first $150 million phase.
Nearby in Zaporizhia, DTEK Renewables is completing this summer, a second, €150 million phase of its Primorskaya Wind Electricity Plant. Due for commissioning next month, the second phase will bring the capacity of Primorskaya up to 200 MW. Funded by a 10-year loan from a consortium of German banks, Primorskaya will use 52 GE 3.8 turbines.
About 75 km west of Primorskaya, Norway's NBT and France's Total Eren are financing a €107 million second phase of a 250 MW wind farm. Located on the northern shores of Lake Syvash, the project now has total financing of €262 million. Lenders include: Proparco – €42 million; Black Sea Trade and Development Bank — €30 million; Finnfund and IFU — €15 million each; and the Nordic Environment Finance Corporation — €5 million.
Ukraine ranks fifth in Europe for installing onshore wind electricity capacity in the first half of 2019, according to Wind Europe Wind Owners Association. Of the 19 countries, the ranking is: France — 523 MW; Sweden — 459 MW; Germany – 287 MW; Italy — 286 MW; and Ukraine – 262 MW. Of the 4.9 gigawatts of wind capacity installed in the first half of this year in Europe, 64% for onshore and the rest for offshore.
With €4 billion in renewable energy investments underway in Ukraine this year, renewable energy plants produced nearly twice as much electricity during the first half of this year than in the first half of 2018. Solar, wind, and biogas plants produced, 2.37 billion kWh of electricity, compared to 1.23 billion kWh last year, reports the Ministry of Energy and Coal Industry.
Oleksiy Feliv, the managing partner of Integrites, a Kyiv law firm specializing in renewable energy law, plans to build a 96 MW wind farm in Roksolany, a village overlooking the Dnister Estuary. Located 50 km southeast of Odesa city, the farm is to have 16 wind turbines with a capacity of 6 MW each, some of the largest turbines in Ukraine.
In a remote, windswept valley about 10 km south of Belarus, Wind Solar Energy LLC of Kyiv plans to build three wind power farms with a total capacity of 190 MW. Called Lisova, or Forest, the project located 150 km north of Zhytomyr city calls for erecting about 50 wind turbines.
Fifteen Vestas wind turbine blades as tall as 25-story buildings were unloaded last week at the Kherson port of Skadovsk. Imported from Spain, the blades are for Mirna, a 163 MW wind farm under construction by Windcraft-Kalanchak. Powered by 39 Vestas V150 wind turbines, the wind farm is to become the main source of electricity for Kalanchak, a district bordering Crimea. With Russia's annexation of Crimea five years ago, Kalanchak lost power from its traditional source, the Titan substation.
Also in Kherson, a Franco-Belgian company is building a 110 MW wind farm on the north shore of the Gulf of Dnipro, outside the village of Oleksandrivka. Last month, the EBRD board approved partial funding of the €190 million project. Located 50 km west of Kherson city, the project by Dnipro-Buzka VES LLC is to use 25 German-made Nordex 4.4 MW wind turbines.
In windswept western Ukraine, Vasyl Khmelnitsky's UDP Renewables plans to build three wind farms in Volyn with a total capacity of 198 MW. Equipped with 44 wind turbines, the wind farms will be in Zaturtsiv, midway between Lutsk and the Polish border. The wind is a new area for UDP Renewables which is building five solar plants in Ukraine this year.
Nearby, Wind Power GI Volyn plans to build a 150 MW wind farm in Ivanychiv, equipped with 50 wind turbines. In Lviv region, the company plans to build a 50 MW wind power farm in Yavoriv, 60 km west of Lviv.
With Kherson attracting hundreds of millions of dollars of foreign investment in renewables, transportation links are starting to catch up.
Kherson airport officials discussed last week with Ryanair officials about Europe's largest airline flying next summer to Kherson. With flights to Turkey, Egypt and Kyiv, Kherson's air traffic increased last year by 42%, to 150,000 passengers. Last month, the airport agreed to buy $1 million worth of navigation equipment from France's Thales. To modernize the terminal, regional officials are debating transferring the operation to a concession. Located only 100 km from Kalanchak crossing, airport officials see Russia-controlled Crimea as part of their passenger catchment area.
To ease road travel to and from Crimea, Kherson region plans to build bus stations by winter at the main two control crossings, Kalanchak and Chonhar. Fulfilling President Zelenskiy's order to build modern entry and exit points, a pharmacy and medical station opened last week at Kalanchak. Crimean authorities recently started hourly bus service between Simferopol and Kalanchak.
With residents of both sides adapting to the 'temporary' line of control, 347,100 people and 57,819 vehicles crossed between Crimea and Kherson region in July, according to Ukraine's Ministry of Temporarily Occupied Territories and Internally Displaced Persons. With a July a big vacation month, numbers were up by one third over June.
In one spinoff to President Zelenskiy's visit to Turkey last week, ferry service may be restored in coming weeks between Kherson's port of Skadovsk and Turkey's Black Sea port of Zonguldak. Five years ago, service by a roll-on/roll-off ferry was discontinued due to insecurity surrounding Russia's annexation of Crimea. Negotiations now are underway with a Greek shipping company. Yuriy Husev, head of Kherson region administration, predicts that the cross-Black Sea ferry service will start again this fall.
From the Editor: Ukraine Business News is now in English, Ukrainian, Russian and German. Check out our website – www.ubn.news. Share with friends and colleagues who want to follow Ukraine, Europe's next Frontier Economy. Best regards Jim Brooke – jbrooke@ubn.news