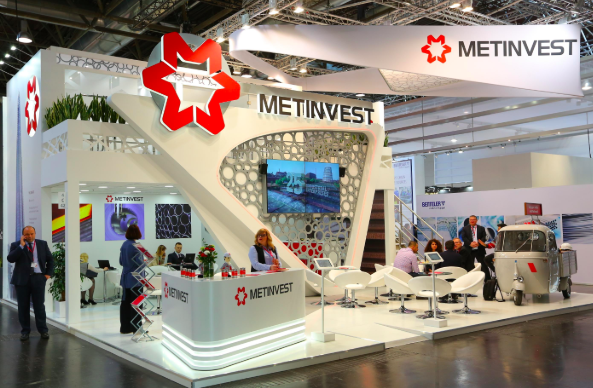 Tuesday, April 9
Metinvest to Invest $1 billion this year...Ukraine Steel Production up 4.5%...EU to Finance Road, Rail Out of Mariupol...Poland Invests to Become US LNG Hub...Ukraine Startups Win Attention in New York, Nigeria...Air Travel to Boom in the 2020s
Metinvest, Ukraine's largest steelmaker, plans $1 billion capital investments this year, a 20% increase over last year, the company tells analysts. Metinvest CEO Yuriy Ryzhenkov, says more than 60% of CapEx will be for maintenance and 35% will be for strategic development projects. Concorde Capital's Dmytro Khoroshun reviews the company's spending on debt, dividends, and CAPEX and writes: "We think that it is realistic for Metinvest to cover this deficit with investment-related debt facilities and with withdrawals from its $1.9 billion in working capital."
Metinvest made $1.2 billion in net profits last year – almost double the 2017 level, the company reports. "Underpinned by favorable steel and iron ore prices and ongoing economic growth in Ukraine…revenues soared by 33% year-on-year," Metinvest CEO Yuriy Ryzhenkov, writes of the 2018 company results. "In 2018, Metinvest delivered some of its best results in the last four years." After the report, Ryzhenkov told S&P Global Platts in London that Metinvest's crude steel output should rise by about 1 million tons this year, to 8.5 million tons.
Nearly $900 million of investments in Metinvest's two Mariupol steel mills last year helped push Ukraine's steel production up 4.5% during the first quarter, to 5.5 million tons. Last month, Metinvest launched a new continuous casting machine with an annual capacity of 2.5 million tons at its Illyich Steel MMKI mill. Next month, Metinvest's other big project goes on-stream: a modernized blast furnace at Azovstal will increase the plant's annual hot metal capacity by up to 1.6 million tons. Dragon Capital writes: "Domestic steel production keeps recovering gradually, driven by a pipeline of CAPEX projects that are likely to continue powering the steel sector through 2020."
Exports of steel products through Mariupol were down 30%, to 455,000 tons, in January and February, compared to the same period last year. By contrast, at Mykolaiv, the Black Sea alternative for Mariupol's steel mills, steel exports were up 20%, to 615,000 tons. Last year, Mariupol was the nation's top steel exporting port, shipping out 4.1 million tons of steel. But last May, Russian border controls ships started harassing shippers in the Azov, causing some companies to stop serving Ukraine's largest port on the Azov. At Kherson, a smaller Black Sea port closer to the Azov, cargo handling during the first two months of this year was up 27.5% y-o-y. From Mariupol, Kherson is 420 km, or seven hours by truck.
The EU and the European Investment Bank are preparing new concessional loans to finance the rebuilding roads and railroad tracks from Mariupol northwest to Zaporizhia and west to Mykolaiv reports the EU Delegation to Ukraine. The move comes after a high-level EU delegation visited Ukraine's Sea of Azov ports and reported on Feb. 18 to a EU Foreign Affairs Council's discussion dedicated to Ukraine. Soon, the EU will open in Mariupol an office dedicated to promoting decentralization and curbing corruption.
In the latest investment in Mariupol port, a successful auction was held last week for dredging 2 million cubic meters of sediment from the approach channel and port. Five previous auctions failed due to a lack of bidders. Companies feared their dredges and barges could be bottled up in the Azov due to Russian control of the Kerch Strait. Azimut, a Ukrainian company, won the ProZorro auction with a bid of $13.3 million. Now, the Sea Ports Administration plans to issue a tender for dredging Berdyansk port.
The World Trade Organization, or WTO, has upheld Russia's "national security" justification for banning transit of Ukrainian exports through Russia to Central Asia and Mongolia. Russia imposed restrictions on the truck and train cargo in 2016. Since then, Ukraine's trade plummeted with the "Russian-speaking world." Concorde Capital's Alexander Paraschiy writes of the ruling: "It will hardly have any economic implications for Ukraine. Even if the WTO experts had decided that Russia did something wrong by limiting Ukrainian transit, the Russian side would hardly have changed its behavior in the short term."
The EU will finance almost two thirds a €208 million project designed to expand Poland's sole LNG terminal by 50%, reports Polish Radio. Located in Świnoujście, a Baltic port on the German border, the project is due for completion in 2021. Separately, Poland's government announced last month that they will build a second, floating LNG landing terminal at Gdansk. In the 2020s, Poland is to become Central Europe's hub for LNG from the United States.
By 2023, a pipeline is to bring Norwegian gas through Denmark to Poland. With American LNG and Norwegian pipeline gas, Poland plans to stop buying gas from Russia in 2023. Currently, Russia supplies two third of Poland's gas needs. Alluding to Ukraine and other countries dependent on Russian gas, Peter Naimsky, Minister for Strategic Energy Infrastructure, told Poland's Senate: "We want to give our neighbors access to gas through the Polish gas transmission system."
Created by a Ukrainian, Nigeria's largest online marketplace for classifieds, has acquired its main competitor on the African market, OLX and its businesses in Kenya, Ghana, Uganda and Tanzania. Founded in Lagos in 2014 by Kyiv native Anton Wolyansky, Jiji lists 1.1 million items and has six million active users. With these acquisitions, Jiji's population base expands by 50%, to 300 million. In face of Jiji's growth, South Africa-based OLX pulled out of Nigeria last year.
Inc.com, the New York-based business news site, ranks Kyiv's UICE Group at the top of its list of "the Top 10 Fastest-Growing Private Companies in Europe." The Ukrainian Interbank Currency Exchange became an authorized exchange platform in the early 2000s. Led by Oleksandr Ginzburg, the exchange trades stocks, derivatives, oil, gas, and coal. The site reports: "Inc. 5000 Europe rank No. 1: Three-year growth 24,845% 2017 revenue €79.3 million."
Setting an ambitious goal for air travel, the government wants to nearly quadruple air passengers in the 2020s, to 80 million in 2030. Building on a 25% jump last year, to 20.5 million air travelers, the Infrastructure Ministry sets this 2030 target in its new Aviation Transport Strategy. By comparison, Poland with roughly the same size population of Ukraine, but half the territory, carried only 38 million air passengers in 2017.
Kyiv Boryspil passenger traffic was up 15% during the first quarter, to 2.6 million people, compared to Jan-March of last year. Ukraine International Airlines, the airport's main tenant, carried 8% more passengers in the first quarter, about 1.5 million. With the fast growth of discount airlines, UIA lost $100 million last year.