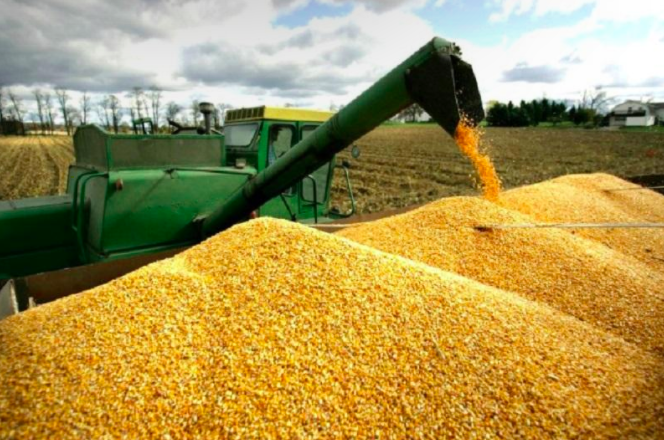 Wheat exports are up 56% compared to this time last year. As of Friday, Ukraine has exported 18 million tons, compared to 11.5 million at the same date last year, reports APK-Inform consultancy. Within one month, Ukrainian exporters are expected to reach the export quota of 20.2 million tons. The government recently reaffirmed the quota, fearing a Covid world would buy up Ukrainian wheat, forcing up local bread prices.

Black Sea wheat prices are up about 18% y-o-y, with most of the runup taking place since the coronavirus crisis hit in early March. While the coronavirus pandemic creates logistical roadblocks and rising unemployment, consumers living in lockdown conditions often prefer wheat products because they are cheaper and have longer shelf lives than perishable items, such as fruit and vegetables.
With wheat leading the growth, Ukraine's overall grain exports – including corn, buckwheat and rye – were up by one third Friday compared to the same time last year. Ukraine has exported a record 45.3 million tons. The USDA recently raised its grain export forecast for this marketing year ending in June to 57.3 million tons – 14% over last year's level. Last year, Ukraine harvested a record 75.1 million tons of grain – a 7% increase over 2018.
Aside from the cap on wheat exports, Ukraine does not plan to limit other food exports, says Mykola Solskiy, head of Rada's agrarian and land policy committee. "Ukraine not only fully meets its own needs for all socially significant food products, but is also one of the world's leading exporters of wheat, corn, barley, and soy," the Servant of the People party's press service quoted him Saturday. Noting that food accounted for almost 40% of Ukraine's food exports last year, he said: "As a result, there is no dollar at 50 hryvnia!"
Spring sowing started on time two weeks ago. To date, 1.3 million hectares have been planted, about 10% of the planned area.
Looking ahead, next fall's harvest of grain and oilseeds may reach 95 million tons, according to Andriy Kupchenko, analyst at APK-Inform. Although this would be 3% off last year's crop, the Ukrainian Grain Association predicts that next year's exports will equal this year's forecast level of 57 million.
With the hryvnia strengthening, the central bought $430 million over the last week, says Dmytro Sologub, a deputy governor of the National Bank of Ukraine. "Only in the last five working days, the National Bank bought $430 million for reserves," he tells Ukrainska Pravda. Despite these sales of hryvnia, Ukraine's national currency appreciated by 3% last week. Today, it is UAH 27.22 /$1.
In an attempt to derail the 'anti-Kolomoisky' banking bill, members of the oligarch's Rada faction have submitted over 13,000 amendments to the bill that won initial Rada approval one week ago. In a similar attack on the farm land market bill, Rada members filed 4,018 amendments to the bill, forcing the Rada to evaluate each one and delaying the second vote for two months. "If I were to be asked whether this will topple the law, I would say no," Yaroslav Zhelezniak, deputy head of the Rada finance committee in the parliament and  member of the Voice party, tells the Kyiv Post. "I believe the law will be adopted closer to Thursday (April 9)."
Concorde Capital's Alexander Paraschiy writes: "If the anti-Kolomoisky bill reaches a vote at the same rate, parliament could need more than 20 sessions for its approval. In this way, Ukraine is not likely to implement the IMF's To Do list by mid-May."
A €400 million urban transit project for Ukraine is being prepared by the European Investment Bank and the EBRD.  Half of the project funding would be a 22-year 'soft loan' by the Luxemburg-based European Investment Bank. Much of the money would go for the purchase of 167 trolley buses. Big beneficiaries are to be: Odesa – 47; Kremenchuk – 40; Dnipro – 10; and Kryvyi Rih – 8.
As coronavirus cases in Kyiv inched up to 267, Mayor Klitschko repeated yesterday his warning to ban private cars in the capital. He told reporters: "If there is further non-compliance with the rules, then the state may impose strict restrictions." In recent days, the National Police have fined 3,900 people for quarantine violations. So far, Ukraine has 1,319 confirmed Covid-19 cases and 38 deaths. According to Johns Hopkins University, Ukraine ranks 53rd out of 183 countries with coronavirus cases.
The average oil price paid by Ukraine in March was $31/barrel – 39% below the price paid in February, reports the Ministry of Economic Development, Trade and Agriculture. This year, Ukraine may save $5-6 billion in energy imports this year, calculates Dmytro Sologub, of the central bank. Energy accounts for 20% of Ukraine's imports.
Finland's Labor Ministry plans to organize emergency charter flights to bring Ukrainians to Finland to perform seasonal farm work. Foreigners will have to go through quarantine for two weeks before heading to farms, Laura Perheentup, a Labor Ministry official, tells Yle, Finland's national public broadcaster.
Since Saturday, UIA has given up use of three Boeings. On Monday, a UIA Boeing 737-800 was returned to its lessor, in Toulouse, France. Last weekend, the airline flew two of its long haul Boeing-777s to Teruel, Spain, where they were put in storage. Currently, 70% of airplane parking space at Boryspil is occupied, largely by planes from five Ukrainian airlines: UIA, SkyUp, Azur Air Ukraine, Windrose, and Bravo.
Antonov Airlines, Ukraine's largest cargo airline, is fully booked this month, carrying medical cargo from China to the EU in its mammoth Soviet-design cargo planes. SkyUp and UIA, with their fleets otherwise grounded, are taking seats out of passenger jets to carry humanitarian loads. "In the near future we are also planning the first such flight," UIA President Yevheniy Dykhne writes on Facebook.
Lviv Airport plans to expand international air cargo, working with Kyiv-based Eleron Aviation Company. On Friday, Eleron started flying mail and packages for Ukrposhta from Lviv to Riga, an air cargo hub. After the quarantine is lifted, the airline plans to expand cargo service to cities within a 1,000 km radius of Lviv. Eleron's target is to carry 40,000 tons of air cargo from Lviv over the next year.
From the Editor: At least half of this issue is 'Certified Covid-Free.' Ideally that proportion will grow in coming weeks as Ukraine's real economy re-emerges. With Best Regards, Jim Brooke  jbrooke@ubn.news