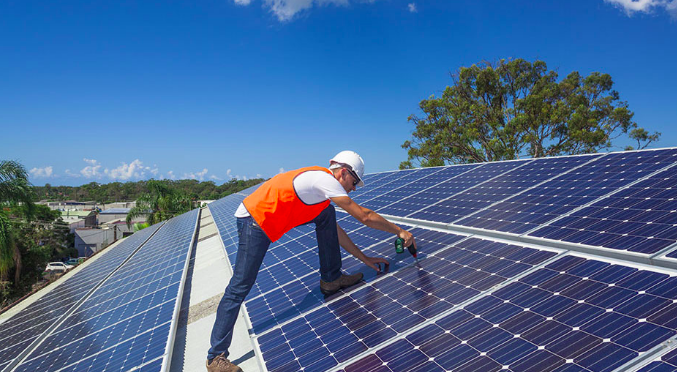 Tuesday, April 30
Solar, Wind: Rada Votes to Move from Europe's Highest Tariffs to Auctions...Investments Make Renewables Ukraine's Fast Growing Energy Segment...Taking Move to Auctions in Stride, Investors plan Billions in New Solar Investments Through 2020
In coming days, President Poroshenko is to sign into law the energy bill approved last week by the Rada, moving Ukraine next year from 'green' tariffs to 'green' auctions. Effective next year, the bill requires that all solar plants over 1 MW and all wind farms over 5MW participate in energy auctions. An existing 10% tariff increase for use of Ukrainian-made equipment is retained. The bill aims to establish a fair market price for 'green' electricity, to promote competition among producers, and to cut the cost of 'green' power to consumers, according to Sergey Savchuk, head of the State Energy Efficiency Agency.
The new legislation "corrects an error — the highest rates in Europe," Igor Naslik, Energy and Coal Industry Minister, told the Rada on Friday. The goal is to cut news feed-in tariffs for solar plants by 25% next year, and by 2.5% a year from 2021 to 2023. For wind plants over 2 MW, the feed-in tariff is to go down next year by 10%. Biomass and biogas energy rates stay unchanged. Feed-in tariffs are prices paid to producers for selling into acommon electricity pool.
During the first quarter of this year, solar accounted for 80% of the 860 MW of newly installed renewable energy capacity, reports Savchuk, the Energy Efficiency director. Of Ukraine's three gigawatts of installed renewable capacity, solar accounts for 71%.
Renewable energy – largely solar and wind – will be the fastest growing energy source in Ukraine this year, predicts the Energy and Coal Industry Ministry. Renewables will more than double – increasing by 127% — to six gigawatts. Nuclear will decline by 1.2%, to 83.4 gigawatts. Thermal – coal and gas – will drop by 2% to 46.5 gigawatts. Combined heat and power plants will increase by 6.6% to 11.7 gigwatts. Large hydro will fall by 23% to eight gigawatts.
Sky high 'green tariffs' boost the cost of power but generate little renewable electricity, Katya Gorchinskaya writes in a Politico article titled: "Ukraine's Green Oligarchs." Current rates paid producers, in euro cents per 100-kilowatt hours, are: solar — 15 to 16 cents; wind — 10.2 cents; small hydro 10 to 17 cents; thermal – 5.8 cents; nuclear 1.7 cents. As a result, renewables provided 1.9% of the nation's electricity last year but accounted for 8.6% of the nation's €5.5 billion power bill.
Asserting that five years of subsidies were needed to jump start Ukraine's renewable energy industry, DTEK, now Ukraine's largest solar producer, tells Politico: "Investments in renewables have become the third most attractive sector for direct investments in Ukraine besides the agricultural and IT sector." DTEK, owned by Rina Akhmetov, adds: "As in other countries, the introduction of a specific regulatory framework was instrumental for DTEK's and other investors' decision to kickstart investments in this sector and a precondition to attracting foreign long-term debts for the financing of the imported equipment required."
Michael Yurkovich, CEO of TIU Canada, has two solar plants, totaling 24 MW, in southern Ukraine. Working on two more plants, in Odesa, for an additional 32 MW, he recently told Renewables Now: "Investors need confidence that there is an ongoing commitment to renewables; a consistent level of support during the investment cycle; a supportive regulatory and permitting environment; transparency in the distribution of support; and a level playing field for investors."
Over $1 billion in solar projects are under construction this spring, racing the Dec. 31 sunset of the sky high green tariffs. Adjusting to a new auction regime, investors plan billions of dollars in additional investments through 2020. The investment action largely focuses on Ukraine's three sunniest southern regions – Mykolaiv, Kherson and Odesa.
Here is a partial roundup:
In Mykolaiv, 400 MW of solar capacity is under construction or in the planning phase. Foreign investors nvestors include: Estonia Energy Invest, Turkey's Eko Yenilenebiler Enerjiler AS, and Norway's Scatec Solar. With EBRD financing, Scatec is building two Mykolaiv solar plants, investing a total of €232 million to build 197 MW capacity.
In Kherson, Scatec, through its Atlas Capital Energy LLC, is building this spring a 50 MW solar station in Hola Prystan. With about a dozen companies in Ukraine, Scatec is working on 414 MW of projects – 251 MW under construction and 163 in the design and permitting stage, reports Interfax-Ukraine. The Arab Investment and Development Authority, AIDA, signed a deal in Dubai last month with STC Energy Ukraine to invest $2 billion in solar power plants in Ukraine. The first phase is to build solar plants totaling 170 MW, under the agreement signed by AIDA chair Adil Al Otaiba, STC Energy CEO Natalia Tykhonova, reports Emirates News Agency.
In Kirovohrad region, there are plans to commission 46 solar stations with a generating capacity of 500 MW by 2023, reports EcoTown news site. Almost half of this will come from three solar plants, totaling 190 MW, that DTEK plans to commission by the end of this year.
In Nikipol district of Dnipropetrovsk region, DTEK inaugurated earlier this month a 200 MW solar farm, the second largest in Europe. Now DTEK Renewables is building nearby a €200, 240MW solar polar plant, due for commissioning this year.Companies from Belgium, Denmark, Ireland, Lithuania and Turkey are among the investors building about a dozen solar projects for over 100 MW in central Ukraine's Zhytomyr region. Establishing the region's reputation as solar friendly, the Zhytomyr Regional Administration signed 14 memorandums with solar investors last year.
Turkey's Emsolt is building this spring 20 MW of solar capacity at two sites, in Zhytomyr and Khmelnitsky. The company has 85 MW ready for construction and another 50 MW under development, reports UNIAN.
Kness Group, the Vinnytsia-based engineering, procurement and construction firm, is building 500 MW of solar capacity across Ukraine this year. This adds to 500 MW in projects completed by the company in earlier years, Yevhen Didichenko, co-founder of Kness, told a recent renewable energy conference organized by GOLAW firm in Kyiv.
Two Japanese companies, Green Power Development Japan and Deloitte Touche Japan, are talking with the Energy and Coal Industry about building solar plants with a total capacity up to 1.2 GW in the Chornobyl exclusion zone, reports Interfax Ukraine. In addition to the symbolic value of building solar at the site of the 1986 nuclear disaster, solar developers want to plug into existing power transmission lines.
Odesa region now has 500 MW of installed solar capacity, including a 260 MW project commissioned in January. From Danube to the Mykolaiv border, Odesa now has 23 solar plants in the below 50 MW size. Spain's Acciona Energia Global is seeking to win permission to buy majority control of two solar projects in Izmail owned by UDP Renewables of Vasyl Khmelnytsky.
With the spread of solar, southern Odesa increasingly faces the problem of excessive daytime power for local electricity grids. To address this, France's RTE International and Ukrenergo are designing Ukraine's first energy storage system. RTE International is a unit of RTE, the French electricity grid operator. The first phase of work is financed by a €560,000 grant from France's Economy and Finance Ministry.