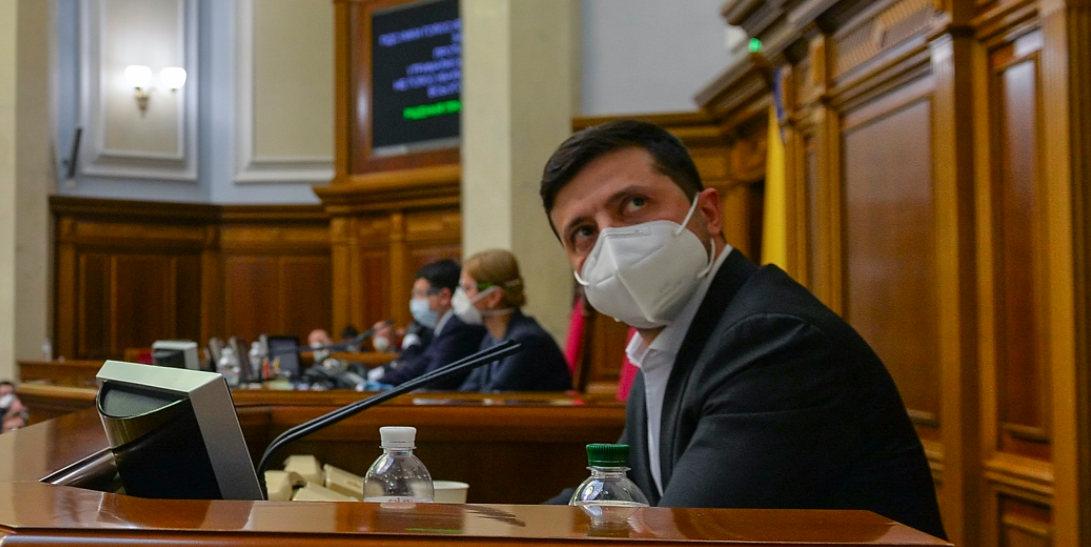 President Zelenskiy believes he has the votes in the Rada to pass a bill that would shield PrivatBank from re-privatization, clearing the way for an IMF accord. "[The] Bank law is a priority for us," he told French President Emmanuel Macron by phone Monday. "I am confident it will be backed by parliament because it is important for us and it opens the possibilities for cooperation with the IMF." Aides predict that there will be special sessions of the Rada on Friday and next week, allowing for passage by the end of the May holidays.
Friday's dismissals of the heads of Customs and the Tax Service are receiving poor reviews.
Concorde Capital's Zenon Zawada writes: "If anything, it reaffirms to the public that anyone going to serve in the Zelenskiy administration can expect to be in their post for no more than six months, a message that merely encourages corruption rather than reduces it."
With allegations swirling of attempts to sell government posts to the highest bidders, the EU Delegation to Ukraine tweeted: "The EU and the US are closely following the appointments of leaders in the customs and tax services. It is important to adhere to honest, competitive procedures, which are based on merit, and not to risk long-term reforms that are supported by international partners."
Maxim Nefyodov, dismissed head of Customs, told finance.liga.net news site that newly rigorous customs controls led to a jump in declared imports of contraband-prone goods in the first quarter – mobile phones up 71% and clothing up 43%. Earlier, summing of the 3.5 months of work of the agency, he said he had fired 500 corrupt holdover employees, moved much of the paperwork online, and had put scanners into operation at seven EU border checkpoints, cutting inspection times for a truck from three hours to 10 minutes. Finance Minister Serhiy Marchenko, defended Nefyodov's firing, saying: "The smuggling has not disappeared."
Serhiy Verlanov, dismissed head of the Taxes, said in 2019, the Tax Service fulfilled its annual revenue plan for the first time in eight years, and fulfilled its plan for excise duties on alcohol products for the first time in four years. Prime Minister Shmygal countered on Facebook Monday: "The 2019 budget showed among the worst revenue indicators in recent years."
"Russia's economic woes will clip Vladimir Putin's wings," predicts a Financial Times editorial. "Economists from Moscow's liberal Gaidar Institute estimate a 7-12 per cent decline [of GDP]," the FT writes. "Alexei Kudrin, the ex-finance minister, has forecast 8 million Russians could lose jobs. Since two-thirds of citizens have no savings, real suffering could result." Net result: "Even if he is unlikely to want to make peace in Ukraine — his flagship foreign policy project of recent years — his domestic troubles may ensure Mr. Putin will not be launching any further expansionist ventures for the foreseeable future."
Oil prices for June delivery fell sharply on Monday, with Brent dropping to $20 a barrel and West Texas Intermediate to $13 a barrel.
Support for the quarantine has dropped from 72% in early April to 54% last week, according to polls conducted by Research & Branding Group as part of the Rubicon project. The latest poll, of 1,400 Ukrainians, detected an erosion in compliance with virus security measures. The portion of respondents fearing that they or family members will get sick fell from 40% to 29%. Three quarters support extending the quarantine through the May holidays, but 42% say it should stop May 12. On personal finances, 47% say they have no savings and 51% say their household income is down.
Since March 13, Ukraine has recorded 220 deaths from Covid-triggered illnesses and 9,009 laboratory confirmed cases of infection. Medical workers account for almost 20% of known infections. Of the infected, only 31% are hospitalized, including 110 on lung ventilators. Kyiv and Kyiv Oblast account for 20% of all known infections. Among the Armed Forces, 44 soldiers are hospitalized with acute respiratory diseased triggered by Covid-19. Another 361 solders are in self-isolation.
Intercity and suburban train and bus travel will resume on Tuesday May 12, assuming coronavirus infections slow, Infrastructure Minister Vladyslav Krikliy predicts in an interview with Liga.net. He cautions: "But much depends on what indicators for the spread of the virus we will have by May 12."
Also planned that date are re-openings of: parks, beaches, stores, beauty salons, barbers, law firms, audit firms, notaries and bike rental shops. In a Facebook posting Monday, Prime Minister Shmygal stressed that all depends on the evolution of the virus.
Wizz Air starts flying again on Friday out of London Luton to a dozen destinations, including several Romanian cities to pick up migrant workers. Flight attendants will wear masks and gloves, and will distribute disinfectant wipes to each passenger. Seats between passengers will remain empty, meaning that a 180-seat Airbus A-320 will carry 120 passengers. Each jet will be disinfected at night.
Also on Friday, Air Astana starts flying domestically in Kazakhstan between Almaty and Nur-Sultan (Astana). Last weekend, Belavia took advantage of the grounding of most of Europe's airlines and inaugurated a flight between Minsk and Vienna.
Poland is preparing charter flights to fly Ukrainians to Western Poland to work in factories and to harvest strawberries and asparagus, Krzysztof Inglot, head of Work Service S.A., a Wroclaw job agency, tells Poland's TVP. UIA tells NV that it plans two flights to carry Ukrainian farm workers to Finland. UIA said that passengers were require to have six month work contracts.
Ukraine's scheduled air travel will resume first with domestic flights, Infrastructure Minister Vladyslav Krikliy predicts in an interview with Liga.net. For international travel – 95% of Ukraine's air travel – the 14-day self-isolation rule is a barrier. "For example, you went to Poland and then returned," the Minister said. "It will be necessary to spend 14 days in self-isolation. Will everyone be comfortable in this mode? I doubt it."
Ukraine's government is organizing 'evacuation' flights from 26 cities around the world. After arrival at Kyiv Boryspil, passengers are to go into two weeks of self-quarantine. Despite the grim economy, returning workers are encouraged to stay here, finding work or taking take low interest loans to start small businesses.
Since the quarantine started six weeks ago, 277,000 individual entrepreneurs, or FOPs, have stopped working, reports OpenDataBot. Overall unemployment is believed to have doubled. Salaries in the second quarter are shrinking, according to experts interviewed by Segodnya.ua.
From the Editor:  Reader emails have picked up on the government's quiet move to hold on to Ukrainian migrant workers once they come home. 'Social engineering' is a phrase that pops ups. Looking back, it is clear that Poroshenko used 'bez viz' – the no visa regime with the EU – to reduce tensions on the social pressure cooking by enabling unemployed Ukrainians to work in Poland. Today, with Ukraine's economy shrinking, it is not the time to dictate: 'Let 100,000 Small Businesses Bloom." With Best Regards Jim Brooke jbrooke@ubn.news