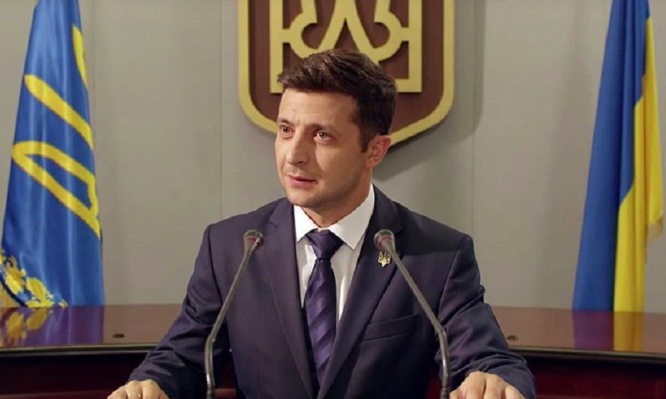 Tuesday, April 23
Zelenskiy Want to Cut Election Calendar, Early Vote for Rada...Poroshenko Allies Called for Questioning Today in Economic Cases...Transparency for Defense, Modernization for Health...A Sin City for Ukraine?...Markets Calm...Online Delivery Services Spread Across Ukraine
Zelenskiy forces want to lock in their big electoral victory Sunday by advancing Rada elections from the current date of Oct. 27. By inaugurating Volodomyr Zelenskiy president on May 28 and holding Rada elections in the summer, the Zelenskiy reform movement aims to start this fall with a big party bloc in the parliament. Investors would like to see the election calendar shortened, but much of the Rada is opposed.
The Prosecutor General's Office is summoning several top allies of President Poroshenko for questioning today and Thursday in embezzlement and money laundering cases reports the Kyiv Post and Interfax-Ukraine. Those summoned include: Valeria Gontareva, the former head of the National Bank of Ukraine; Kostyantyn Stetsenko, managing partner at ICU investment bank; Borys Lozhkin, Poroshenko's former chief of staff; Oleksiy Filatov, former deputy chief of staff; and Mykola Zlochevsky, Ukraine's former ecology minister and owner of Burisma Holding, the natural gas company.  Gontareva, who lives in London, told Interfax-Ukraine she would not go to Ukraine for questioning. She invited Ukrainian prosecutors to come to London.
On Thursday, the Rada will debate – and possibly vote – on a Zelenskiy-backed measure to abolish the immunity from prosecution enjoyed by Rada members. Historically, members of parliament have fought to keep this protection, either because they believe they have committed crimes or because they fear prosecutions will be politically motivated.
Transparency and open tenders will be the new hallmarks of Ukraine's nearly $7 billion defense budget, promises Ivan Aparshyn, a 62-year-old defense expert seen as a future Zelenskiy Defense Minister. "We're not going to continue with the practice of concealing expenses on some clandestine programs and obscure projects," he writes on the campaign's Obozrevatel blog. Referring to a sector equal to 5% of Ukraine's GDP, he writes: "Everyone who is in some way involved in numerous semi-criminal schemes over fuel materials, or abuses in the supplies system of the Armed Forces, will not avoid holding responsibility."
The current modernization of Ukraine's healthcare system is supported by president-elect Zelenskiy's chief health care advisor, Yevhen Komarovsky. Brushing aside attacks by some Rada members on acting health minister Ulana Suprun, Komarovsky writes on his Facebook page: "I am a supporter of the current strategic course to conduct the healthcare reform…there is no alternative to the strategic course for healthcare reform." Acknowledging that in Ukraine, the Prime Minister appoints the Health Minister, Komarovsky writes Zelenskiy "will do everything in his power to ensure the implementation of the requirement of the law on financing of health care at 5% of GDP."
Zelenskiy says he is open to new business opportunities in sectors associated with vice – gambling, marijuana, and prostitution. Ukraine could choose an "abandoned" city "to set up a Las Vegas," with gambling and "sex for money," he told RBC Ukraine news agency Thursday. "Medical marijuana – I think that this is normal," he said, referring limited legalization that is supported by health minister Suprun and a petition to the Rada with 25,000 signatures.
Timothy Ash writes: "The scale of Zelenskiy's victory shows that this was not just about a snazzy media campaign funded by dark shadows in the background. This was a clamor for real change. The population wants to throw the corrupt old system out. They thought they had with Euromaidan."
Concorde Capital's Zenon Zawada writes: "In order to be successful, Zelenskiy needs to focus on one or two signature issues and accomplish progress with them. He is likely to draw from his main campaign themes, which were fighting corruption, improving business conditions and ending the warfare."
Dragon Capital writes:  "The strong popular mandate Zelensky has secured strengthens his hand against the government and parliament, where he currently does not have much explicit support, and potentially enables him to press ahead with early parliamentary elections while he can ride the wave of his landslide victory…it will be important to watch Zelensky's first steps…to assess how much real power his office has or can acquire and what risk there is of a post-election political impasse, particularly if the newly elected president pushes forward with a snap Rada ballot
Markets reacted calmly Monday to the Zelenskiy landslide. The official exchange rate, traditionally 'guided' by the central bank, increased by 16 kopecks – less than 1% — to 26.66 / 26.69 hryvnia to the dollar. In neighboring Russia, the Moscow markets rose, reportedly on the belief that a Zelenskiy government will offer the window for a Russia-Ukraine détente and the easing of US sanctions.
Nova Poshta, the privately owned delivery company, has successfully placed bonds for UAH 300 million, or $11.2 million, Raiffeisen Bank Aval, the underwriter, tells Interfax-Ukraine. Maturing Aug. 14, 2020, the bonds have an annual yield of 22%, says Victoria Masna, head of investment banking at Raiffeisen. The money is to go to buying new trucks, new computer servers and modernizing the company's 2,886 branches. Last year, Nova Poshta delivered 174 million packages, 20% more than in 2017. As part of a strategy to grow again by  20% this year, the company has opened 164 branches since Jan. 1. Reflecting the growing popularity of online shopping, one of all Nova Poshta branches are in towns with less than 10,000 people.
Barcelona-based Glovo starts deliveries this week in Lviv, its fifth Ukrainian city, after Dnipro, Kharkiv, Kyiv, and Odesa. After opening last fall in Ukraine, the delivery service has 5,000 couriers and a list of 10 additional cities for expansion including Mykolaiv, Vinnytsia, and Zaporizhia. "Of all European countries, Ukraine needed the least time to reach 100,000 orders per month," Dmitry Rasnovsky, Glovo's Ukraine manager, said at the SUP Day Forum Thursday in Kyiv. "I believe that we can reach a figure of 1 million orders per month by the end of 2019."
With Kyiv restaurants unable to keep up with food orders, Glovo plans to open a 'remote kitchen' in August. Four 'non-competing' restaurant would cook under one roof at a central Kyiv location. "Already, restaurants in the center of Kiev are not coping with orders….they do not have the capacity to provide such a flow," Rasnovsky said of surging online demand. He also is considering opening a 'remote kitchen' in Troieschchyna, a Left Bank district, where costs are low and restaurant offerings are poor.
Next month, Kyiv is to become the third city in the world to have Uber Shuttle service. Currently, only Cairo and Monterrey, Mexico have the service, which allows passengers to book seats in minibusses operating along fixed city routes. Uber launched its taxi service in Ukraine in 2016, its regional headquarters in Kyiv in 2017, and, earlier this year, Uber Eats food delivery service and Uber Green electric car service.