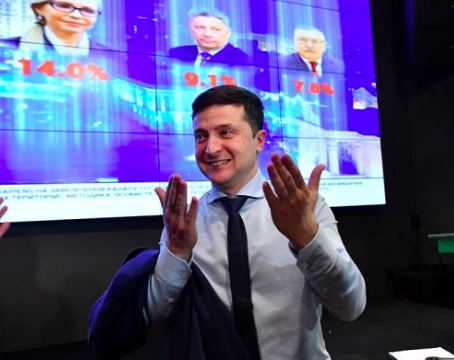 President Poroshenko faces a tough fight to beat challenger Volodomyr Zelenskiy in the April 21 runoff presidential vote, analysts predict.  Not only did Zelenskiy win nearly twice as many votes as the incumbent, but the 16% of votes for pro-Russian candidates will probably transfer to Zelenskiy, a native Russian speaker from southeastern Dnipropetrovsk region. When asked by pollsters, half of the voters for Yulia Tymoshenko say they will vote for Zelenskiy.
With 96% of votes counted Monday night, the top five were: Zelenskiy – 30.2%; Poroshenko – 16%; Tymoshenko – 13.4%; Boyko –11.6%; Grytsenko – 7%.
Dragon Capital writes: "Zelenskiy's lead may not look unassailable, but will be very hard to overcome for the incumbent…The first round winner and runner-up's results in the latest ballot were the weakest of all prior presidential elections, signaling whoever wins the runoff will have to grapple with high public discontent and strong political opposition. This only increases the significance of the parliamentary elections to be held in October."
Concorde Capital's Zenon Zawada writes: "Poroshenko has already revealed the essence of his campaign strategy for the next three weeks, sounding the cataclysmic themes in his March 31 remarks of an approaching "point of no return" and warning that "we can lose everything that we did for the last five years."
Timothy Ash cites the presence of two respected economic ministers: "For Western donors, and investors, the fact that Danylyuk and Abromavicius are part of the Z-team is critical… Zelenskiy's outlook is much more centrist/liberal than the likes of [Brazil's] Bolsonaro, [Italy's] Five Star, et al, and having Daniliuk and Abromavicius holding the economy portfolios will provide considerable reassurance to markets. A Z-team could be a reform outcome – if well managed."
Rates on Ukrainian sovereign bonds fell slightly Monday in reaction to Sunday's election results. "The reason for such dynamics…is that it has finally become clear: Tymoshenko has no chance of becoming president," Oleksandr Paraschiy, head of research for Concorde Capital, told Interfax-Ukraine. "Tymoshenko looked the riskiest for sovereign debt, based on her positions on key issues that contradict the IMF program." Liquid shares of Ukrainian companies listed on the Warsaw Stock Exchange showed little movement on Monday.
Why was there no Zelenskiy market rally? ICU trader Vitaly Sivach tells Interfax-Ukraine: "Investors are afraid that he is not experienced enough to hold such a responsible post, and they don't know what to expect from this candidate if he wins."
Zelenskiy, like many Ukrainians, puts more faith in real estate than in banks. According to his mandatory public asset declaration, the show business entrepreneur owns four apartments in Kyiv, a dacha outside the city, and apartments in Crimea and the UK. On Friday, Slidtsvo.Info reported that he neglected to list a 17-room villa that he and his wife Elena own near the beach in Forte dei Marmi, a Tuscan town popular with wealthy Russians. In response, his campaign dismissed the report as 'fake.'
Real wages were up 11% y-o-y in February, reports the State Statistics Service. Nationwide, the average monthly nominal wage was UAH 9,429, or $350. The average wage in Kyiv city was 50% higher, or $530. And Kyiv wages, the highest in the nation, were twice as high as the lowest in Ukraine, $266 in Chernivtsi.
Horizon Capital, the U.S. private-equity firm specializing in Ukraine, is investing $10 million in Ajax Systems, a Kyiv-based producer of wireless security systems.  A competitor to Amazon's Ring, another Kyiv-based security system designer, Ajax makes sensors that detect intruders, fire, and flooding and remote controls for household appliances, locks, and lighting. Founded in 2011, Ajax employs 500 people in Ukraine and largely sells to the European Union.
The founders of Monobank, Ukraine's mobile bank, are investing $1 million to bring a British version, Koto, to the UK market by September, Dmytro Dubilet, one of the founders, tells Novoe Vremya magazine. "We are trying to launch a project in England now," says Dubilet who founded Monobank in 2017 with Oleg Gorohovsky and Mykhailo Rogalskiy, all former managers at PrivatBank. "The alpha version is ready. We are engaged in internal testing. I am already paying for purchases with a Koto card." Less than two years after founding, Monobank has 826,000 clients in Ukraine.
Ukrainians are among Europe's fastest adopters of mobile device payment systems and other non-cash transactions, Maria Babenko, regional director for Visa Inc., tells Focus magazine. "Of course, if we compare Ukraine with Europe in terms of the amount of money flowing through non-cash channels, we are still an emerging market," says Babenko who handles CIS and Southeastern Europe. "But if we look at Ukraine in terms of adaptation of innovations, then I would say that we are seen as a leader in this direction…Apple Pay and Google Pay, which work in Ukraine, have not yet entered all European markets…contactless transactions in many countries are far less common than in Ukraine because of the unwillingness of retailers to receive such payments."
Google Ukraine launches this week the Google Pay online payment service, a streamlined system that does away with re-entering payment card data with each online purchase. About 6,500 Ukraine-based online stores have adopted this option. About 200,000 physical stores now accept Google Pay.
The Ukraine offices of three international search firms — Odgers Berndtson, Pedersen & Partners and Ward Howell – have won mandates to identify candidates for six independent board members of Eximbank, Oschadbank, and PrivatBank, Finance Minister Oksana Markarova writes on Facebook.
Saudi Arabia's SALIC UK Ltd is investing $51 million this year in farm machinery to cultivate its 195,000 hectares of Western Ukraine farmland, split between two companies, MRIYA Agro Holding and Continental Farmers Group. According to Georg von Nolcken, the new chief operating officer of the combined companies, SALIC is buying almost 300 pieces of machinery, including tractors, combines, self-propelled sprayers, and transport trailers.
Corn was king according to the final breakdown of Ukraine's record 2018 harvest of 70 million tons, 13% bigger than the year before. The State Statistics Service reports: Corn – 35.8 million tons; Wheat — 24.6 million tons; Sunflower seeds – 14.2 million tons; and Soybeans – 4.5 million tons.
Grain exports should hit 49 million tons this marketing year, up by almost one quarter from the comparable July 2017/June 2018 period. So far grain exports have hit 37 million tons, up 23% from the same period last year, according to the Agriculture Ministry.
In 'test mode,' the new Cargill-MV Cargo grain terminal has exported 1 million tons of grain since last summer. "In test mode, we handle 20,000, sometimes 30,000 tons a day!" Andrei Stavnitser, co-owner of the terminal writes on his Facebook page. Located in Yuzhne, Ukraine's busiest Black Sea port, the $100 million terminal and 16-meter deep berth are designed to handle 10% of all of Ukraine's annual grain exports.