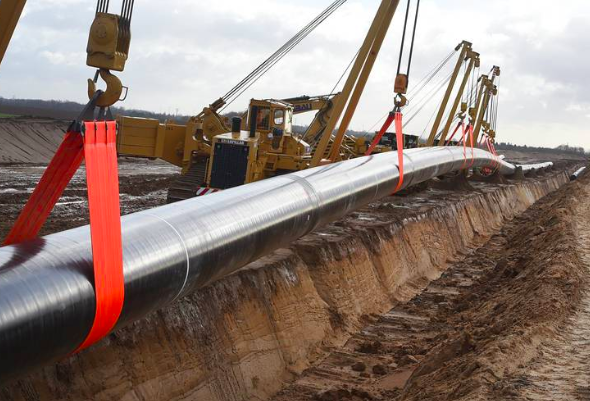 The EU Council approved a European gas directive Monday that is expected to delay commissioning of the Nord Stream 2 gas line – and potentially leave it half empty. Extending EU rules to non-EU pipelines, the directive will force Gazprom to "unbundle" or hand over operation of the line to a company independent of Russia's state gas producer. Potentially, more serious, half of the pipe has to reserved for third companies. Given Gazprom's gas export monopoly, this could leave half of the pipe empty until Russia's creates a separate gas exporter. Ukraine's Mission to the EU issued a statement welcoming the new rules.
Complaining of "a deliberate attempt to delay the project's completion," Nord Stream 2 AG  filed an application Monday for a third alternative route around Denmark's Baltic Sea island of Bornholm. Russia, Finland, Sweden and Germany have issued permits for the 1,220 km pipeline which is almost half built. Responding to Russia's impatience, Denmark Energy Agency says environmental impact statements take time. The new route goes through waters that once were contested by Poland and Denmark. Although a settlement was reached, Poland has not yet ratified it.
In the latest move to bring non-Russian gas to Poland and, potentially Ukraine, the European Commission signed on Monday a €215 million grant to start building a pipeline to bring Norwegian North Sea gas to Denmark and a Polish Baltic seaport. Designed for completion by 2022, the line would supply 10 billion cubic meters of gas to Poland. By comparison, the Russia-German Nord Stream 2 pipeline is scheduled to open next year with an annual capacity of 55 bcm. Last year, Russia supplied almost half of the gas consumed in the EU, followed by Norway -34%- and Algeria and Libya, each 8.6%.
The EU grants pay for 60% of the 275 km underwater line connecting Denmark's Faxe with Poland's Niechorze-Pogorzelica. Attending the signing ceremony in Brussels was Polish Prime Minister Mateusz Morawiecki and Maroš Šefčovič, commission vice-president for the Energy Union. Next month, after Ukraine's presidential election, Šefčovič, a Slovak, plans to restart EU-Ukraine-Gazprom talks on renewing Russia's gas transit pact with Ukraine. In June, Poland is to receive its first liquefied natural gas supplies from the United States, under a deal signed by Poland's state energy firm PGNiG with Houston-based Cheniere Energy.
Last Friday, a senior EU energy official told a conference in Brussels that the EU plans to drag out the Nord Stream 2 permitting process until Gazprom negotiates a new 10-year gas transit deal with Ukraine. "There will be some years of delay and that is our trump card with Russia," predicted the official, Klaus-Dieter Borchardt.
Shrugging off the election season fireworks, S & P Global Ratings confirmed Ukraine's sovereign credit rating at the level of "B-/ B", with the outlook of "stable."  The international rating agency says the stable outlook reflects expectations that Ukraine will comply with the IMF agreement, maintaining macroeconomic stability during the presidential and parliamentary elections. S & P expects Ukraine to retain access to domestic and international capital markets, allowing it to repay debts in 2019. Last month, Fitch confirmed its rating of Ukraine foreign currency bonds at  "B-" with a stable outlook.
Dragon Capital writes: "Uncertainty stemming from the presidential and parliamentary elections, compounded by high public sector external debt repayments, is likely to keep Ukraine's credit ratings from being upgraded this year."
Ukraine hopes to raise new sovereign debt backed by a World Bank guarantee again this year though the size has not been decided, Finance Minister Oksana Markarova tells Reuters on Monday. Last month, Ukraine borrowed €529 million under World Bank guarantees. "We are working on the maximum possible amount, but it is too early to say specific figures," Markarova said. Next month and in November, Ukraine also expects to receive two IMF loan tranches worth a combined $2.5 billion.
If a Kyiv court decides to reverse the 2016 nationalization of PrivatBank, "it will cause a deep crisis in relations with the IMF," President Poroshenko warned Monday in a meeting with members of the American, European, and Ukrainian chambers of commerce. Saying he was "shocked" by Igor Kolomoisky's demand for $2 billion in compensation, Poroshenko said the nationalization saved the deposits of 22 million Ukrainians. He charged that Kolomoisky's strategy is to push for a court decision before Sunday's election "to say that this happened without their participation."
Separately, Valeria Gontareva, who nationalized the bank as Governor of the National Bank of Ukraine, dismissed Kolomoisky's demand for $2 billion "as complete nonsense." "The bank did not have that capital — there was a hole of 5.5 billion dollars, which the state closed," she told Novoe Vremya Biznes. In a warning to the court, she added: "This is the biggest fraud in the history of the financial world, so the whole world is watching this case."
At the meeting with business leaders, Poroshenko drew applause when he said he signed the Bankruptcy Code. As adopted by the Rada last fall, the new Code makes it easier for individuals to go into bankruptcy and for bankrupt properties to be sold at electronic auctions by ProZorro.Sale.
With opinion polls strongly favoring Kolomoisky's protégé, Volodymyr Zelensky, the mood was somber among the standing room only crowd of several hundred business leaders at Kyiv's InterContinental Hotel. Anna Derevyanko, executive director of the European Business Association, praised the president as "a fighter" and gave him an embrace. Lenna Koszarny, chair of the American Chamber, said: "People are worried. Business is worried." Recalling a meeting last month with chamber representatives where Zelensky showed up in a black T-shirt and gave vague answers, she said: "Nobody knows a thing – we are all trying to find out what will happen, how it will happen…When I hear the hryvnia exchange rate, not at 30, but 40, 50 — I feel terrible."
Prime Minister Groysman, who is expected to remain in his post for another six months — until the Oct. 27 parliamentary elections – promised to push the Rada to pass more legislation in upcoming sessions. Noting that the Rada has adopted only one-third of the Poroshenko Administration's 'top 35 laws,' he said: "Everyone says we have to move much faster than we do now."