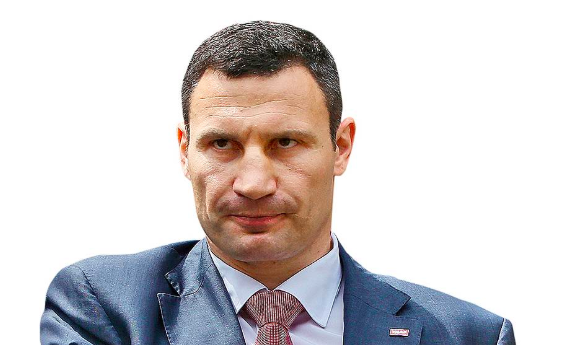 Casting a cloud over Kyiv, Ukraine's business and governmental capital, Ukraine's new cabinet is stripping Kyiv Mayor Vitali Klitschko of his powers at the head of the city administration. Traditionally, the capital's elected mayor has held both posts. With local elections not expected until 2020, the divorce of the two jobs may further degrade public administration. After five years as Mayor, Klitschko is increasingly criticized for failing to tackle traffic jams, cars parked on sidewalks, graffiti on buildings, and dangerously icy sidewalks in the winter.
The central bank is expected to lower the prime rate by half a percentage point today, to 16.5%, according to Dragon Capital and a Bloomberg consensus of experts. With inflation slowing and political pressure for economic growth growing, the National Bank of Ukraine is expected to gradually reduce prime this fall, from its current level of 17%. "Given that by the end of the year there will be three meetings of the NBU Board on monetary policy, we expect a decrease of 1.5 percentage points – to 15.5% at the end of the year," Raiffeisen Bank Aval analyst Mikhail Rebrik tells UNIAN.
While the world financial press has been largely mute about the free market initiatives announced in Kyiv in recent days, investors responded to the new government's plans to achieve 40% GDP growth over five years by bidding Ukraine's GDP-linked warrants up by 4.6% to a new historic high of 92.4% of face value, reports Interfax-Ukraine.
The EU is investing €100 million to improve the energy efficiency of Ukrainian apartment buildings, many built during the Soviet era when heating and electricity was virtually free. With financing split roughly 50-50 between building condominium associations and Ukraine's new Energy Fund, the fund plans to winterize 3,000 buildings a year. Yulia Golovatyuk-Ungureanu, director of the Fund, announced the Energodim program on Wednesday, the first day for condominiums to apply for grants at Ukrgasbank.
Looking back on five years as the EU's 'Foreign Minister,' Federica Mogherini told a farewell gathering of EU Ambassadors Tuesday: "In these five years, Ukraine has come a very long way, and it is today a much more resilient country than it was five years ago…We have helped create jobs, build and rebuild infrastructure. We have liberalized access to the European Union…In these five years, we have put together for Ukraine the largest support package in the history of the European Union."
Officials of Ukraine's state tax service contradicted each other Wednesday on a report that ArcelorMittal, the nation's largest foreign investor, owes $355 million in back taxes. In the morning, Evgen Bambizov, who claimed to be head of the department large taxpayers' office, said an audit revealed the shortfall in payments. In the afternoon, the tax service said Bambizov did not have the authority to speak and no decision has been made. During the day, ArcelorMittal, the nation's largest steelmaker, said they were audited between May and August. Arcelor said it is "incorrect" to make statements to the public before submitting an audit to the company.
An Oklahoma company's proprietary online auction system is helping Ukraine eat through its mountain of nonperforming bank loans, reports The Wall Street Journal. Oklahoma City's First Financial Network, run by John and Bliss Morris, veterans of the US Federal Deposit Insurance Corp., is helping Ukraine's Deposit Guarantee Fund sell leftovers from the 2014-2015 banking crisis. That crisis forced half of the nation's banks into bankruptcy. Today, the banking system has an NPL rate of 51%, largely in state banks. Last month, First Financial auctioned off 290 nonperforming loans collateralized by real estate, vehicles, and equipment. With a face value of $416 million, this portfolio sold for $3.5 million, less than one cent on the dollar.
With Ukraine's IT industry growing faster than the nation's qualified workforce, the new government plans to launch the IT Creative Foundation, with funding to build new IT campuses and courses to meet private sector needs of the 2020s. "One of the problems holding back the development of the IT industry today is the lack of staff," Prime Minister Oleksiy Honcharuk told IT company executives on Wednesday. "The industry is growing by 25-30,000 specialists each year — and universities are enrolling only 16,000 students." This public private venture will be funded largely by a special tax on IT companies that will grow from 1% in 2020 to 5% in 2024.  Enabling legislation is to be passed this fall by the Rada.
Dominique Piotet, the former CEO of a French computer company, is the new general director of UNIT.City, Kyiv's largest IT hub. Piotet, former head of Fabernovel Innovat, will oversee up to $60 million in investments this year by Vasily Khmelnitsky, founder of UFuture investment group and owner of UNIT.City.
As Ukrainians move from print to screens, one of the nation's largest newspapers, Segodnya, or Today, ends its 150,000 copy print edition on Sept. 27. The owner, Rinat Akhmetov's Media Group Ukraine, says the Segodnya brand will live on as a news site and a TV news show. Rising printing costs, disappearing kiosks and the phasing out of postal discounts, make newspapers unprofitable in modern Ukraine, media analysts say.
Ukraine's exports to the EU may drop in October if Poland does not quickly issue more permits for Ukrainian trucks, logistics experts say.  Poland, Ukraine's second largest EU trading partner after Germany, is the main port of entry for Ukrainian goods sent by truck to the EU. This year, in a bid to bolster Polish trucking, Poland cut its permits to Ukrainian truckers by 28%, to 160,000. But Polish trucking companies are short of drivers and do not want to come to Ukraine. In Warsaw last weekend, President Zelensky and aides asked for immediate talks. "We do not want to wait for the moment when we use all permits — all this must be done in advance," Oleksandr Danylyuk, Secretary of Ukraine's National Security and Defence Council, tells Ukrinform.
Measured for tourism competitiveness, Ukraine registered the best improvement in its region over the last two years, rising 10 places in the World Economic Forum's biennial Travel and Tourism Competitiveness Index. Compared to 2017, Ukraine now is firmly in the middle of the pack, scoring 78th out of 140. Ukraine was most competitive for the low cost of vacations – ranking 19th. Top improvements over two years were for: business environment – from 124 to 103; security – from 127 to 107; and international openness – from 78 to 55.
From the Editor: Ukraine Business News is now fully searchable. Just click the little magnifying glass on our website: www.ubn.news. Search back through 300,000 words! Best regards Jim Brooke – jbrooke@ubn.news