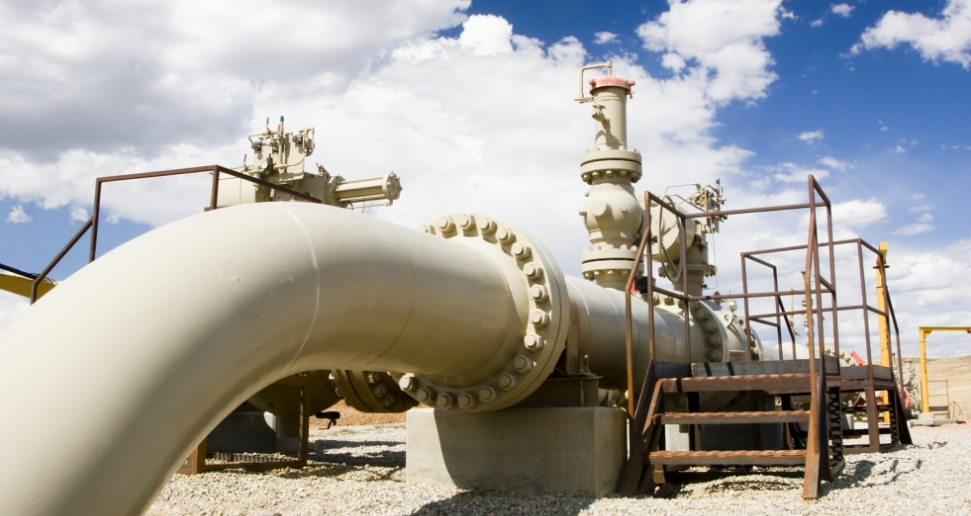 Thursday, September 3
Russian Gas Transit Volumes Dwindle...Greece, Romania, Turkey: New Gas Sources for Ukraine...Turkey, Ukraine Create Alliance For Defense Production...Glencore Buys Sunflower Oil Tank Farm and Terminal in Mykolaiv...Hot Weather Makes the Case for Irrigation in Kherson and Odesa...
Signaling the end of an era, the volume of Russian gas crossing Ukraine on the Soviet-era pipeline system is down 42% compared to the same January-August period last year. Under the Dec. 30 contract, Russia's Gazprom committed to shipping 65 billion cubic meters across Ukraine, down from the 2019 level of 89.6 bcm. Gazprom is paying full freight, but it is only shipping 80% of booked capacity. Under the contract, Gazprom will ship even less starting next year — 40 bcm annually through 2014. For the last 30 years, Ukraine's gas transmission system has been a big money earner – about $3 billion a year in fees.
The biggest drops this year are on Ukraine's southern route to Moldova and Romania. On this 'trans-Balkan route,' gas shipments are down 73%, to 2.3 bcm for the first eight months. The game changer was the Jan. 8 opening of Turkish Stream. This line brings Russian gas up from the south, skirting Ukraine.
As Europe's pipelines become increasingly inter-connected, ERU Trading, an American company, sent a test gas shipment in July from Revithoussa, Greece's LNG terminal, on the Aegean Sea, through Romania to Ukraine. Hailing the possibilities of "the new gas transmission corridor Greece-Romania-Ukraine," Yaroslav Mudryy, managing partner of ERU Trading, said: "Traditionally, gas and oil are exported from the East to the West, but our partners are interested in a new, unconventional approach."
As part of this newly liberalized market, 72 traders – a mix of European and Ukrainian companies – parked a total of 8.2 bcm of gas in Ukrainian reservoirs this summer, waiting for the annual rise in prices in the fall. With 65% of gas coming into western Ukraine this summer going into storage for further transit, Serhiy Makogon, general director of Ukraine's Gas Transit System Operator, said: "This means that Ukraine is geopolitically and economically an interesting and profitable partner for Europe. Therefore, the GTS Operator will continue to work on the business development of its capabilities, including the direction of creating a European gas hub in Ukraine."
Well prepared for the winter heating season, Naftogaz has stored 25.6 bcm of its own gas, 39% more than this time last year. By the Nov. 1 start of the heating season, Naftogaz may have a record 28 bcm in storage, 29% more than last year, Nafotgaz CEO Andriy Kobolev said Tuesday on Ukraina 24 TV. In last winter's 4-month heating season, Ukraine consumed only 6 bcm.
President Zelenskiy has called Turkish President Recep Tayyip Erdogan to congratulate him on the discovery of a large natural gas field in Turkish waters off the Black Sea coast. Erdogan estimates the field at 320 bcm. This is the equivalent of 10 years of Turkey's gas imports and 30 years of Ukraine's imports. After the Turkish drilling ship, Fatih, made the discovery last month, Erdogan promised to start developing the field immediately.
Turkey and Ukraine are creating "a strategic alliance" for defense production, Oleh Urusky, Ukraine's Strategic Industries Minister, tells Ukrinform. In late August, Urusky led a group that toured Turkish defense factories, met with defense industry leaders and met with Turkish President Recep Tayyip Erdogan. "We are actively moving towards a strategic alliance — aircraft construction, armor production, missile construction, electronic warfare, instrument making (opto-electronics) and engine building," Urusky told Ukraine's state-owned news agency. One project could be joint development of a strike drone fighter, with a Ukrainian turbojet engine. Turkey, a NATO nation, has a 430-year rivalry with Russia for control of the Black Sea.
Glencore, the agricultural commodities giant, has bought Everi, one of Ukraine's largest vegetable oil export terminals. Built a decade ago in Mykolaiv, Everi was expanded in 2018 to have tanks capable of holding 160,000 tons  and a pumping capacity of 1.5 million tons of oil into seagoing ships for export. From the Netherlands, Glencore Agriculture Limited CEO David Mattiske said of the purchase from Orexim: "This acquisition reinforces our long term commitment to the agriculture sector in Ukraine."
Qatar's sovereign wealth fund, the Qatar Investment Authority is the biggest shareholder in Glencore. Two weeks ago, QTerminals, Qatar's multinational port operator, signed a concession agreement to run Mykolaiv's Olvia port, 15 km down river from the Everi terminal. Qatar Investment Authority is not a shareholder in QTerminals.
Dry weather and drought, especially in southern Ukraine, will cut this year's grain harvest by 7 million tons, or 9% below last year's bumper harvest of 75 million tons, Prime Minister Shmygal told the Cabinet yesterday. The ongoing corn harvest is coming in 1 million tons short. With corn expected to fall to 35 million tons, the Ukrainian Grain Association forecasts the nation's total grain and oilseeds harvest will be 95.6 million tons, the second largest in Ukraine's history. Exports will be 56 million tons.
Next year the government plans to channel "Big Construction" spending into "the creation of irrigation systems in the southern regions of Ukraine," Prime Minister Shmygal told the Cabinet yesterday. "Such systems should increase yields and protect farmers from adverse weather conditions." With temperatures rising in southern Ukraine, President Zelenskiy has called for rebuilding Soviet-era irrigation systems and creating new ones. The government estimates the drought cost Odesa farmers $235 million in lost crop receipts.
Starting this month, up to €120 million in loan money for rural infrastructure, including irrigation, is available for small and medium farmers in southern Kherson region. The money is part of a larger, €400 million rural lending facility extended to the area by the European Investment Bank, reports Stefan Rosenow, team leader for the project. Separately, the EBRD is working with the Ministry of Ecology and Natural Resources to modernize irrigation systems of the lower Dniester in Odesa region.
Today, the National Bank of Ukraine is likely to keep the prime interest rate at the current level of 6%, indicate separate polls of economists and bankers by Reuters and Interfax Ukraine. With a 5.9% increase in the minimum wage approved Tuesday by the Rada, analysts predict annual inflation will double, to 4.9% in December. Many forecasts "point to a significant acceleration of inflation over the horizon of 6-9 months," Oleksiy Blinov of Alfa-Bank Ukraine tells Reuters. "This indicates a high probability of completion of the stage of reducing the discount rate in Ukraine." From a recent high of 18% in April 2019, the prime rate steadily dropped, hitting 6% last June.
From the Editor: Look up "Russo-Turkish War" in Wikipedia, and you can take your pick between the First (1568-1570) and the Twelfth (World War 1). Obviously, modern relations are more complex. Turkey's dependence on Russian gas is a restraining factor. But around the old Ottoman Empire, Turkey and Russia find themselves on opposite sides — in the civil wars of Syria and Libya. In the 2020s, it makes geostrategic sense for Ukraine to work closely with its large southern neighbor. Often underestimated, Turkey has twice the population and twice the GNP of the neighbor Ukraine normally uses as a reference point and ally – Poland. With Best Regards Jim Brooke