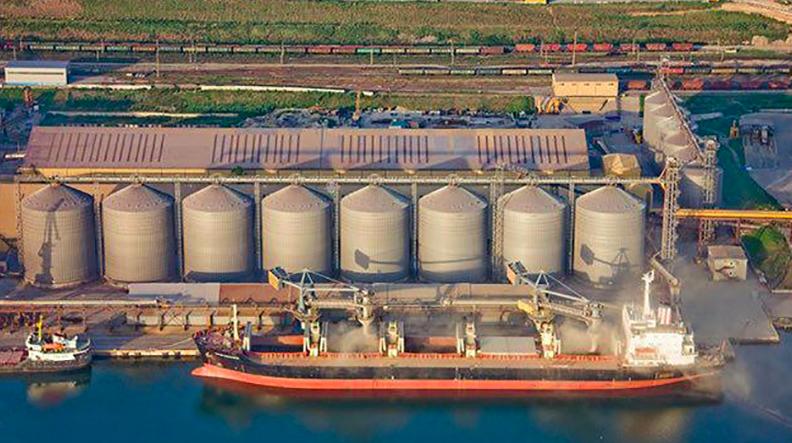 Thursday, September 26
Shipping News: South Koreans, Swiss Invest in Black Sea Grain Terminals...Nibulon Launches Ukraine's Largest Ship...For Sale: Soviet-Era Warship...Grain, Metals Push Port Cargo Up 19%...River Cargo to Triple by 2022...Ukraine's First Cross-Danube Ferry to Start...Cruise Ships Come Back to Odesa
South Korea's Posco International inaugurated a major grain exporting in Mykolaiv on Tuesday. Working with Ukraine's Orexim Group, Posco aims to export 3 million tons of grain a year, the equivalent of 6% of Ukraine's total exports last year. The new terminal can store 140,000 tons of grain at one time.
Geneva-based Risoil SA will inaugurate on November 15 a two-thirds expansion of its grain storage and handling capacity at its Chornomorsk terminal. Eight new silos supplied by AGI raise the storage capacity to 257,000 tons.
Denmark's Mærsk A/S will launch a weekly container line between the TIS terminal in Pivdennii (Yuzhne) and Poti, Georgia. Until now, Constanta has handled all Black Sea transshipment of containers for Georgia. In March 2018, Maersk stopped docking in Odesa. Outsiders blamed corruption. In its first year at Pivdennii, Ukraine's busiest port, Maersk docked 52 ships, handling 51,031 containers.
Nibulon commissioned on Friday the Nibulon Max, a 140-meter long-grain handling ship, considered to be the longest ship built-in independent Ukraine. Built at Mykolaiv, the Nibulon Max has two Liebherr cranes, each with a 45-ton lifting capacity. Designed to hold 10,000 tons of grain, the Nibulon is to serve as a mother ship, collecting cargos from river ships for transfer to ocean-going vessels. Funded partly by the EBRD, European Investment Bank, and the International Finance Corporation, the Nibulon Max is to double grain transshipments by the Nibulon fleet to 5 million tons per year. Last year, Nibulon moved 2.8 million tons on Ukraine's rivers.
Ukraine's largest un-commissioned ship, the 186-meter Soviet-era cruiser 'Ukrayina' should be sold, says Aivaras Abromavičius, UkrOboronProm general director. Construction started in 1983 on this 'aircraft carrier killer,'  Slava class rocket cruiser designed for a range of 7,000 nautical miles and a crew of 480. "Ukraine has no need for a cruiser of this magnitude, so we will consider selling," Abromavičius writes of this ship which is moored in Mykolaiv. Last year, Brazil expressed interest in buying the ship, which is considered 95% complete.
Through August, Ukraine's seaports have handled 100 million tons of cargo, 19% more than in the same period last year. The two leaders are: grain – up 39% to 34 million tons; and ore – up 32% to 24 million tons. Containers are up 20% to 104,000. As ever-larger vessels dock in Ukraine, the number of ship calls was up by only 26, to 7,761, reports the Ukrainian Sea Ports Authority.
Four Black Sea ports handled 87% of the nation's sea cargo. They are: Pivdennii — up 28.4% to 33.5 million tons; Mykolaiv – up 24% to 21 million tons; Chornomorsk – up 21.4 % to 16.6 million tons; and Odesa – up 17%, to 16.2 million tons.
Ukraine's new government wants to move ahead with a long term plan to unite waterways from the Black Sea to the Baltic Sea, says Prime Minister Oleksiy Honcharuk. "This is absolutely real," he says of links that go back to the Vikings. "There are 40 waterways that need to be negotiated with Belarus and Poland."
For the third time in three years, the Belarusian River Shipping Company is shipping by barge oversized equipment from Kherson port to the Mazyr Oil Refinery in southern Belarus. After going up the Dnipro to the Kyiv Sea, a barge loaded with catalytic converter reactor parts is to travel 150 km up the Pripyat River, passing Chornobyl, to Mazyr.
The new government's goal is to triple river cargo to 30 million tons by 2022, says Yuriy Lavrenyuk, deputy Infrastructure Minister. Last year, 10 million tons were carried by river. Through July of this year, river cargo is up by one third over 2018 levels. Noting that the Rada is to consider an Inland Water Transport bill this fall, he says: "It is necessary to transfer cargo from roads to river transport." In the late Soviet era, 60 million tons of cargo moved up and down the Dnipro.
On Tuesday, Ukraine's first two-port concession projects, Olbia and Kherson, will be presented at a high-level informational meeting in Odesa, organized by SPILNO, the public-private partnership office. Under tenders announced two weeks ago by the Infrastructure Ministry, Olbia concession is for 35 years, and requires an early $60 million investment to build a grain terminal capable of handling 2 million tons. The Kherson port concession is for 30 years and requires an early investment of $8 million. Last week, Olvia was toured by two companies: Aras, a Turkish shipbuilder, and Kernel, Ukraine's sunflower oil giant.
The EBRD is loaning almost half of a $390 million syndicated loan to Kernel, the world's largest producer and exporter of sunflower oil. After the EBRD approved its loan in early September, the Black Sea Trade and Development Bank announced it is contributing $15 million toward the syndicated loan.
Ukraine is testing its first cross-Danube ferry this week. The 500-meter crossing linking Orlivka, Odesa region and Isaccea, Romania will eliminate a 110 km, 2h15 drive through a corner of Moldova, and a ferry crossing in Romania. When regular ferry service starts in the coming weeks, Odesa region gains its first EU point of entry. The drive time from Odesa to Constanta, Romania will be cut to six hours.
As Ukrainian spending power returns, almost 500,000 people went on domestic cruises through July, up 169% compared to the same period, last year reports the Center for Transportation Strategies.
With a Holland American Line cruise ship booked to dock in Odesa on Oct. 30, the international cruise industry returns to Odesa. Next year, six different cruise companies have booked port calls to Odesa, historically Ukraine's main cruise destination.
Four Ukrainian lighthouses are now open for visits by tourists: Vorontsov, in Odesa city; Siversov front, Mykolaiv; Adzhyhol rear, Kherson; and Henichesk, Kherson. "Have you ever dreamed of visiting a lighthouse? With only the horizon, the sea and the wind?" asks Infrastructure Minister Vladyslav Krykliy. "Lighthouses of Ukraine will not only ensure safety at sea, but will also receive tourists… We plan to expand this list later. Infrastructure objects should be tourist magnets."
From the Editor: UBN will be the media sponsor for two key conferences coming to Kyiv in November: the Ukrainian Automotive Forum on Nov. 7 and the Ukrainian Agribusiness Forum on Nov. 19. Both are one-day events attended by investors and leading companies in the sectors. For more information see: Ukrainian Automotive Forum and Ukrainian Agribusiness Forum. Best Jim Brooke – jbrooke@ubn.news.