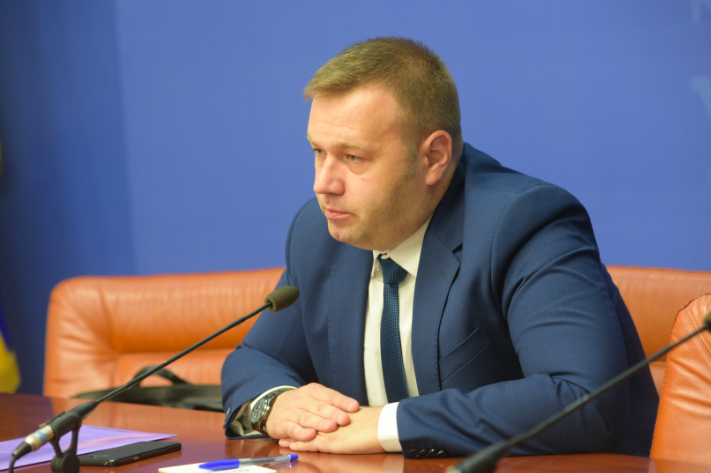 With Russia-Ukraine-EU gas transit talks starting today in Brussels, Ukraine backs the EU proposal of a minimum annual gas flow of 60 billion cubic meters, with an upside cap of 90 billion square meters, Ukraine's new Energy Minister, Oleksiy Orzhel, told reporters Wednesday. This would about be 75% the amount of Russian gas the flowed across Ukraine last year. With the 10-year gas transit pact expiring Jan. 1, talks resume after a leisurely 8-month break requested by Russia. At stake are $3 billion in transit fees paid yearly by Gazprom to Ukraine.
Since negotiators last met, on Jan. 21, Russia's hand has weakened. In April, Russia pumped millions of barrels of contaminated oil to the EU, severely denting Russia's reputation in Europe as a reliable energy supplier. Europeans increasingly oppose the dominant gas role for Germany that would come with the commissioning of Nord Stream 2 near year.
Last week, the EU's top court ruled that Gazprom can only use half of OPAL, a German land pipeline that takes gas from the Baltic to the Czech Republic. Complying with the ruling, Russia's shipments dropped in half this week.
"The court ruling makes a sizable dent in Russia's armor," Leonid Bershidsky writes in a Bloomberg Opinion piece titled "EU Pipeline Ruling Helps Ukraine Thwart Russia." "These obstacles make it harder for the Russian supplier to compete with exporters of liquefied natural gas," he writes from Berlin. "Gazprom needs Ukraine to keep deliveries stable and retain market share."
Dragon Capital writes: "The news is very positive for Ukraine, as it reduces Gazprom's alternative gas supply routes and increases its dependence on the Ukrainian gas transit system…The EU court ruling also implies that similar pipeline access restrictions would be applied to the EUGAL pipeline, currently under construction, which Gazprom needs to deliver gas from Nord Stream 2."
To prepare for today's talks, Ukraine's Naftogaz has stockpiled almost 20 billion cubic meters of gas – enough to get through a normal winter. This is about 25% more than the reserves of this time last year. Last year, Ukraine's imported about one-third of the 32.3 bcm that the country consumed. Last month, a test drill for a possible Jan. 1 shutdown of gas from Russia, Ukrtransgaz operated the Soyuz trunk gas pipeline in reverse west-east mode.
To prepare for a new transit contract, Ukraine's Cabinet of Ministers voted Wednesday to comply with EU energy laws and 'unbundle' of Naftogaz gas pipelines from gas production. Now, the Finance Ministry controls a new state company "Gas Pipelines of Ukraine." "We have created an independent operator in full compliance with European legislation," Prime Minister Honcharuk said yesterday. "This will open up the opportunity to attract investment in the Ukrainian gas transportation system."
Gazprom says its new Baltic and Black sea pipelines will allow it to dispense with sending gas across Ukraine in the 2020s. However, since the start of this year, Russian gas transit volumes across Ukraine are up 2% over last year's levels, to 60 billion cubic meters, reports Ukrtransgaz.
Noting that Soviet Ukraine produced three times as much gas a year in the 1970s as independent Ukraine does today, Todd Prince, a RFE/RL reporter, asks: "After Years Of Stalling, Can Ukraine Finally Become Energy Self-Sufficient?" Advancing free-market changes started in the late Poroshenko presidency, Zelenskiy recently ordered his government to sign contracts with winners of 10 oil and gas tenders held this summer by Dec. 1. He ordered more electronic auctions of licenses and production sharing contracts. With 1.1 trillion cubic meters of gas, Ukraine has the third-largest proven reserves of natural gas in Europe, after Russia and Norway, according to British Petroleum.
On Oct. 30, oil and gas licenses for five fields in Eastern Ukraine will be auctioned on the ProZorro.Sales electronic platform, according to the State Service for Geology and Subsoil. Covering a total of 700 square kilometers, the permits are to be valid for 20 years. This will be the fifth electronic auction since the practice started last March.
Ukraine's sold its first state-owned small hydro plant, auctioning off the 2MW Pervomaisk plant for $4.3 million, reports the State Property Fund. The buyer, EMZA LLC, offered $1.4 million more for the 90-year old plant than the next bidder. Norway's AICE Hydro A.S. estimates Ukraine has 64 operating small scale hydro plants and 100 more that can be restored.
With demand for government hryvnia bonds up by one third this week, the Finance Ministry auctioned off the same amount as last week – the equivalent of $108 million – but pushed yields down by 20 to 48 basis points. On the most popular paper, the 3-year bonds, the yield at Tuesday's weekly auction was 15.52% per annum. Concorde Capital's Evgeniya Akhtyrko writes: "The majority of auction receipts came from the sale of bonds with the highest terms of maturity. Meanwhile, the downward trend of interest rates is continuing."
Seeking to hold back the strengthening hryvnia, the National Bank of Ukraine purchased $312.5 million in the interbank foreign exchange market in the first two weeks of September, reports the central bank website. Currently, Ukraine's currency trades at 24.76 to the dollar, a three year high.
Ukraine's Consumer Confidence Index has jumped 30 points since April, hitting 96 in August, near the record highs of the 2004-07 boom years. Dragon Capital writes: "The sharp improvement in consumer sentiment over the past several months was recorded across virtually all age and income groups and geographical regions…the surge in consumer confidence suggests that household spending will remain on the rise, supporting economic growth."
The advance of Igor Kolomoisky and his allies into government present Zelenskiy with "his first crisis since taking office in May," Leonid Bershidsky writes for Bloomberg in an Opinion titled: "Ukraine's Zelenskiy Can't Afford to Fail His First Oligarch Test." "Zelenskiy appears to be hoping his early successes and his young administration's good intentions will overshadow the Kolomoisky issue for most voters, even if he makes a deal with the oligarch," he writes. "Zelenskiy needs to prove that he's not going to use his power to help old friends and partners. Cutting off Kolomoisky's access, and publicly supporting a speedy investigation into [Valeria] Gontareva's troubles, would be a start."
From the Editor: After the UBN's subscriber base hit 5,000 last week, Peter Atwood, UBN Business Development Manager, made an analytical snapshot of our growing readership. Two-thirds of our readers are outside Ukraine. Of these, 30% are in Europe and 25% in the United States. With interest in Ukraine on the rise, we see new signups daily from around the investor world. For new readers, the simplest way to sign up for the email is to click this link. Best regards, Jim Brooke jbrooke@ubn.news.