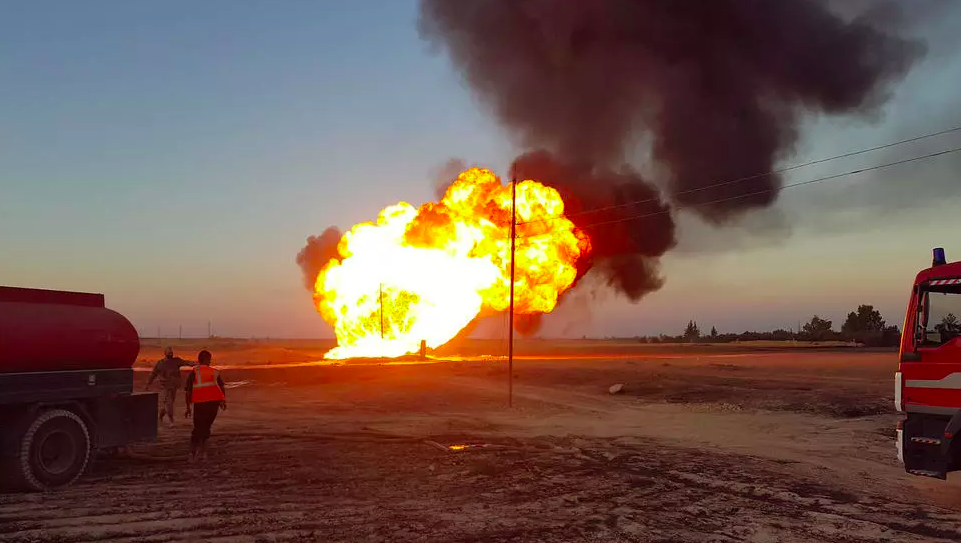 Thursday, September 17
Ukraine's Gas Line Blows Up as Germany Mulls Future of Russia's Nord Stream 2...Germany Offers Washington €1 Billion to Drop Nord Stream Opposition...Ukraine to Earn $2 billion From Shipping Russian Gas to EU This Year...Ukraine Embarks on 'Gas Revolution' -- Market Choice for Households
A mysterious midnight explosion in a western Kyiv suburb knocked out the main pipeline that carries Russian gas across Ukraine to the EU. Repairs are to be completed today as officials seek to minimize the event. "Gas supplies to consumers are organized through other pipelines," Ukraine's Gas Transportation System Operator, assured after Tuesday's explosion. "This situation in no way affects the transit of gas to the EU." New York-based S&P Global Platts had a more dire view, telling its audience of energy professionals: "A major explosion near Kyiv has rocked the massive Kyiv-Western Ukraine-1 natural gas pipeline."
The explosion broke the high pressure, 1-meter diameter pipe near the town of Chabany, just outside the Kyiv city line, about 5 km beyond the Teremky terminus of the Metro's Blue Line. Although large volumes of gas were pumped into the air, town officials say no one was injured. Police are investigating the cause of the explosion. The main pipe across Ukraine, part of the Bratstvo or Brotherhood system, was built 30 years ago.
Coming as Germany's Chancellor Angela Merkel is under heavy pressure to freeze the Nord Stream 2 Russia-Germany pipeline, Kyiv's gas pipeline explosion has received daily coverage in Deutsche Welle, Germany's publicly funded broadcaster. With headlines like "Technical condition of the Ukrainian GTS: you can not relax," the focus has  been on the reliability of Ukraine's Soviet-era gas transportation system.
Germany offered to spend up to €1bn to subsidize construction of two LNG terminals capable of receiving US gas exports in exchange for Washington dropping its opposition to Nord Stream 2, report Die Zeit and The Financial Times. In letter dated August 7, Germany's Finance Minister Olaf Scholz wrote US Treasury secretary Steven Mnuchin that Germany would invest the money in exchange for the US "allow[ing] for the unhindered construction and operation of Nord Stream 2." Texas Senator Ted Cruz has lead the charge against Nord Stream 2, leading many Germans to believe that US opposition is driven primarily by seeking to open Europe to US gas.
The Aug. 22 hospitalization in Berlin of Russian opposition leader Alexei Navalny has raised the pressure on Merkel to act against the $11 billion Russia-Germany gas line. Yesterday, Ursula von der Leyen, a German politician who is president of the European Commission, said in her formal state of the union address: "To those that advocate closer ties with Russia, I say that the poisoning of Alexei Navalny with an advanced chemical agent is not a one-off. This pattern is not changing — and no pipeline will change that."
Cancelling or even freezing the 94% complete pipeline would expose the German government to billions of dollars of claims from the 100 German companies that have worked on it. Germany will not need the pipeline until 2030 when the Netherlands, source of 30% of Germany's gas imports, plans to end production. For German industry and consumers, Nord Stream 2 gas is expected to be cheaper than gas sent across Ukraine.
A Civey poll of Germans published last week, found that 14% of respondents opposed Nord Stream 2 and 73% favored completion. Politico writes in an article from Berlin, "Why Germany can't say no to Nord Stream:" "Germans like nothing more than solid infrastructure and the Baltic pipeline represents a great leap forward compared to the leaky transit routes through Ukraine, where some stretches of the pipeline (which has a capacity of 160 billion cubic meters) have been in operation for more than half a century."
Facing these pressures, Chancellor Merkel says the EU should take the stand against the pipeline. To which Josep Borrell, a former Spanish Foreign Minister serving as the EU's foreign minister, told The Financial Times last weekend that a decision to freeze the project is "up to the Germans." He added: "Nord Stream 2 is not a European project. I have to say that the Commission has never shown a strong enthusiasm for Nord Stream 2."
Ukraine will earn about $2 billion in transit fees for shipping Russian gas across Ukraine to the EU this year, Naftogaz CEO Andriy Kobolyev told journalist Yanina Sokolova on her Youtube channel. Through August, Ukraine shipped 35 billion cubic meters, 42% less than during the first eight months of last year. Under the new "ship or pay" contract signed last December, Gazprom is to pay for shipping 65 bcm this year. Last year, Ukraine earned almost $3 billion shipping 89.6 bcm. From 2021 to 2024, Gazprom is contracted to ship 40 bcm a year. This level will further cut Ukraine's revenues, to about $1.2 billion a year.
A proposed 20-year, $20 billion deal to import half of Ukraine's gas imports through a US LNG gas trader has fallen apart after New York news outlets reported that US prosecutors were probing former Energy Secretary Rick Perry's role in brokering the deal to favor his Houston company, Energy Transfer Partners. Last May, Ukraine's Cabinet of Ministers approved a deal in principle with the trader, Louisiana Natural Gas Exports. But last Thursday, in a 5,000-word article, Time.com and WNYC-ProPublica reported the Perry probe. On Friday, Olga Buslavets, Ukraine's acting energy minister, told reporters of the Louisiana deal: "Indeed, there was a refusal [of cooperation]."
The long term Louisiana deal probably would have violated the competitive gas market that started Aug. 1 in Ukraine. "Due to the recent gas sector shake-up, Ukrainian gas consumers can now freely switch gas suppliers — they can benefit from pricing that is market-based and not set arbitrarily by the government," Oleksandr Kharchenko, Managing Director at the Energy Industry Research Center, wrote in an Atlantic Council essay: "Ukraine quietly launches a gas market revolution." Estimating an annual $2 billion savings to Ukraine's budget, he writes: "All Ukrainian households have gained access to a genuine gas market, while intermediaries will no longer be able to accumulate illicit gains by simply taking gas from Naftogaz without full, or in some cases without any, payment."
Kyiv has the cheapest household electricity prices of 33 European capitals surveyed by the European Commission's "Quarterly Report of on European Electricity Markets." Buried away on page 43 is a chart showing Kyiv's price is about 4 euro cents, one fifth the 19 euro cent average for the 27 countries of the EU.
From the Editor: Things go boom in the night. Just as Germans waver between Gazprom's shiny new Baltic pipe and Ukraine's rusty old Soviet model, Ukraine's main pipeline mysteriously blows up in the middle of the night. The trunk lines of Ukraine gas transportation system stretch over 22,160 kilometers. But this explosion was a mere 10-minute taxi ride from the end of a metro line in Kyiv, the nation's media capital. If this convenience seems like more than coincidence, you might seek solace tonight in this old Scottish prayer: "From ghoulies and ghosties, And long-leggedy beasties, And things that go bump in the night, Good Lord, deliver us!" With best regards, Jim Brooke