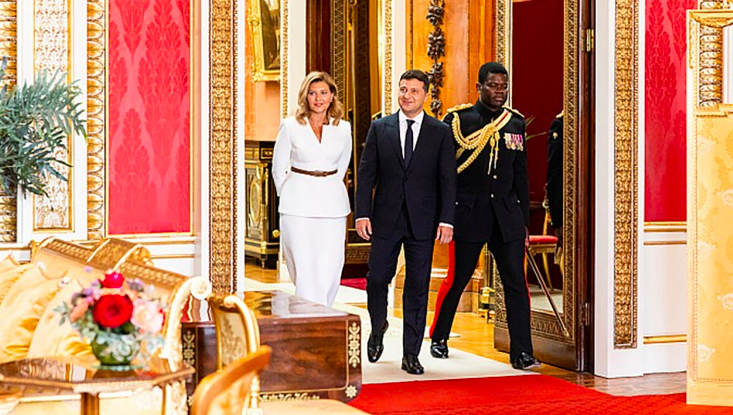 In Britain today, President Zelenskiy is to a sign a memorandum for a 10 year, $1.6 billion (£1.25 billion) loan to build 10 new fast attack boats for Ukrainian Navy for use in the Black Sea. Armed with eight ship-killer Neptune missiles and carrying a crew of 35, the 56-meter Barzan class boats are to have a range of 1,800 nautical miles, the equivalent of the voyage from Odesa to the Kerch Strait and back. The first two boats are to be built by BAE Systems Maritime, possible at the Portsmouth Naval Shipyard. The other six are to be built in Ukraine.
The deal was hammered out last month during a visit to Kyiv by British Defense Secretary Robert Ben Lobban Wallace. Yesterday, the Royal Navy destroyer HMS Dragon docked in Odesa for a five-day visit. There is to be joint training aboard the British vessel this week.
Pivdenny, Ukraine's largest and most efficient sea port, increased its cargo by 21% yoy through September. By handing 47 million tons in the first nine months of this year, this Odesa region port increased its market share to 43%. By contrast, the next three ports on the Black Sea all suffered falls: Mykolaiv – down 9%, to 21.7 million tons; Odesa – down 3%, to 17.6 million tons; and Chornomorsk – down 7%, to 17.5 million tons.  Cargo increases were registered at the two Azov ports: Mariupol was up 16% to 5.3 million tons; and Berdyansk was up 28%, to 1.7 million tons.
Cracking down on overloaded trucks, Transport Safety agents and National Police stopped 500,000 trucks, ticketed 10,500 and levied $3.5 million in fines through September, reports Infrastructure Minister Vladyslav Krykliy. Most of the overweight trucks were stopped in Kherson, Mykolaiv and Odesa –home to all of Ukraine's Black Sea Ports. This year, Ukraine is spending a record $3 billion on road construction and repair. To protect new roads, the Transport Safety Service, or Ukrtransbezpeka, plans to have 54 Weigh-in-Motion automatic checking devices operating on highways by the end of this year.
Used car imports jumped 56% yoy in September, to 35,900, reports Ukravtoprom, the vehicle industry association. Used cars accounted for 82% of first time registrations last month. The top brands are: Volkswagen, Ford, Renault, Skoda and Opel.
September's month-long ban on foreigners entering Ukraine decreased the demand for international flights, reports UkSATSE, the national air traffic control agency. Last month, international flights were down 55% yoy and flights by foreign airlines were down by 63% yoy. By contrast, domestic flights – 2,710 – were virtually unchanged from September 2019. As Ukrainian airlines put their planes to use on domestic routes, the overall number of flights by national airlines was down by only 44% yoy. International airlines are not allowed to carry passengers between cities in Ukraine. Blaming travelers' worries about changing corona rules, the air traffic control agency predicted: "The recovery of intensity of flights until the end of the year will be significantly slower than predicted at the beginning of the quarantine."
Through September, Kyiv Boryspil's passenger traffic is down by two thirds, to 4 million passengers. At this rate, Ukraine's busiest airport may finish this year at the level of 2006, when it handled 4.6 million passengers. "The high season of 2020 for the aviation industry is over,"  Boryspil general director Pavel Ryabikin told the Center for Transportation Strategies. "The hub model has become unrealistic: we will be missing about 3 million transfer passengers. Quarantine restrictions of countries continue to be a stop factor for passengers."
During the second half of this year, Boryspil-based UIA is cutting its fleet by 20%, to 28 jets, airline president Eugene Dykhne tells Biznes.Tsenzoru. Last spring, UIA was operating 120 regular flights a day. Now it is operating 100 regular and 200 charter flights a week, he said.
Winter Breaks:
Azur Air Ukraine will operate charter flights from Kyiv Boryspil to Cancun, Mexico and to Male, Maldives during the Christmas-New Year holidays. The airline will use Boeing 767-300ER jets for the long haul flights.
Lviv airport announced yesterday its international winter flight destinations – all subject to shifting corona controls. Wizz Air will fly from Lviv to Bratislava, Tallinn and Vilnius. Ryanair will fly to Krakow, Memmingen, Poznan and Warsaw. SkyUp will fly from Lviv to Dubai, Naples, Paris Beauvais, Prague and Tel Aviv.
Ukraine drops duties on wine imports from the EU next year, Yekateryna Zvereva, development director of the Ukrainian Horticultural Association, tells Interfax-Ukraine. Duties are currently 30 to 40 Euro cents per liter. Ukraine last year imported $147 million worth of wine from the EU. Ukraine exported $12 million worth of wine to markets around the world.
The Finance Ministry raised almost four times as much revenue from Tuesday's bond auction, compared to the week earlier. The price was increased yield rates for hryvnia bonds. The government sold $135 million worth of 6-months dollar bonds at 3.39% — a rate unchanged from the last auction. But, to raise $120 million worth of hryvnia bonds, the Ministry had to raise yields. The new yields were: 3-month bonds: 7.19%; 1-year bonds: 9.89%; and 3-year bonds: 10.95%.
Concorde Capital's Evgeniya Akhtyrko writes: "Like a week ago, MinFin hiked the interest rates for UAH-denominated bonds. However, that didn't result in a significant jump of UAH auction receipts. We suppose that most of the UAH auction receipts were generated by state-owned banks….Rising interest rates amid the relatively low inflation means the current government policy is failing to improve business confidence."
Ukraine's Central Bank Governor defended last week's official reprimands of two of his deputies amid concern over the bank's independence and a delay in IMF aid. The two deputy governors violated the "one-voice policy" of the National Bank of Ukraine, Governor Kyrylo Shevchenko told Bloomberg Television in London. "Any central bank around the world has a communications policy, and that's really sensitive and really important," he said yesterday. "If different board members give different statements to the market, it can lead to a mess." He said the official reprimand does not mean the two Board members, Kateryna Rozhkova and Dmytro Sologub, should resign.
Almost four years after nationalization, PrivatBank is Ukraine's most profitable bank, recording $65 million in profits through August, according to the data on the website of the National Bank of Ukraine. Ukraine's largest bank, PrivatBank was taken over by the state after central bank auditors found that the previous owners, led by Ihor Kolomoisky, created a $5.5 billion hole in the bank's balance sheet. Since July, the central bank's leadership has changed. Kolomoisky, Zelenskiy's main media backer in the 2019 presidential campaign, has stepped up his legal campaign to get 'compensation' for the bank he bankrupted.
From the Editor: On Dec. 26, 1799, one of my ancestors, Thomas Ludlow, insured the Betsey, a Connecticut-based American schooner, against seizure by French pirates roaming the Caribbean. Within weeks, a French privateer, La Reunion, seized the Betsey. She was one of about 500 American merchant ships captured by the French in the Quasi-War of 1798-1800. In 1887, Thomas W. Ludlow, my maternal great-uncle filed a "French Spoliation Claim" in the United States Court of Claims. Drawing on the 1800 treaty between France and the US, he demanded that the US government compensate for the theft — adjusted for almost a century of inflation. In 1917, family hopes faded with the US entry in World War I – on the side of France. More recently, Johnny Depp's irresponsible romanticizing of pirates in the Caribbean did not help our lost cause. (Harrumph!). I don't bring this up to flaunt family history. Simply, it is a reminder that families nurture very long memories when it comes to perceived financial rip offs. Think of the Cubans sitting in Miami for the last 60 years, waiting to retake their Havana hotels and rural sugar cane mills. With the ongoing purge at Ukraine's central bank, don't be surprised if claimants emerge from the woodwork to try to win compensation for the 100 banks (justifiably) closed by the now ousted Board. With best regards, Jim Brooke