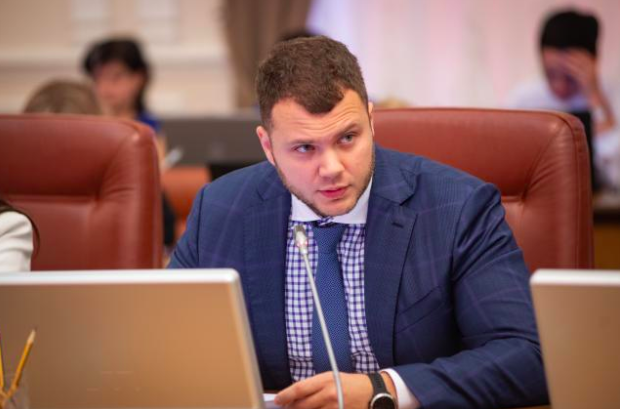 Across the nation, ports, airports, railroad stations and toll highways are to be opened up to foreign and Ukrainian companies to operate as long term concessions, Infrastructure Minister Vladislav Krikliy told the Mariupol Investment Forum.  With billions of dollars worth of contracts at stake for the early 2020s, Prime Minister Honcharuk signed a technical advice agreement on public-private partnerships with Georgina Baker, a regional vice president of the World Bank's International Finance Corporation.
Ports: Companies from China, Qatar, and Singapore applied this month for concessions to run parts of Olbia and Kherson ports. A roadshow in Odesa on Oct. 1 drew 46 companies from 11 countries. Dec. 6 is the deadline for bidders applying for the 30-year concession in Kherson. Dec. 16 is the deadlines for the 35-year concession in Olvia, Mykolaiv Oblast. The Infrastructure Ministry is preparing concession tenders for the ports of Odessa, Mariupol, Berdyansk and the ferry complex in the port of Chernomorsk.
Airports: Working with the IFC, the Infrastructure Ministry is preparing tenders for long term concessions to run the airports of Kherson, Chernivtsi, Zaporizhia and the cargo terminal of Bila Tserkva, southern Kyiv Oblast. Currently used by a flying club and an Air Force Unit, Bila Tserkva airport is a one hour drive from Kyiv's Ring Road.
Toll Roads: The Infrastructure Ministry has started feasibility studies for five privately run toll highways: Kyiv-Bila Tserkva, Kyiv's Ring Road, Lviv-Krakovets (Polish border) and Lviv-Stryi (on the way to Zakarpattia). Krikliy calculates a toll highway will only make money if 13-15,000 cars travel in each direction every day. With the cuts in import taxes, Ukraine's car fleet grows by double digits every year.
Rail Stations: About one year from now, Kharkiv, Dnipro, Khmelnytskyi, Mykolaiv and Chop stations could be handed over to private investors on long team leases. For retailers, the big prize would be Kharkiv which handles 5.7 million passengers annually. By contrast, Chop handles 80,000 passengers a year. These five stations could draw $20 million in investments, the Infrastructure ministry calculates. If these pilot projects do well, Ukrzaliznytsia and World Bank experts have drawn up a second-round list: Ivano-Frankivsk, Kyiv Central Station, Vinnytsia, and Zaporizhia.
Engaging in 'bridge diplomacy,' Chinese companies backed by soft loans are to build two bridges over the Dnipro – at Kremenchuk, and, 250 km downriver, at Zaporizhia. China has agreed to provide a $340 million to build a bridge across the Dnipro in Kremenchuk.  China Road and Bridge Corp. is to build a cable suspension bridge at Zaporizhia. Further south, China's Asian rival, Japan, is to help build a bridge in Mykolaiv, over the Southern Bug.
Preparing to build the largest onshore wind farm in Europe on Ukraine's Azov sea coast, Norway's NBT and China Electric Power Equipment and Technology Co., Ltd. have signed two design, procurement and construction contracts for the 300 MW and 450 MW Zofiya II and Zofiya III wind farms. NBT has signed preliminary financing agreements for €500 million of senior debt with Industrial Commercial Bank of China, Export-Import Bank of China, and China Construction Bank. Located in Zaporizhia's Yakimivskyi district, the €1 billion Zophia Wind Park to have an installed capacity of 792.5 MW, enough electricity to power 340,000 households.
Starting Tuesday, Ukrainians and foreigners can buy as much foreign currency from banks as they want. And buyers no longer have to submit documents justifying their purchases. The latest in a year-long easing of foreign currency controls, the new rules scrap the old daily limit on foreign currency purchases — $6,000. To justify the liberalization, the National Bank of Ukraine notes that it has brought a net $4 billion this year as foreign buyers flood the Finance Ministry's weekly bond auctions. At the same reserves are around $21-22 billion, enough to cover three months of imports.
Ukraine's GDP growth probably cooled to 3.4% in the third quarter, down from 4.6% in the second quarter, estimates ICU investment bank. This would make for a 3.5% y-o-y growth for the first nine months of the year. Growth rates cooled for retail, construction and passenger transport, while industrial production continued its gradual decline. ICU writes: "Despite some slowdown in the real sectors of the economy, consumer confidence in 3Q19 was at the highest level since 2008, which should have boosted the services sector. Hence, we estimate real GDP growth to be close to 3.4% YoY in 3Q19."
Ukraine's GDP warrants "could turn out to be a massive financial burden," if the economy grows as expected in the early 2020s, warns Brian Seel, US Treasury attache in the US Embassy until last year, warns in a Financial Times opinion piece.  "Payments on GDP warrants could derail the public accounts," headlines the FT. Created during 2015, debt restructuring, the warrants are to start paying out next year, assuming two markers are hit: GDP growth over 3% and GDP over $125 billion. With payouts to run until 2038, "the government's potential liability is unlimited," writes Seel, now senior economist at ProMeritum Investment Management. With buybacks or renegotiation as the only ways out, he concludes: "Whatever option the Zelensky team decides to pursue, it is going have to accept that it must spend money today to save money tomorrow."
Work is starting to prepare Ukrazaliznytsia for an IPO, a 3-year process designed to yield $3 billion investment capital for the state railroad. "Ukrzaliznytsyia is the first Ukrainian state-owned company to plan to enter a foreign stock market, thereby raising the country's investment image," Infrastructure Minister Vladislav Krikliy said Tuesday at a signing ceremony in Mariupol. The EBRD is to provide technical advice to prepare UZ for the IPO. UZ CEO Yevhen Kravtsov said: "Thanks to the IPO, we plan not only to raise several billion dollars over the next 2-3 years but also to bring Ukrzaliznytsia to first place among the transport companies in the world." Within two years, UZ is to be divided into three subsidiary companies: freight, passenger and infrastructure.
With Ukraine's booming IT industry reaching into all corners of the nation for skilled workers, President Zelenskiy inaugurated the latest Beetroot Academy in the new Mariupol Startup Development Center. This Swedish and American-funded NGO is doubling its schools to 22 cities by the end of next year. Offering $500, 4-month courses to train Ukrainians with math and engineering skills to work for Western outsourcing companies, Beetroot also is more than doubling its student body this year, to 1,300, says Andreas Flodström, founding CEO.  Andriy Kolodiuk, a leading Ukrainian IT venture capital investor, said: "New schools training students for real jobs will be very successful."
From the Editor: The Mariupol investment forum was a festival of IFIs – the international financial institutions. The alphabet soup featured EBRD, EIB, IFC, and the World Bank. The main exception was a delegation of 20 French companies, drawn partly by the people skills of Mariupol's 42-year-old francophone mayor, Vadym Boichenko, an INSEAD graduate. As pioneers, the IFIs are financing the infrastructure – notably roads and railroads – to open the area to foreign investment. While a peace accord seems far away with Russia-armed separatists, it is worth remembering South Korea has boomed for almost 70 years without a peace treaty with its belligerent, Russia-armed neighbor. Best regards Jim Brooke jbrooke@ubn.news