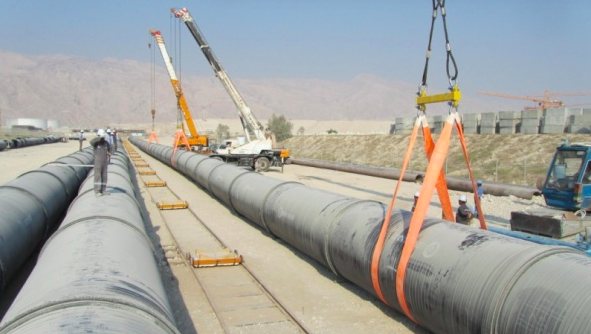 By November, construction of the Nord Stream 2 Russia-Germany trans-Baltic gas pipeline will be complete, Viktor Zubkov, Gazprom board chairman, tells reporters at Russia Energy Week in Moscow. If Denmark does not give permission in coming days, he said: "We'll go around. We will bypass the economic zone of Denmark. It will be longer. It will be more expensive." He said 2,042 kilometers of Nord Stream 2, or 83% of its total length, has been laid.
President Putin says Gazprom will extend the existing agreement on gas transit through Ukraine for one more year if a new agreement is not negotiated in time. Russian, Ukrainian and EU negotiators are to meet at the end of this month, to work on renewing Gazprom's 10-year gas transit contract that expires Jan. 1. Putin said if Ukraine can implement EU laws on gas transit, "before the end of the year, we will be ready to work within the framework of European legislation and sign a transit agreement with Ukraine in accordance with European legislation." Speaking at the Moscow energy forum, he said: "If this cannot be done, which is quite likely, then we are just ready to extend for some time – let's say for one year – the existing pumping contract."
Concerned about gas supplies from Russia, German Chancellor Angela Merkel has appointed Count Bernhard Waldersee as "Federal Government Commissioner for Gas Transit through Ukraine." "This means Germany is experiencing significant risks – both political and economic – in connection with the possible problems of stopping gas transit through Ukraine," Vladimir Omelchenko, director of energy programs at the Razumkov Center, writes on Today news site.
Russian gas transit across Ukraine is up 1.3% through September, to 66.3 billion cubic meters. Last year, 87 billion cubic meters flowed across Ukraine, earning the country about $3 billion in transit fees. These revenues are threatened by Gazprom's two bypass pipelines – Nord Stream to the north, and Turk Stream to the south.
A lack of permits for cross-border trucking may limit Ukraine's future trade growth with the EU, Vitaliy Kravchuk warns in a study, EU road transport quotas are limiting trade expansion with Ukraine. Trucks account for 38% of Ukraine's exports to the EU and 81% of its imports, writes Kravchuk, a researcher at Kyiv's Institute for Economic Research and Policy Consulting.
Trucking permits for Poland are to be used up this month. Permits for France, Italy and Romania were used up by August. Last year, Ukraine's truck permits for Austria, France, Germany, Latvia, Netherlands, Poland, and the Czech Republic were exhausted by December. With rail a slow and costly alternative, he writes: "Time-sensitive orders may be cancelled altogether." Despite Ukraine's free trade pact with the EU, he says: "The caps on the number of permits act as a form of non-tariff trade barrier intended to support the carriers of the issuing country."
Poland is creating "quota wars" to pressure Ukrainian truck drivers to emigrate to Poland to work for labor-short Polish trucking companies, Infrastructure Minister Vladislav Krykliy tells the European Business Association in Kyiv. "The Polish side created the conditions for quota wars because [drivers] who are unable to work in Ukraine are re-registered in Poland," he said. "So our drivers have crossed into Poland, work for Polish companies and pay taxes in Poland."
Ukraine's Prime Minister Oleskiy Honcharuk tells reporters: "We have already prepared countermeasures." Noting that he plans to talk this week with Poland's Prime Minister, Mateusz Morawiecki, he says:  I really hope that our Polish colleagues will hear our arguments and this problem will be solved." Already struggling with a labor shortage, Polish employers worry that Ukrainian workers will fly over Poland next year to take advantage of a new German law allowing immigration of skilled non-EU citizens.
In a step toward a mass sale of ailing state companies, the Rada has voted to abolish a list of companies not eligible for privatization. In a bid to use private money to modernized Ukraine's rocket industry, the Rada has voted to open the space industry up for private investment.
The Sea Ports Authority plans to reduce its number of employees by 30%, reports Raivis Veckagans, head of the state company. Since 2016, the Authority has cut its staff by 800 employees by outsourcing noncore manufacturing units to private companies. Now, through mergers of units, the Authority plans to eliminate duplicate functions. The authority runs Ukraine's 12 ports, on the Black Sea and Azov Sea.
Traveling to Mykolaiv, Infrastructure Minister Vladislav Krikliy fired the director of the Mykolaiv port, the third busiest on the Black Sea. Without going into detail, he said prosecutors are investigating the director, Sergey Mitchenko. On Tuesday in Odesa, the minister fired the directors of three Odesa region Black Sea ports – Bilhorod-Dnistr, Chornomorsk, and Odesa.
With larger and larger ships docking at Ukraine's Black Sea ports, the government plans to triple the number of berths with 15-meter depths, from five today to 15 in 2024. The new five year plan envisages a modest 10% growth for sea cargo, to almost 150 million tons by 2024. The plan also calls for rebuilding the locks on the Dnipro and for doubling river cargo freight, to 20 million tons. The Rada is to pass an inland waterways bill this fall.
At least half of the state railroad's top management are to be fired by Christmas, Yevhen Kravtsov, CEO of Ukrzaliznytsia, tells BusinessCensor. "Many people from middle and senior management are not the most transparent in terms of reputation and decisions," he said. "At least half of the management team will be replaced." Offering an opportunity for a shakeup, the railroad is to be split next year into three companies – freight, passenger and infrastructure.
Over the next five years, UZ plans to buy or renovate 200 locomotives, 800 passenger cars, 10 Intercity electric trains and 5,000 km of track, the government reports. In a pilot project, public-private partnerships are to be used to modernize three trains stations: Kyiv, Mykolaiv and Zaporizhie.
Sales of hryvnia government bonds at Tuesday's weekly auction plummeted to the lowest level of the year — $3.2 million, less than 1% of the $541 million sold the week before. The drop was attributed to sale of short term bonds 3-month, 1-year, and 2-year. The earlier auction offered 5-year bonds, popular among investors. Tuesday's auction also marked the start of trading on Bloomberg terminals, a shift that could have caught some bidders unprepared. Despite the low volume, the Finance Ministry depressed yields slightly, to the range of 15.09% to 15.75%.
Concorde Capital's Evgeniya Akhtyrko writes: "Such a dramatic drop in receipts from the weekly bond auction comes as a big surprise… These results show that the situation at the primary bond market is very shaky…the government might face difficulty with financing the budget deficit if auction receipts remain low.
Ukraine's bonds hit a five-week low Wednesday, Reuters reports, citing questions about key reform efforts, PrivatBank, and the influence of Ihor Kolomoisky on the government. A selloff saw the 2032-maturing dollar-denominated bond drop 1.4 cents and 2020-2028 bonds drop between 0.5% to 0.8%.
From the Editor: Ukraine Business News offers a free, fully searchable archive. Just click the little magnifying glass on our website: www.ubn.news. Search back through 350,000 words! Best regards Jim Brooke – jbrooke@ubn.news