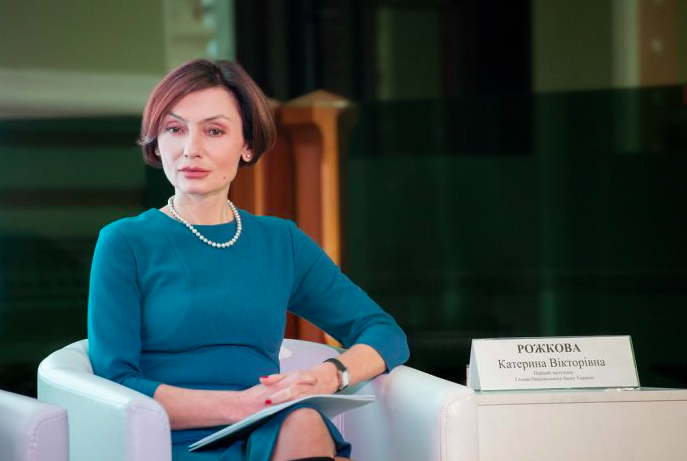 Kateryna Rozhkova, the last major leader of the central bank team that closed 100 insolvent banks during the 2015-2017 banking cleanup, has been stripped of her powers to regulate banks. The National Bank of Ukraine Board made the move Tuesday, apparently a compromise step in face of pressure from the IMF and Western Ambassadors to keep her at the bank. Kyrylo Shvechenko, the new central bank Governor, takes over banking supervision responsibilities from Rozhkova. She is now in charge of consumer credit protection and the central bank's pension fund.
Unian news agency summarized: "The NBU Board took from Rozhkova's subordination six key departments for supervision of the banking market and transferred to her three divisions that do not play a significant role in the regulation of banks."
Timothy Ash, who followed the bank cleanup five years ago, writes from London: "The problem with Rozhkova's demotion is that it sends a clear message that the 2015-17 banking reforms were somehow erroneous or at fault. It's not a vote of confidence in her or those banking reforms. And I think it sends a general message to reformers in government that your efforts in enacting difficult and unpopular reforms will not be backed/supported by your superiors."
Gennadiy Bogolyubov, former co-owner of PrivatBank, the largest bank affected by Rozhkova, has filed four lawsuits in Kyiv's economic courts contesting the bank's 2016 nationalization, NV news site reported Tuesday. These are the first suits against the nationalization by Bogolyubov, who traditionally takes a lower profile than his flamboyant business partner, Ihor Kolomoisky.
Today, the central bank Board is expected to keep the prime rate unchanged at 6%, according to a Reuters poll of analysts. Of 15 polled, 13 predicted no change. Two predicted a cut to 5.5%. The National Bank of Ukraine has kept the rate unchanged for its last two policy reviews. Inflation in September was only 2.3%. But rising gas prices and a weakening hryvnia may push up inflation in coming weeks, tempering the bank's ability to lower rates. In September, gas prices jumped 18% over August. Reduced grain exports and a stalled IMF program weaken the national currency.
More fallout from Naftogaz pulling its $500 million Eurobond placement at the start of a road show. Concorde Capital's Alexander Paraschiy writes: "In our view, Naftogaz's decision to put off the deal looks logical. As natural gas prices are rising, the company has a chance to improve its P&L in 2H20. Meanwhile, Ukraine will have a chance to secure another IMF tranche and reduce its sovereign risk. If so, Naftogaz may have a new window for a bond placement at a better rate in 1H21."
With new coronavirus cases hitting a record 6,719 yesterday, the Cabinet of Ministers next week shifts its weekly meeting to online, Prime Minister Shmygal said at yesterday's meeting. Separately, Tetiana Hryshchenko, Servant of the People Rada member, has filed a bill proposing cancellation of the second round of local elections, scheduled for Nov. 15. The latest political figure to fall ill with coronavirus is Volodymyr Lytvyn, a former member of parliament who was twice chairman of the Rada in the 2000.
After Sunday's local election, the government is likely to tighten hygiene restrictions, notably fines for not wearing masks, reports Obozrevatel. The news site quotes one 'government source' saying: "To close businesses, like in the spring, that certainly will not happen. It is not even discussed."
Through September, retail sales are up 6.7% compared to the first nine months of last year, reports the State Statistics Service. The biggest growth regions were: Kyiv +17%; Zaporizhia +14%; and Chernihiv +12%. The biggest losers were two areas hit by strict coronavirus lockdowns: Zakarpattia -7% and Chernivtsi – 1%.
E-commerce is growing faster in Ukraine than in the rest of Eastern Europe, according to new research by Euromonitor International. During the first half of this year, e-commerce sales in Ukraine grew by 45% yoy, compared 36% for Eastern Europe. In Ukraine, c-commerce now accounts for 8% of sales. In Eastern Europe this figure is 10%. Grocery e-commerce has doubled this year in Ukraine. Maria Milashevich, a Euromonitor consultant, told a webinar last week that 55% of respondents to a company survey said the Covid pandemic has forever changed shopping and e-commerce will continue to grow.
In Ukraine's beauty business, the e-commerce portion of beauty product sales has jumped by 55% this year, Elyzaveta Timenko, Market Insight manager for L'Oréal Ukraine, told a Franco-Ukrainian Chamber of Commerce conference on consumer trends last week. The e-commerce slice rose from 8.7% last year, to 13.6% for the first half of 2020. Last year, the growth rate was 30%.
Riding the wave of e-commerce, Nova Poshta has expanded its branch network this year by 22%, reaching 7,145. The package delivery service now has 4,000 branches in villages. "In 2020, despite the quarantine, Nova Poshta expanded its network," says company CEO Alexander Bulba. "We focused on small towns and villages…On average, the company opened five branches a day, four of which – in villages where the company was not previously represented."
Nova Poshta is about to open its fourth high speed sorting center, in Kharkiv. Costing €10 million the new sorting center uses Dutch Vanderlande equipment and is capable of sorting 15,000 packages an hour. In the last two years, the privately-owned delivery service has opened high speed sorting centers in Kyiv, Khmelnytskyi and Lviv.
Nova Poshta's deliveries jumped by 35% during the first half of this year, compared to the same period in 2019. With much of the first half coinciding with the lockdown, a popular new service was drug delivery – 82,000 in three months. Overall, Nova Poshta delivered 128 million parcels in the first half of this year.
El Al resumes flights on Monday between Tel Aviv and Kyiv Boryspil. Initially, the flights will be only three times a week. For now, Israel does not allow inbound tourism.  Although Israel has one quarter of Ukraine's population, its number of Covid cases is just below Ukraine's total of 306,649. After undergoing a severe lockdown in September, Israel saw its infection peak on Oct. 1. It is now on a par with Ukraine's.
Due to mounting EU coronavirus controls, UIA is postponing to the end of November the re-launch of its flights from Kyiv Boryspil to Brussels, Dusseldorf and Prague, the airline reports. Due to the Armenia-Azerbaijan war, the Ukrainian carrier is extending until Nov. 13 its suspension of flights to Baku and Yerevan.
UIA is on track to carry 2 million passengers this year, one quarter the 8 million carried last year. From January through September, the airline carried 1.45 million passengers, the airline reports. Transit passengers, mainstays of the airline's hub and spoke strategy, have plummeted to 22% in September, down from 50% last year.
To make money, UIA is turning its Boeings into flying billboards. On Nov. 5, the airline will auction off rights to paint signs on the fuselages of its planes. For a three months of 'fuselage branding,' bidding starts at $70,000. UIA will not accept ads from competing airlines or tour operators. UIA says: "We are always open to new ideas and cool partnership projects."
Editor's Note: Without waiting for the full moon of this Halloween night, the gargoyles and griffons came down from the Gothic façade of the National Bank of Ukraine for an emergency midnight conclave. Disturbed by noise from Western ambassadors and the IMF about central bank independence, the senior gremlins came with a clever compromise: keep on the veteran reformer, Kateryna Rozhkova, but strip her of her key duties. (hee, hee). I wonder if the IMF Representative living in Kyiv will notice? With Best Regards, Jim Brooke.