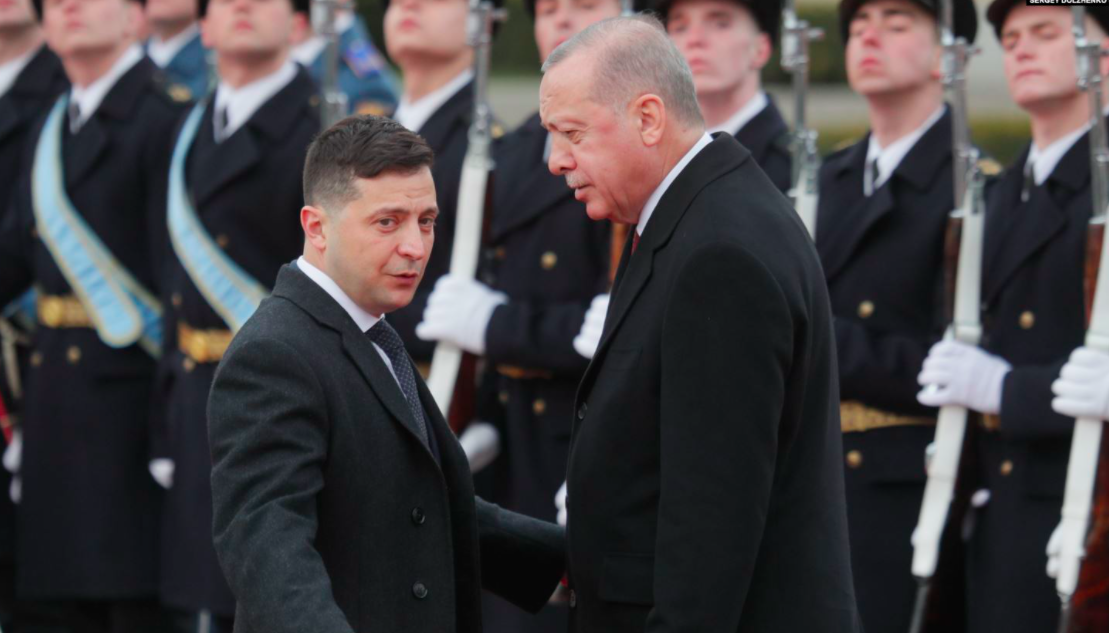 Thursday, October 15
Zelenskiy Flies to Turkey to Sign Military Agreement...Two Countries Cooperate on Combat Drones, Missile Engines, Aircraft...Dnipro's Pivdenmash Builds Rocket Engines for NASA and EU...Ukraine's Rocket Man Plans to Launch Alpha From California, Breaking Into Midsize Space Cargo Market
President Zelenskiy visits Turkey today to sign a bilateral military cooperation agreement. Reflecting growing arms technology ties, Zelenskiy's 3-day visit follows the visit of Turkey's Defense Minister Hulusi Akar to Kyiv in July and the visit to Turkey in late August of a Ukrainian arms industry delegation, led by Oleh Urusky, Deputy Prime Minister and Strategic Industries Minister.
Interested in military drones and missile engines, the Ukrainians toured the production facilities of Turkish Aerospace Industries, Roketsan, ASELSAN, and Baykar Makina, Turkey's leading drone developer. Back in Kyiv, Urusky told Ukrinform, the state news agency, Turkey and Ukraine are creating "a strategic alliance" for defense production. On Sept. 1, ASELSAN, Turkey's leading defense industry contractor registered a company in Ukraine for "marketing and business development."
Ukraine plans to buy 50 Bayraktar TB2 combat drones and set up a large-scale assembly line in Ukraine for the unmanned fixed wing aircraft, reports Defense World, a Virginia-based defense news site. "We have agreed on setting up of a large-scale assembly line for these drones in Ukraine," Vadym Nozdr, CEO of  Ukrspetsexport, tells LB.ua. "Currently, we are choosing a place for the production of the drones." Ukraine's Army has already purchased 12 drones and three ground control stations for a reported $69 million.
Ukraine will eventually export the combat drones under license from Baykar Makina, Nozdr said. Ukrspetsexport, part of the UkrOboronProm conglomerate, will have to right to sell the drones to countries that do not already buy them from Turkey. In the last two years, Bayraktar TB2s have been used in fighting in Libya, Syria and Iraq. Today, Azerbaijan is using them against Armenian forces in Nagorno-Karabakh. As of June 8, at least 19 TB2s are confirmed as destroyed in action, reports Lostarmour website.
Zaporizhia-based engine-maker Ivchenko-Progress is producing 12 AI-35 engines to power Turkey's new Gezgin cruise missile. Similar to the US Tomahawk, the Gezgin can be fired from ships and has a range of 1,000 km, roughly the east-west length of the Black Sea. "We make AI-35 for the Turks — this is for a cruise missile," Igor Kravchenko, head of the manufacturing for Ivchenko-Progress, tells Ukraine's Defense Express news site.
"Turkey-Ukraine work on missile engine could open the door to tech transfer," Defense World, the US news site headlined Tuesday. Their Ankara-based reporter, Burak Ege Bekdil, writes: "Engine technology cooperation between Black Sea neighbors Turkey and Ukraine could turn into a longer-term business deal involving aircraft production and technology transfer, Turkish officials and analysts agree." In mid August, Oleksandr Los, the new head of Antonov, Ukraine's aircraft manufacturer, visited Turkey.
Kyiv's Artem Holding, manufacturer of Luch Design Bureau rockets, has completed tests of RS-80, a new unguided aircraft missile, Xinhua, the Chinese news agency,  reported Friday. Designed to destroy tanks, armored personnel carriers, and self-propelled guns, the missile is to be manufactured for Ukraine's armed forces and for export.
Dnipro-based Pivdenmash, formerly Yuzmash, is building rocket engines with Northrop Grumman for NASA's Antares project and engines for the European Space Agency's Vega rocket, Volodymyr Usov, Head of Ukraine's State Space Agency, said Saturday at the conference Doing Space In UA. Ukrinform reports he said Ukraine should focus on the niche of producing engines for rockets that place satellites in orbit.
Powered by Pivdenmash engines, an Antares rocket blasted off from NASA's Wallops Flight Facility in Virginia on October 2. Three days later, the Cygnus resupply spacecraft docked at the International Space Station. NASA reports the 3,500 kg cargo includes a $23 million experimental space toilet and experimental equipment for removing ammonia from urine, leaving drinking water and creating energy. Volodymyr Yelchenko, Ukraine's ambassador to the US, attended the launch and wrote later: "The Antares Stage 1 Core Structure was developed by Pivdenne SDO and manufactured by Pivdenmash in cooperation with such Ukrainian enterprises as Hartron-ARKOS (Kharkiv), Kyivprylad (Kyiv), Hartron-Yukom (Zaporizhia), CHeZaRa, Rapid (Chernihiv), and others."
By December, Ukrainian entrepreneur Max Polyakov hopes to launch from California's Vandenberg Air Force Base his first rocket, Alpha. Designed to carry a 1,000 kg payload, the 29-meter tall Alpha would place a small satellite into low Earth orbit. Polyakov, a Dnipro native, estimates he has invested $150 million into the project, a figure only topped by Elon Musk with Space X and Jeff Bezos, with Blue Origin.
"A rocket mogul is preparing to launch a union of U.S. and Soviet technology" headlines a 4,000-word feature in Bloomberg Business Week on Polyakov and his Austin-based company Firefly Aerospace. Polyakov believes he can occupy a profitable niche for payload delivery, between the 300 kg of New Zealand's Rocket Lab and the 8,000 kg of SpaceX, Blue Origin and NASA rockets. For his project, he says he employs 300 people in the US and 4,000 in Ukraine. In three to five years, "we will be at the right time, at the right place, with a product that eats the market," he tells Bloomberg's Ashlee Vance.
"If he can join SpaceX and Rocket Lab in regularly launching satellites into orbit, the additional hundred million dollars will have been worth it," writes Vance, who authored a book on Musk and SpaceX. "Firefly's value would almost certainly shoot into the billions."
Much like IT outsourcing companies in Ukraine, Polyakov is tapping into the nation's Soviet legacy of high level science, technology, engineering and math education for the modern world. "Even after all these years and many advances in rocket science, the Ukrainians still know how to build some critical rocket components, better than anyone else," Bloomberg writes. Noting Polyakov's high energy and ambition, the magazine says: "Firefly also has plans for a bigger rocket called Beta, as well as for its own satellites, propulsion systems, a reusable spaceplane, and a lunar lander."
In a key step toward launching the first Alpha rocket, Firefly reports that on Sept. 20 it successfully performed a simultaneous test of its four Reaver engines at a testing bay in Briggs, Texas. Last January, a test resulted in an accidental kerosene fire. Last year, Dnipro's Yuzhmash signed a $15 million deal to supply engine rocket parts for Firefly's Reaver engines.
With new corona infections in the EU running at 10 times the levels of early August, Wizz Air is canceling 24 flights from Ukraine to EU cities, reports Lowcostavia.com.ua. Cancellations include Wizz Air flights from Kyiv Sikorsky to Bratislava, Katowice, Larnaca, Lisbon, Riga, Salzburg, and Tallinn. From Lviv, Kharkiv, Odesa and Zaporizhia, cancellations include flights to Berlin, Budapest, Dortmund, Gdansk, Katowice, Krakow, Milan, Vienna and Wroclaw.
Editor's Note: Here's a question: why did retail sales grow by 10% this summer, while the economy shrinks by 6% this year? Answers will come this afternoon from executives of L'Oreal, Auchan, Peugeot, Zakaz and Global Distribution Ukraine. At 17:00, the French Chamber of Commerce in Ukraine sponsors a webinar conference – "New Consumer Trends in Ukraine." Transmission is live on Facebook and YouTube, the language is English, I moderate and the only taboo topic is France's 7-1 football victory over Ukraine last week in Paris. With Best Regards, Jim Brooke