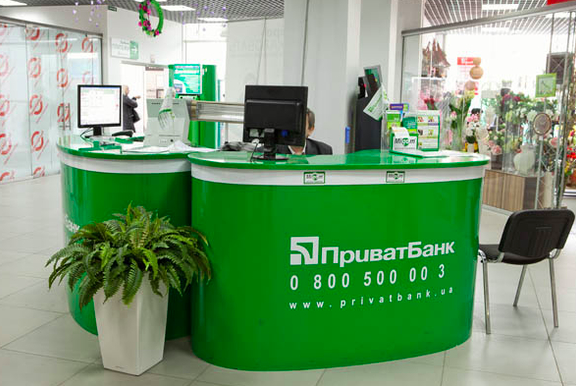 PrivatBank posts a record profit of $1.11 billion in the first nine months of 2019, according to Board Chairman Petr Krumhanzl. Commissions netted the bank $539 million in revenue while interest income generated $596 million. PrivatBank was nationalized in Dec. 2016, after the previous ownership group, led by Ihor Kolomoisky, put the bank $5.5 billion in the red.
Ukrzaliznytsia and the State Fiscal Service introduce an electronic document system to streamline procedures. This will replace paper documents with digital ones when transporting import, export and transit goods, according to the Center for Transportation Strategies. The new system is designed to cut train processing times at transfer stations and simplify the delivery procedures at final destinations. "This will be done in electronic form, which will reduce the number of unreasonable delays during inspections, reduce corruption and unnecessary expenses for business. Everything can be tracked online," announced the Cabinet of Ministers.
Two more state-owned enterprises go to State Property Fund for privatization. Kharkiv-based machine factory Zavod Elektrotyazhmash and Kyiv-based holding company United Mining and Chemical Company will go up for sale, Timofei Milovanov,  Minister of Economic Development, Trade and Agriculture, writes on Facebook.
Ukraine backslides two places in the World Economic Forum's 2019 Global Competitiveness Index, ranking 85th among 141 countries.  Healthcare and macroeconomic stability metrics worsened, while the country improved in business dynamism and labor market metrics.
Russia's Gazprom could start supplying gas to Ukraine as early as January 2020, if EU accession agreements are signed in time, Naftogaz  CE Andriy Kobolyev told the Ukrainian Gas Forum in Kyiv on Wednesday. "As soon as we sign accession agreements, and as soon as we implement European standards for a gas market, Gazprom will be able to enter this market and supply gas to consumers…I will not be surprised if on Jan. 1 we see Gazprom as a supplier of gas for many Ukrainian consumers and enterprises in various fields." Ukraine has not purchased gas from the Russian company since 2015.
Big tobacco companies including Phillip Morris and British American Tobacco claim a new law targeting profit margins could cause a pullout. In a press conference, BAT General Director Simon Wellford said: "Adoption of this law will have serious consequences for the industry. We have an absence of a transition period and implementation mechanisms. In the near future, this will expose our business to risks. We will be forced to consider the issue of production of our products in other factories."
The Cabinet of Ministers dismissed Alexandr Dotsenko, acting director of the State Enterprise for Air Traffic Services, UkSATSE. Prime Minister Honcharuk tells reporters: "We made staffing decisions and fired the acting director of UkSATSE." A state-owned enterprise, UKSATE provides air traffic control, management of airspace, and radio communications. Earlier in August, NABU agents searched UkSATSE over possible corruption after $16 million was sent to the company's account at PJSC Platinum Bank, a bank later declared insolvent.
The Cabinet of Ministers allocated $2.84 million for equipment to issue modernized passports, driver's licenses and vehicle registrations at the Administrative Services Centers (CPAU), Prime Minister  Honcharuk tells reporters. "Today we took the first step towards the unification of the CPAU network. In the past, different ministries tried to build their own infrastructure. This will not happen. We will optimize everything."
Consumer prices rose by 0.7% in September, after falling in August by 0.3% and July by 0.6%, according to the State Statistics Service. Since January 2019, prices have increased by 3.4%.
Zelenskiy signs law protecting geographic branding, according to an official press release. The law applies to products tied to geographical areas such as champagne, cognac, roquefort cheese, parmesan and others. The statement said: "The implementation of this law will facilitate the adaptation of national legislation to European Union law, as well as the fulfillment of the commitments made by Ukraine under the Association Agreement with the European Union."
Ukraine's state gas transit system is fully prepared for winter with 20.8 billion cubic meters in storage, reports Ukrtransgaz. "Ukrtransgaz has completed 100% repair work and modernized the gas transit system of Ukraine within the framework of the plan of preparation for work in the autumn-winter period 2019/2020," the company reported.
The Cabinet of Ministers approves the European Investment Bank plan to loan €20 million to small and medium-sized enterprises, according to an official press release. The Cabinet emphasized that the implementation of the plan will be carried out within the framework of the Agreement between Ukraine and the European Investment Bank.
Ukraine's National Bank launches a commemorative 2 UAH coin featuring artist Ivan Trush, reports the bank's press service. Trush was a prominent 19th and 20th century ethnic Ukrainian impressionist painter born in Austria-Hungary.
Eight business centers are to open in Khmelnytskyy, a region in western Ukraine, reports Interfax Ukraine citing UTG Consulting. The office vacancy rate in the region was 6.7% in August 2019. The new stock will bring the total supply of office space to 24.1 thousand square meters.
Cabinet of Ministers approves funding for 707 investment programs and regional development projects implemented through the State Regional Development Fund (ERDF), Ukrinform reports, citing Prime Minister Honcharuk. "We have decided to take a closer look at what investment projects can be financed in the regional development program at the expense of this ERDF in the near future. The Ministry of Community Development is responsible here."
Ukrainian budget airline SkyUp will launch winter flights from Kyiv to Salzburg, Austria, starting December 28, the company reports. The flights will start on December 28, 2019 and end on February 1, 2020. Only round-trip tickets will be sold starting from €238.