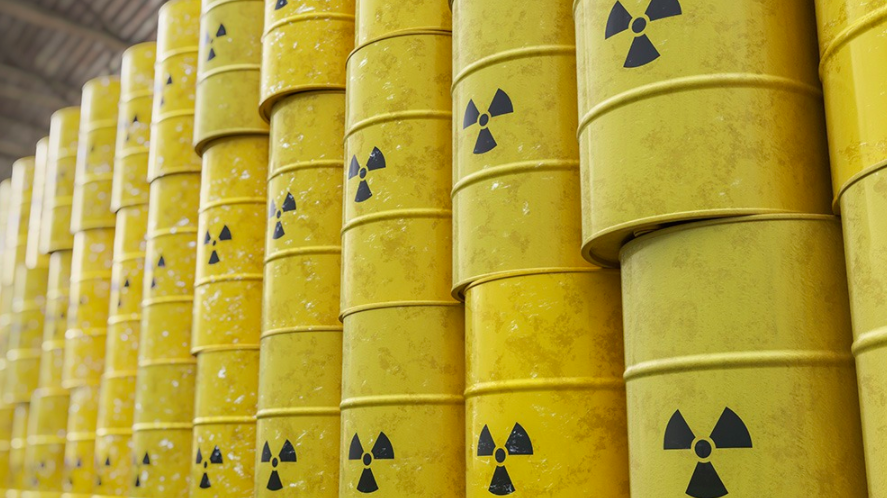 Westinghouse Electric Co signed a deal yesterday to raise its market share of nuclear fuel in Ukraine to 60%, from 40% last year. The deal means that a Westinghouse plant in Sweden will supply fuel for nine of Ukraine's 15 reactors. In a case of trading places, the market share of Russia's TVEL will fall to 40%, from 60% last year.
Since the Russia-Ukraine war started in 2014, Ukraine has gradually cut dependency on Russian fuel for its nuclear reactors. Last year, Ukraine spent almost $400 million on nuclear fuel imports. With nuclear supplying 53% of Ukraine's electricity, Ukraine ranks seventh in the world for installed nuclear power capacity.
At the signing ceremony, President Zelenskiy hailed "a deepening of the diversification of nuclear fuel supplies for our state-owned Energoatom." Patrick Fragman, President and CEO of Westinghouse, now a Canadian company, said: "With this major agreement, we extend further our commitment to Ukraine's energy security and focus on further improving the operational excellence of its nuclear fleet." In addition, the parties signed a memorandum of understanding that envisages production of Westinghouse fuel components by Atomenergomash, an Energoatom unit.
Renewables – hydro, solar, wind and biomass – have nearly doubled their slice of Ukraine's electricity production, the Energy Ministry reported Tuesday. Through August, renewables accounted for 13.3% of electricity production, compared to 7.1% for the first eight months of last year. Due to the recession production of electricity from all sources dropped by 6.2% through August, compared to the same period last year.
Ukraine's coronavirus pandemic is shifting from agricultural west to industrial east, new Health Ministry figures show. Of a record 4,027 new coronavirus cases registered nationwide yesterday. Kharkiv oblast registered 549 cases, a record for any region since the pandemic was first detected in Ukraine seven months ago. Two other eastern regions lead the daily tally: Donetsk – 345; and Dnipropetrovsk – 271. Of detected cases, 18% need hospitalization. Of the 208,959 known cases since March, 4,129 have died – a mortality rate of 2%.
After Ukraine's new coronavirus infections crossed the psychological barrier of 4,000 yesterday morning, the Rada voted to postpone all plenary sessions until Oct. 20. To keep the 423 Rada members out of the hall, Speaker Dmytro Razumkov said yesterday that lawmakers will work in committees. Currently, eight Rada members are known to be "sick from coronavirus," Yaroslav Zheleznyak, a member for Voice, writes on his Facebook page. This group includes: ex-President Petro Poroshenko; Voice leader Kira Rudik; and Zhan Beleniuk, the Olympic medalist wrestler turned politician.
Concorde Capital's Zenon Zawada writes: "The new daily record for COVID-19 cases is a disturbing trend that poses the risk of renewed travel restrictions, regardless of official assurances."
The Finance Ministry raised rates to sell $72 million worth of government hryvnia bonds at the weekly auction Tuesday. About 95% of purchases were for six-month bonds. Yields were 8%, an increase of 18 basis points from two weeks ago. One-year bonds went for 9.5%, up 4 base points from one week earlier. Two-year bonds went for 10.5%, up 7 base points from two weeks ago. The auction sales volume was almost seven times larger than the previous week.
Concorde Capital's Evgeniya Akhtyrko writes: "The rising interest rates at this latest bond auction was not sufficient to boost demand for local Ukrainian bonds…The recent low volumes of raised state debt will pose problems for financing budget deficits in the coming months. In this situation, the governments will have to noticeably hike interest rates for local bonds and/or restrain budget expenditures."
Yields on 12-year Ukrainian government Eurobonds have risen by 100 basis points, to 8%, in the last 10 days. Timothy Ash writes from London: "It's signaling that investors are beginning to get a bit worried about the future course of reform in Ukraine, the future of IMF relations, local elections, and I guess potential for cabinet changes… I think the IMF is of the view that these structural reform issues are critical to Ukraine's long term development and the success of this program and future programs…the Fund will adopt a 'prove we are wrong by your actions' approach before agreeing to a new program review mission."
"[Ukraine's] current team needs to look at the widening of Ukraine's credit spreads, or increased costs of borrowing, as a reflection that the market does not appreciate what they are seeing on the reform front, and that changes need to be made," Ash writes in an emailed analysis.  "I just wonder here how many investors would actually want to continue to finance Ukraine if they thought the current IMF program was not going anywhere, which is kind of the reality at this stage."
Aggressively moving to become Ukraine's leading domestic carrier, Windrose Airlines starts flying Monday to its 9th Ukrainian city – Kherson. Next month, it is to add Uzhgorod. Long a vacation charter carrier, Windrose prepared for a domestic route network by receiving four ATR 72-600 regional turboprops this year. In June, it launched domestic flights from its Kyiv Boryspil hub. Today, Windrose flies to: Dnipro, Ivano-Frankivsk, Kharkiv, Lviv, Mykolaiv, Odesa, and Zaporizhia. Tickets are about $40 one-way.
An American woman employed by the US Embassy died yesterday of a severe head injury. She had been found unconscious near railroad tracks on the western border of Nivky park, a 10-minute walk from the embassy, on Igor Sikorsky Street. Interior Ministry spokesman Artem Shevchenko told Espreso TV police are investigating whether the death was murder or accident. Noting that she was found near the tracks wearing headphones, Shevchenko speculates she could have been hit by a train while jogging.
From the Editor: My trip to Kharkiv last weekend reminded me that Ukraine is bigger than California, bigger than France. The Friday afternoon drive took six hours. Traffic on the 500 km highway was slowed by about 10 stretches of serious construction. The Sunday evening return on the InterCity train took five hours. But a low hassle air shuttle should link Ukraine's two largest cities. Think New York-Washington, or San Francisco-LA. Windrose is making the right moves, right sizing their fleet with 78-seat turboprops to make affordable, one hour hops around the nation. Domestic air travel is not new to Ukraine. One Soviet inheritance is a national network of 24 airports, one for each oblast capital. In the 1980s, a friend of mine regularly flew from his home in Cherkasy to his university in Rivne. Hard to imagine that city pair today! With best regards, Jim Brooke