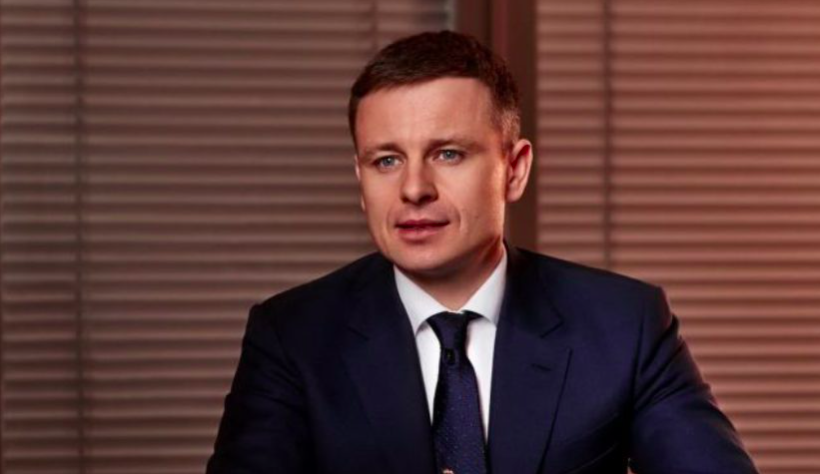 Thursday, November 5
Finance Minister: Rogue Court Threatens $5 billion in IMF, EU and World Bank Aid, Plus Early Repayment of $13 billion...Despite Popular Support, Ze's Attack on Court Stumbles...Foreign Investors Reactivate Ukraine's Only Gold Mine...Cell Phone Cos: Less Talk, More Data...Plastic Bags Destined for Dustbin of History
Finance Minister Sergiy Marchenko warns that Constitutional Court decisions to nullify anti-corruption agencies threatens $5 billion in IMF, EU and World Bank aid scheduled for Ukraine over the next year. In addition, the dismantling of the anti-corruption agencies could trigger "the risk of early repayment requirements" of $13.3 billion. "Without a legal settlement of this issue, international partners will block all financial agreements for us," the Minister warns in a guest piece for Channel 24 TV. Referring to the Constitutional Court of Ukraine, the headline reads: "Financial isolation: how the CCU destroys Ukraine's international reputation."
"Anti-corruption factors of these agreements are inviolable," the Finance Minister writes of contracts for multi-lateral aid to Ukraine. "Any of our attempts to block anti-corruption reforms are considered by our partners to be a black mark…These achievements and agreements, which are crucial for the state, are in danger of being disrupted."
Specifically, a $300 million World bank loan to counter COVID-19 was scheduled for negotiations on Nov. 16, and approval by the World Bank Board on Dec. 11. "However, due to the decision of the CCU, these issues are blocked," Marchenko writes. The World Bank board "believes Ukraine is violating its obligations."
President Zelenskiy's Rada bill to fire the entire Constitutional Court is failing to win parliamentary support. Instead, the Anti-Corruption Committee has endorsed a bill to restore the online system of declaration of assets.
Concorde Capital's Zenon Zawada writes: "We expect parliament to approve gradually the necessary legislation to meet EU requirements. However, it's another issue of whether the courts – particularly the Constitutional Court – will recognize the validity of the legislation, which we believe will be challenged by the same Kremlin-aligned cohort behind the Oct. 27 ruling."
60% of respondents to a new poll do not trust the Constitutional Court and an equal number support Zelenskiy's bill to purge the membership. Among respondents who are familiar with the Court's recent decisions, distrust rises to 80% and hostility to its rulings rises to 83%. On Monday and Tuesday, the Rating Sociological Group interviewed 2,000 people across Ukraine.
Abolition of visa-free travel to the EU – a threat aired this week by EU officials – is opposed by 55% of adults interviewed by Rating. Highest negativity was registered among: young people, residents of Kyiv and the West, and supporters of European Solidarity, Freedom, the Voice and the Servant of the People parties.
German investors believe that the main problem in Ukraine is not corruption, but courts and judicial agencies, Germany's ambassador to Ukraine Anka Feldhusen tells Interfax-Ukraine. "What always scares our investors is bad examples when even large German companies in Ukraine are under pressure from law enforcement agencies," she says in an interview. "This is closely related to judicial reform. Our investors tell me that corruption is no longer such a big problem." While big German companies can afford to fight the lawsuits and raid attacks, small and medium companies are scared away, said the Ambassador who is on her third posting to Kyiv since 1994.
Avellana Gold is investing $5 million to clean up 130,000 tons of waste in order to re-launch production at Ukraine's only gold mine. The waste was left a decade ago by the previous producer at the site in Muzhievo, 70 km east of Uzhgorod, near the Hungarian border. The Cyprus-based consortium of US, UK and South African investors plans to produce gold, silver, lead, and zinc. Avellana CEO Brian C. Savage says: "The metal from our mine will be enough to produce 300,000 batteries a year and will cover the country's need for zinc imports." Avellana plans to process 500,000 tons of ore per year, employing 500 workers. Investment was slowed by a raider attack.
PrivatBank is asking the National Police to investigate threats of personal violence received by its "top manager." In 2016, the bank was nationalized after auditors discovered a $5.5 billion hole in accounts. Today, the previous owners, Igor Kolomoisky and Gennadiy Bogolyubov, seek to regain control of Privat, the largest of Ukraine's 75 banks in terms of number of clients, assets value, and loans.
Creating a digital enclave economy, Ukraine plans to more than triple the IT share of Ukraine's GDP, from 3% today to 10% by the end of Zelenskiy's term, in 2024, Mikhail Fedorov, Digital Transformation Minister, told reporters Tuesday. The goal is to more than double the number of Ukraine's IT workers, from 200,000 today, to 450,000 in 2024. To get there, the government submitted bills to the Rada Monday that will create a virtual 'Diya.City'. Under this umbrella, companies could be registered in minutes, workers would pay 5% income tax rates, and employers would enjoy liberalize labor codes.
Ukraine's stores and restaurants would be banned from distributing conventional plastic bags within 14 months, under a bill that the Rada has approved for second reading. Starting Jan. 1, 2022, retail establishment would be required to hand out bags of 'oxo-biodegradable' plastic.
Ukrainian cell phone operators will lose up to $35 million this year due to the loss of roaming revenue stemming from the corona-era drop in travel, Olha Ustynova, director general of Vodafone Ukraine, tells Interfax-Ukraine. The data portion of revenue increased to 60%, from 50% one year ago, said the director of Ukraine's second largest mobile company. Previously, talk was the revenue mainstay.
Rebuilding Dnipro airport will get one third of $157 million of budget money dedicated to upgrading airports next year, Infrastructure Minister Vladyslav Krikliy writes on Facebook. Other money will go to selecting a site for a new airport for Zakarpattia region. With four sites under consideration, the goal is to move flights away from the current airport, located on Ukraine's international border with Slovakia.
Targeting two countries that still allow Ukrainian visitors, SkyUp will make three flights to Uzbekistan this month and will start flights to Istanbul in December, from Lviv and Odesa. To enter Uzbekistan, Ukrainians need to have a negative Corona PCR test taken less than 72 hours from arrival.
Ukrainian airlines have let go about 30% of their employees over the last six months, Infrastructure Minister Vladyslav Krykliv tells Ukrinform. Last summer, SkyUp said it had lost $30 million and UIA said it had lost $60 million. Neither airline has received state aid.
Editor's Note: "Fifth Column" is a World War II-era concept that later fell out of fashion. Yet it helps understand modern Ukraine. Wiki defines a Fifth Column as: "Any group of people who undermine a larger group from within, usually in favor of an enemy group or nation." Today, adults recognize that Russia is conducting a military war against Ukraine in the Donbas. Yet, amazingly, we see: a major political leader, Viktor Medvedchuk, flying to Moscow for photo ops with President Putin; pro-Russia groups controlling half of Ukraine's TV stations; and pro-Russia Rada members petitioning pro-Russia judges on the Constitutional Court to make rulings to render Ukraine ineligible for Western aid and collaboration. How does the Government explain this "tolerance" to the young men and women defending the front line, facing Russia-supplied guns and Russia-trained snipers? With Best Regards, Jim Brooke