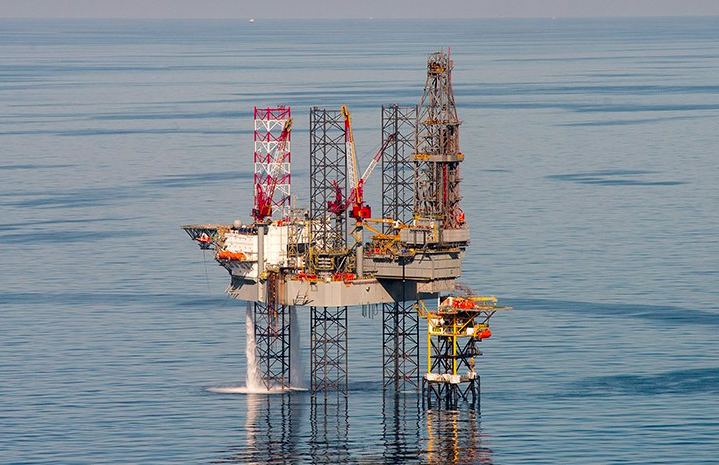 Thursday, November 26
Naftogaz Wins No Tender Deal to Develop Black Sea Gas Field...Ukraine Now is Key Player in Eastern Europe Gas Market...EU Has Big Hydrogen Plans for Ukraine...Biden Is Expected to Block Nord Stream 2...Millions of Ukrainians Shop Online for 'Black Friday'
The government yesterday granted Naftogaz the right to develop a massive Black Sea gas block without a tender. The Dolphin block, near Ukraine's portion of the Danube river delta, is believed to hold at least 1 trillion cubic meters of gas – more than double the big Black Sea find announced recently by Turkey. "This means the possibility of producing up to 10 billion cubic meters per year," Ukraine's state oil and gas company announced on Facebook. In recent years, Ukraine has imported 11 to 14 billion cubic meters a year.

Seismic work could involve $40 million of investments in the first year, Naftogaz said on Facebook. "This means the possibility of attracting international investors, and at the same time – on the best terms for Ukraine," the company wrote yesterday. Last month, Naftogaz unexpectedly pulled out of a $500 million Eurobond sale despite it being oversubscribed. Yesterday's no tender decision by the Cabinet of Ministers cuts permitting delays. "The company will be able to start developing the shelf immediately after the adoption of the normative act," Roman Abramovsky, Minister of Environmental Protection and Natural Resources, said at the Cabinet meeting.
Last year, an American company, Trident Acquisitions, won a competitive tender to develop the offshore block. The incoming Zelenskiy government refused to accept the results of this 'Poroshenko tender.' The issue languished for one year. Last night, Ilya Ponomarev, CEO of Trident, emailed the UBN: "This story has ended as we have predicted – no major [foreign energy companies], just no one showed up. So, the government threw our $1 billion offer out of the window. [Now it] will spend taxpayers money in Naftogaz to develop this difficult project in very uncertain times, assuming all risks themselves."
Ukraine has become a key player in the EU natural gas market, storing 10 billion cubic meters of gas this fall for gas traders. With the European heating starting last month, Ukraine, for the first time in history, started re-exported stored gas to EU countries. "A significant milestone for the gas market is the start of the re-export of gas that was previously imported to Ukraine from the EU," Sergei Makogon, CEO of the Operator of the Gas Transportation System of Ukraine, writes on Facebook. "Previously, there was only transit and import." Integrating Ukraine into the regional gas system are: duty free gas storage, duty free short haul gas transportation through Ukraine, and new reverse flow gas pipelines.
The "U" factor: Ukraine's growing role in Europe's natural gas market," headlines a 1,600-word article in S&P Global Platts. This year "access to both Ukrainian storage and inbound transport capacity resulted in large gas flows transiting Slovakia, the Czech Republic and Hungary destined for Ukraine," reports S&P.  "This in turn created the conditions for the growth of gas hubs in Central and Eastern Europe."
Europe's Green Deal commitment to renewables, hydrogen and decarbonizing energy sources "means that between 2030 and 2040, Europe may see a radical drop in demand for natural gas," Andrian Prokip, wrote in a Kennan Institute essay: "New Era of Gas Wars between Ukraine and Russia? "That would likely mark the end of Russia's energy expansionism."
The EU 'Hydrogen Strategy' calls for dividing EU hydrogen production between the EU and its eastern neighbors. "This strategy stipulates that 'the Eastern Neighborhood, in particular Ukraine, and the Southern Neighborhood countries should be priority partners,'" writes Prokip, an energy expert for the Wilson Center. "Ukraine could become a key partner of the EU in the production and export of hydrogen. In light of Ukraine's current diminished role in natural gas transit…hydrogen export may become the basis for a revitalized, long-term cooperation and part of the real economic integration of Ukraine and the EU.
In reaction, Gazprom and Rosatom, the nuclear corporation, recently signed a deal to hydrogen production in 2024. Uniper, the German energy giant, says Nord Stream 2 could be repurposed to carry a blend of 80% hydrogen and 20% natural gas.
"Joe Biden Is Unlikely to Save Angela Merkel's Pet Project," headlines a Bloomberg article yesterday about the $11 billion, 1,239 km Russia-German Baltic Sea gas line. "U.S. opposition is likely to remain under Biden," Bloomberg writes about Nord Stream 2.  "There's American cross-aisle agreement" against Nord Stream, Ursula von der Leyen, European Commission President and Angela Merkel's former defense minister, told Germany's Die Zeit newspaper earlier this month.
Democrats should not go wobbly on Nord Stream 2, The Wall Street Journal warns in an editorial: "Congress shouldn't back off Russia sanctions in the annual defense bill." "The incoming Democratic Administration wants closer cooperation with Western Europe," wrote the conservative US newspaper. "That shouldn't come at the cost of increasing NATO vulnerability to Russia. Congress would assist U.S. and European strategic interests if it gets the Nord Stream sanctions over the finish line in the lame duck session."
The US Congress is targeting insurance companies in the latest strategy to stop the pipeline, Bloomberg reports from Washington. "House and Senate negotiators agreed to target insurers and technical certification companies working on the project in a defense bill that must pass by the end of the year."
In advance of passage, US officials already are contacting companies to warn they may face sanctions, DPA reports from Washington. "We're in the process of calling a number of these companies to make them aware that they're likely engaged in sanctionable activity," an official reportedly tells the German news agency.
Rozetka.ua, Ukraine's largest online store is seeing record number of visitors to their site – 5.6 million on Tuesday. With the retailer's 'Black Friday' sales going on all week, Vladyslav Chechotkin, Rozetka owner wrote on Facebook that some items already are running out. "Sales hit records," he wrote. "We have run out of many products already, despite our large purchases." The most popular items are: laptops, TV sets, vacuum cleaner robots, electric grills, men's boots, women's sneakers, and Lego blocks.
The American Chamber of Commerce in Ukraine has presented its annual Thanksgiving Awards to Mykhailo Fedorov, Digital Transformation Minister, and to Paul Niland, founder of Lifeline Ukraine, a national suicide prevention hotline focused on helping military veterans. Fedorov said of his work to simplify government services: "We have already created a mobile application and portal of electronic services 'Diia', introduced the first digital passports in the world, launched registration of a business in 15 minutes."
Editor's Note: In honor of Thanksgiving, my own Turkey Award goes to Péter Szijjártó, Foreign Minister of the neighboring republic of Hungary. In mid-October, as Americans were voting for president, Hungary's top diplomat posted on Facebook a long, slashing video attack on Joe Biden. He charged that Vice President Biden spent more time in Ukraine than in the US outside Washington's Beltway. After that wrongway bet, Szijjártó now learns that Biden's Secretary of State will be Antony Blinken. From 1994 to 1996, Antony's father, Donald Blinken, was US Ambassador to Hungary. The future US Secretary of State may well be hip to Hungary's tricks. After the US election, Hungary's hapless Foreign Minister flew to Phnom Penh to bond with a fellow authoritarian, Hun Sen, Cambodia's Prime Minister for 36 years. But after their embrace, Szijjártó discovered he had Covid-19. The 67-year-old Cambodian dictator retreated into self-isolation for two weeks. Thai authorities cancelled all meetings with Szijjártó and sent him home on the first flight in the direction of Budapest. With Best Regards, Jim Brooke