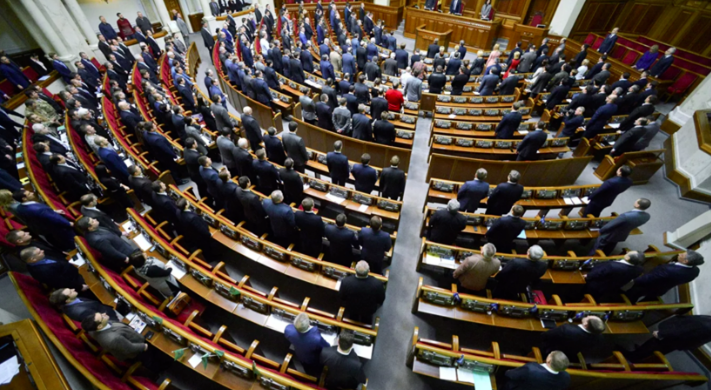 Lawmakers voted Wednesday to allow a farmland market, removing a ban first imposed in 2001. Subject to a second vote, the market is expected to inject billions of dollars of investment into Ukraine's 43 million hectares of farmland. This is the equivalent of one-quarter of all the farmland in the EU.
With the Economy Ministry calculating that the average market price of land to be $2,200, the total value of Ukraine's farmland would be $95 billion. Allowing farmers to use their land titles as collateral for bank loans will add 1.5 percentage points to Ukraine's GDP growth in the 2020s, predicts the World Bank.
"November 13 is the day that will go down in the history of Ukraine," Prime Minister Oleksiy Honcharuk wrote on Facebook after the vote. "Finally, we can move away from feudalism to real market relations as a fully-fledged, developed country. Ukrainians have the right to freely dispose of their property!" Before the vote, Economy and Agriculture Minister Timofei Milovanov told the Rada: "We have to give Ukrainian people an opportunity to manage their land. An owner has to feel him/ her an owner, not a serf."
Through various 'gray' strategies, a farmland market of about $400 million a year already exists in Ukraine, Milovanov said. He said 27 million hectares are farmland are privately owned, but owners do not have the right to sell it. To gradually start a market, after Oct. 1, 2020, the government plans to sell state-owned farmland plots in all 24 regions.
With protesters demonstrating for and against outside the Rada, the measure won largely on a party vote, drawing 240 votes, a narrow margin over the needed 226 votes. Most of the 252 ruling Servant of the People party representatives voted for a land market. Voting against were: Yulia Tymoshenko's Fatherland Party and Petro Poroshenko's European Solidarity Party. Abstaining were the pro-Russian Opposition Platform and Svyatoslav Vakarchuk's Voice Party.
As passed, the draft bill says foreigners will not be able to buy land until 2024. But on Monday, President Zelenskiy said the issue will be put to a national referendum. Before the vote, Davyd Arakhamia, leader of the Servant of the People Rada faction, said a ban on farmland sales to foreigners will be in the final version. He told reporters: "If this amendment is not introduced, then there will be no second reading in our faction either."
A ban on foreigners buying land will reduce competition, the World Bank tells Interfax-Ukraine, noting that several European countries went through a transition period before allowing foreign investment. The bank said: "There are different practices in Europe: some countries allow foreigners to buy agricultural land, and some do not, others forbade the sale for several years."
Concorde Capital's Alexander Paraschiy writes: "Without the participation of foreigners, the land 'reform; will have little positive effect on the economy. In this way, the government will be burying one of the most promising reforms on its agenda. Moreover, the biggest buyers of land will be the same oligarchs who are so reviled by the public."
With Ukraine's food exports to the EU growing every year by double digits, the EU mission to Ukraine came out strongly  Wednesday for a market. "The EU supports the government's plans to open the land market in Ukraine, a move that could unleash huge potential for Ukraine's economy," the office posted on Facebook. "Small farmers should stand at the center of this reform."
Before the vote, Iuliia Mendel, the president's press secretary, wrote in Novoe Vremiya: "Land reform today is a determining factor for economic growth. Because without defining the ownership of the land and the proper mechanism of its protection, it is impossible to talk about investments in the production and processing industry, where additional value is formed, not the banal trade in raw materials. That is why it is supported by all international partners of Ukraine."
With the IMF team working in Kyiv today, the bank's Europe Director hopes for "a quick result." "Hopefully, we will get a quick result," Poul M. Thomsen, director of the IMF's European Department, tells VOA. "While progress is encouraging, there are some unresolved issues." He praised Ukraine's progress, saying the country "has successfully stabilized the macroeconomics, pursued good fiscal policy, good monetary policy, secured central bank independence, started clearing the financial sector." However, he warned: "We are particularly concerned about corruption and governance and I think the new government needs to step up its efforts in this area."
Ukraine's new Supreme Anti-Corruption Court has put under 24-hour house arrest two former central bank officials in the 5-year-old case of a suspicious $50 million loan to a bank that failed one month after receiving the loan. In VAB case, the detained bankers are: Alla Shulga, ex-head of banking supervision of the National Bank of Ukraine and now a member of Ukreximbank's Supervisory Board; and Mykola Kalensky, ex-acting head of the Kyiv department of the bank and now a board member National Bank of Ukraine.  In addition, National Anti-Corruption Bureau detectives delivered a notice of suspicion "to the owner and former chairman" of the bank, apparently a reference to Oleh Bakhmatyuk, the agro-business magnate.
As Ukraine's banks recover from the 2014-2015 crisis, bank profits hit $2 billion for the first nine months of this year, up 4.4 times y-o-y, reports the National Bank of Ukraine. Of the nation's 76 operating banks, 66 are profitable. Over the summer, retail lending was a hot sector, increasing 30%, compared to July-September 2018. In the third quarter, hryvnia deposits of individuals were up 12.7% y-o-y.  Despite National Bank's interest rate cut to 15.5% last month, 12-month retail deposits enjoy an average annual interest rate of 15.8%. The central bank attributes this high level to competition among banks.
With an IMF team in Kyiv to negotiate soft loans tied to a program of free-market changes, Ihor Kolomoisky suggests a radically different tack: default on loans to the IMF and, instead, take money from Russia. "We'll take $100 billion from the Russians. I think they'd love to give it to us today," he tells The New York Times. More than a gadfly, Kolomoisky is the main media backer of President Zelenskiy. The oligarch's growing animosity to the West stems from his belief that he is under an FBI investigation and in reaction to pressure by the IMF to recover public money spent on stabilizing his former bank, PrivatBank. He told the Times that people who nationalized PrivatBank in Dec. 2016, like then-President Poroshenko, should be punished "and the death penalty must be brought back for them."
Tying the arrests of former central bank officials to pressure by owners of bankrupt private banks, Timothy Ash writes: "If big bank owners are being brought down/made to pay, they are willing to play dirty and bring reformers down with them for technicalities in the original bank clean up operations… They want to cut a deal to walk away from losses incurred as per the 2014-2016 banking crisis and be given clean bill of health."
From the Editor: What will be remembered 10 years from now? Kolomoisky bloviating again, this time to the Times? Or the first step in creating the largest farmland market in Europe? Best regards Jim Brooke jbrooke@ubn.news.