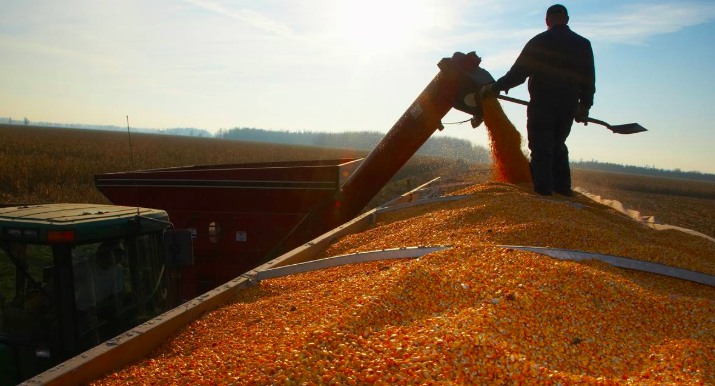 Ukraine's food exports increased by 22.5% during the first quarter, adding almost $1 billion in sales, compared to the same period last year, reports Olga Trofimtseva, acting Minister of Agrarian Policy and Food. The top three export groups were:  grain – 45%; oil – 22%; and oilseeds – 7%. Top products were:  corn – 33%; sunflower oil – 21%; and wheat – 11%. Top destinations were: Asia – 41%; EU – 35%; Africa – 15%; and CIS – 6%.
After last year's record 70-million ton crop, Ukraine's grain harvest this year is to recede by 2.3% this year, to 68.4 million tons, predicts the Institute of Agrarian Economics. While livestock production is to be flat, egg production is to grow by 3.4%, and poultry meat by 7.4%. Last year, company farms were the locomotives of Ukrainian agriculture, with their output growing by 12.1%, compared to family farm output growing by 2.2%.
The Grain Ukraine conference will gather producers, international traders and government officials in Odesa on May 24-25. In addition to an address by Trofimtseva and panels on Ukraine's prospects in world grain markets and strategies for easing domestic transportation bottlenecks, there will be a field trip to M.V. Cargo's new grain terminal in Yuzhne, a one-hour bus ride south of Odesa.
Effective Wednesday, the central bank raised the monthly limit on dividend repatriation to €12 million, from €7 million per company. "€12 million, satisfies the needs of all companies with foreign investments operating in Ukraine," says Oleh Churiy, deputy head of the National Bank of Ukraine. "However, we realize that this limit is a certain barrier for new investors, and our goal is to lift the limit."
Concorde Capital's Evgeniya Akhtyrko writes: "This is the latest step by the central bank in its ForEx liberalization campaign. It reflects the NBU's increasing confidence in the situation on Ukraine's ForEx and the market's ability to regulate itself."
Ukraine will receive the next IMF loan tranche, for $1.3 billion, by mid-July, Alexander Paraschiy, Concorde Capital's head of research, predicts in an interview with UNIAN. He says that Ukraine has fulfilled three of four basic provisions for the tranche. This month, the Rada may pass a fourth: a new, constitutionally sound illegal enrichment law. "Based on our history, this is a very good result," he says. Lowering gas prices should not be an issue because parity with imports is maintained. The biggest cloud, he sees, is Igor Kolomoisky's attempts to reverse the 2016 nationalization of PrivatBank.
Ukraine's central bank will make at least one more cut in its prime interest rate this year, indicates a Reuters poll of 12 analysts. Five analysts expect the rate to end this year at 16%, down from 17.5% today. Three see the year-end rate at 17%. Two weeks ago, the National Bank of Ukraine cut prime from 18%, its first cut in two years. ICU writes: "In case of successful negotiation on the new [IMF] tranche and continuing decline of the CPI, the NBU is likely to cut the rate again during June meeting (-50 bps), eventually lowering it to 16% by the end of the year."
Inflation in April was 8.8% compared to one year ago, the State Statistics Service reports. The central bank predicts inflation will taper to 6.3% at the end of this year. The median forecast of Reuters' analysts is 7.8%.
The interest rate cut led to a 19% drop in bond sales Wednesday at the central bank's weekly auction, compared to the pre-cut auction on April 23. At the May 7 auction, the bank sold $411 million worth of bonds — $166 million in dollars and the rest in hryvnia. In addition to selling puttable dollar bonds at 3.85%, the bank sold 18-month bonds to 18 bidders for $8.3 mln at 7.25%. The largest demand was for four-month bonds — UAH 4.5 billion sold in 43 bids, with interest rates of 18.25 to 19%.
Concorde Capital's Evgeniya Akhtyrko writes: "We expect the demand for UAH-denominated bonds will remain high as yields will still significantly exceed the current inflation rate. In addition, investing in UAH-denominated bonds looks like a very lucrative opportunity for non-residents, given the hryvnia's ongoing stability."
With inflation expected to hold below 9% and the hryvnia/dollar exchange rate at 26.5, little changed in three years, foreign investor interest remains strong. Foreign investors now hold UAH 36.3 billion ($1.37 billion) in bonds. ICU writes: "In our view, a large portion of bills was purchased by foreign investors, most likely with longer maturities from offered yesterday."
As the presidential transition nears, the US-Ukraine Business Council stresses the importance of Ukraine's new oil and and gas production sharing agreements. "Tender bids are due in May and the awards are expected in June," the Council said Wednesday. This process "is being watched around the world as a strong and serious signal that Ukraine is expanding the energy investment climate and providing real opportunities for the private sector to invest in Ukraine."
Will Trump try to trade Ukraine for Venezuela in a grand bargain with Putin over spheres of influence? London-based Ukraine analyst Timothy Ash asks that question in advance of next Tuesday's meeting in Sochi between the two foreign ministers, Russia's Lavrov and America's Pompeo. "Ukraine is not Trump's to give," Ash answers himself. "The Ukrainians have proven a willingness to fight – and now have 300,000 well trained/reasonably armed troops and will never bow to Putin…So maybe Bolton is thinking: the US takes out Maduro, which would be a huge win for Trump, but would actually not give that much to Russia in exchange."
Filling a void in US diplomatic leadership in Ukraine, George P. Kent, Deputy Assistant Secretary of State for Europe and Eurasia, met Wednesday in Kyiv with President-elect Volodomyr Zelenskiy, with Foreign Minister Pavlo Klimkin, and with Interior Minister Arsen Avakov. A speaker of Ukrainian and Russian, Kent served as Deputy Chief of Mission in Kyiv until last fall. Ambassador Marie Yovanovich is in Washington, prior to completing her posting here on May 20. On May 28, Kristina Kvien, acting DCM in Paris, is to arrive in Kyiv to serve as DCM here until a new ambassador arrives. From 2006 to 2010, Kvien handled Russia and Ukraine issues, first at the US Embassy in Moscow, then at the National Security Council.
"U.S. Ambassador to Ukraine Recalled in 'Political Hit Job,' Lawmakers Say" Foreign Policy headlines an article that says Ukrainian anti-reformers allied with Trump operatives to engineer Amb. Yovanovitch's recall two months ahead of schedule. "It's extremely unfortunate what happened to [Yovanovitch], but it's also a danger for our policy in Ukraine going forward," warns John Herbst, a former U.S. ambassador to Ukraine. "Important things are going on right now with the new president taking office. You need a strong ambassador on scene. It'll be very important that whoever that is have the ability to speak out strongly on reform."