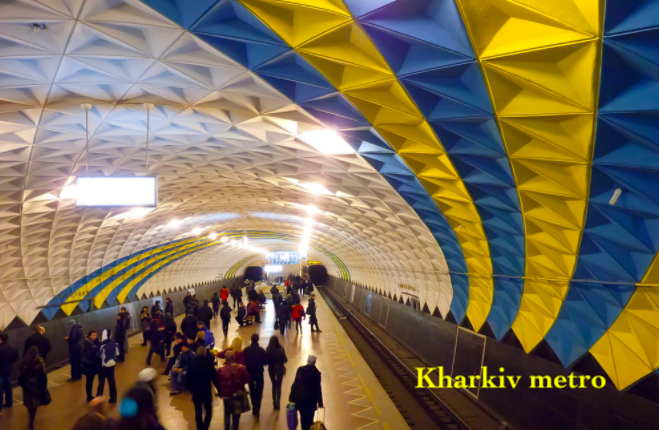 Kharkiv and Dnipro's underground Metro rail systems are to reopen Tuesday. "On May 12, we want to launch the metro in Kharkiv," says Gennady Kernes, mayor of Kharkiv, Ukraine's second largest city.  "No metro was closed in any country in the world – even in Italy and Spain, the metro worked," he tells Strana.ua. "We are ready to let a limited number of people into the cars so that there is no crush." Kernes says he has tried to talk directly with Prime Minister Shmyhal: "But I can't get through to him. For a week now. He hasn't answered the phone."
Faced with Kernes and Dnipro Mayor Borys Filatov vowing local easings of the national quarantine, Shmyhal announced yesterday after a Cabinet of Ministers meeting: "Every local government should adapt and reasonably approach the provision of public transport in cities."
Kyiv's metro will only open in mid-summer, predicts Mayor Vitali Klitschko. To help more people get to work next week, he promises to put more buses, trams and trolleybuses on the streets. The current mass transit quarantine permit system is used by only 40,000 essential workers a day. The daily ridership each of of Ukraine's three underground Metro systems is: Kyiv – 1.3 million; Kharkiv – 600,000; and Dnipro – 20,000.
So far, 327 people are known to have died in Ukraine due to coronavirus-triggered diseases. Kyiv, with 10% of Ukraine's population, has 12% of the nation's 13,184 laboratory confirmed cases.
Ukraine's economy will shrink by 10.9% during this quarter, according to Reuters monthly poll of 11 analysts released yesterday. This consensus number tracks last week's central bank forecast of an 11% GDP drop for April-June. The Reuters analysts estimated that the economy shrank in Q1 by 1%. The first half of 2020 is shaping up as the worst in five years. In the bleak war months of 2015, the GDP fell 16% in Q1 and by 14% in Q2.
Freight traffic on the Dnipro fell 4% y-o-y through May 1. After a strong January and February, a weak April pulled the 4-month volume down to 1.9 million tons. Metals were down 13% and grains were down 19%, according to the state River Information Service. Building materials jumped by 20% and oil products by 7%. Reflecting the use of larger boats on the river, the number of shipping trips decreased by 15%, to 1,694.
Mikheil Saakashvili tells Deutsche Welle that President Zelenskiy is to appoint him chairman of a newly reconstituted National Reforms Council. During the Poroshenko presidency this strategic planning and implementation body met sixe times a year. It has yet to meet under Zelenskiy. Two weeks ago, Saakashvhili, former president of George and later governor of Odesa Oblast, met with Rada members of the Servant of the People party. However, he failed to win enough support for post that would require Rada approval.
Foreign companies complain that their VAT refunds are switching from automatic to 'manual' mode, Atlantic Council economist Anders Aslund  told a 'Moving Ukraine Forward' webinar hosted yesterday by the U.S.- Ukraine Business Council. Predicting this would create problems with the IMF, Aslund noted automatic VAT refunds were a major anti-corruption achievement of the Poroshenko administration. He attributed the resurgence of 'manual handling' to the recent leadership changes at the Finance Ministry and Tax Service.
Fitch Ratings, following the sovereign ratings, has revised its outlook for long-term issuer default ratings of Dnipro, Kharkiv, Kyiv, Lviv, and Odesa in foreign and national currency, from "positive" to "stable." Fitch affirmed all the ratings at "B."
Asia should be a major focus of Ukraine's foreign policy in the 2020s, a high growth direction for trade and investment, Foreign Minister Dmytro Kuleba writes in The Diplomat. "We must establish an East-West Road that is a two-way street and runs through Ukraine," he writes in the Washington-based, Asia-focused website. "I agree with the notion that the 20th century was the European one, while the 21st is the Asian century. It is time to develop a global hub for production and a seamless transportation of goods and services that can take advantage of Ukraine's skilled and competitive labor, location, and connectivity." Without detouring from Ukraine's growing integration with the EU, he writes: "[With Asia} there's an immense untapped potential for further development of bilateral trade, joint projects in hi-tech fields, or in infrastructure."
After coronavirus travel restrictions are lifted, President Zelensky will do 'an Asian tour,' Ihor Zhovka, deputy presidential chief of staff said Monday. Calling Asia "a priority area of international relations," he cited the big three: China, India and Japan.
With China lifting its coronavirus lockdown and restoring international flights, Ukraine should move fast to attract Chinese tourists who want a taste of Europe, Mariyana Oleskiv, head of Ukraine's new Tourism Development Agency, tells Interfax-Ukraine. "I hope that Ukraine and China will be able to open each other faster than with EU countries," she says, noting the EU bars tourists from non-EU nations. "It's important not to lose this moment and be able to attract Chinese tourists." Before the coronavirus pandemic, a Chinese airline was studying starting flights between China and Ukraine.
Ukraine does not plan to restore international air travel this summer, Foreign Minister Kuleba tells TSN's Breakfast with 1+1. "No full-fledged resumption of international air traffic is expected this summer — for sure it won't be the case as it used to be." Turning to air travel inside Ukraine, about 10% of the air market, he said: "We'll very cautiously try to relaunch domestic flights this summer." As for international bus trips, which tend to be longer and more crowded than flights, he said they would be restored as soon as Ukraine's entry ban on foreigners are lifted.
Turkey plans to start its key summer tourism this year on schedule, on May 24, announces the nation's Ministry of Culture and Tourism. To allay fears of the coronavirus, hotel buffets will be cancelled, restaurant tables will be widely spaced and beach chairs will be reduced. Last year, 1.5 million Ukrainians flew across the Black Sea to vacation in Turkey, the equivalent of 4% of Ukraine's population.
From the Editor: The Cabinet of Ministers decided yesterday to cut the dividend payments of Boryspil and Lviv, both state-owned airports, from 90% to 30%. Of course, 30% of nothing is still nothing. While Minsk and Warsaw gradually restore international flights, we hear Ukraine's government may not grant that privilege until September. While strangling Ukraine's two main carriers – UIA and SkyUp – the government draws up plans to start its own state-owned airline. Only one year ago, Servant of the People swept elections with promises to privatize and to lift the dead hand of government off the economy. With Best Regards Jim Brooke jbrooke@ubn.news