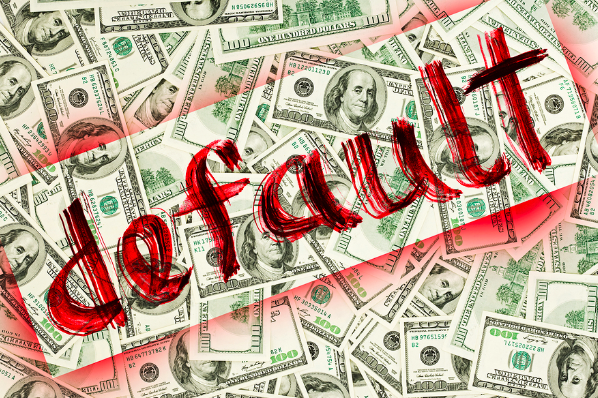 Ukraine's debt default scare is over, say two Kyiv investment houses.
Concorde Capital's Alexander Paraschiy writes: "1) Ukraine's default administration, 2) Ukraine will be able to get IMF support as soon as the new Cabinet is in place, and 3) early parliamentary elections are a positive development for Ukraine. All in all, we see a high likelihood of at least one IMF loan tranche for Ukraine by the end of this year. We also see a high chance for the country to get a new IMF program as soon as the existing one expires in early 2020. So far, we see the new power brokers doing all their best to improve Ukraine's image among international financial partners."
Dragon Capital writes: "Ukraine's current IMF program, a $3.9 billion Standby, is likely to go off track…the next disbursement would arrive under a new program, to be negotiated in September-October. While the government faces no urgent budget financing needs, its large external debt repayments set for the rest of this year and 2020-2021 keep Ukraine dependent on sizable inflows from foreign creditors and the IMF program."
A clear, strong statement by President Zelenskiy ruling out a foreign debt default would reassure investors, according to a note by analysts at New Yorko-based BofA Securities, formerly known as Bank Of America Merrill Lynch. "The majority of investors with whom we spoke, the most concern is the level of dependence of Mr. Zelenskiy on Mr. Kolomoisky," said the analysts. On Tuesday evening, the Presidential Administration press office quoted Zelenskiy saying after his meeting with the IMF review mission: "Cooperation is being continued."
Adding a new role to the National Defense and Security Council, Oleksandr Danylyuk, the new head, tells reporters the Council will draw up a new plan of cooperation with the IMF over the summer. Finance Minister from 2016 to 2018, Danylyuk ran Ukraine's Economic Reforms Coordination Center from 2010 to 2015. This presidential office focused on making recommendations to improve Ukraine's investment climate and to intensify cooperation with the IMF.
To further put to bed Igor Kolomoisky's calls for a debt default, IMF and Finance Ministry officials held a joint conference call Wednesday with foreign investors. "IMF affirmed its strong support/commitment to Ukraine," reports one participant, Timothy Ash. "Seems strong commitment from the new president/his team to continue relations with the IMF/reforms." On the call, IMF officials stressed the need for an effective anti-corruption court, a desire frequently expressed by President Zelenskiy. Referring to a deal breaker issue the IMF – privatization of Kolomoisky's former bank — Ash writes: "New president seems well aware of the issues related to Privatbank."
Canada's Vermilion Energy Inc. is pairing with UkrGazVydobuvannia to jointly apply for product sharing agreements to develop four oil and gas fields. If they win the 50-year contracts next month, the two companies are obliged to invest and take profits on a 50/50 basis. Based in Calgary, Vermilion already has projects in eastern Europe, in Hungary and Slovakia. Tuesday was the deadline for filing bids for the nine onshore production sharing agreements.
"This is the first major oil and gas company since Shell to invest in Ukraine for the purpose of extraction of natural gas," said Andriy Favorov, gas business director for Naftogaz, the parent of UGV. Andriy Kobolyev, Naftogaz CEO, writes on Facebook: "Vermilion is ready to provide the latest and unique technologies of geological exploration, drilling, development, environmentally friendly technologies for the development of oil and gas fields."
 "Ukraine announces massive licensing rounds in 2019," headlines a story on WorldOil news site. The story notes that concession licenses for nine more oil and gas blocks will go up for auction on June 18. In the two auction rounds this year, licenses were awarded for only nine of the 17 blocks offered. Only Ukrainians gas producers won acreages: UGV, Burisma Group, DTEK Oil & Gas, and Yedyna Oil & Gas Company. By the end of June, winners are to be chosen for the 10 production sharing blocks up for bid.
Preparing for a possible cutoff of Russian gas through Ukraine next January, Ukrtransgas has increased Ukraine's import capacity of gas from Hungary by 14%. Over the last three years, gas imports from Hungary tripled, hitting 3.4 billion cubic meters last year. So far this year, almost 1 billion cubic meters have been imported, 66% more than during the same period last year.
Since the end of the heating season, on April 5, Ukrtransgas has pumped gas at a high rate into the nation's 12 underground reservoirs. Today these reservoirs hold 11 billion cubic meters, 20% more than one year ago.
With ExxonMobil and Italy's Eni announcing big gas discoveries offshore Cyprus, Eliot Engel, chairman of the US House Foreign Affairs Committee, said Monday in Nicosia that Washington wants to work with Cyprus and Israel to head off Russian influence over the eastern Mediterranean's energy reserves. In the future, Cyprus gas could reach Ukraine through pipelines, or as LNG through the Kanal İstanbul. Scheduled to open in 2023, this 150-meter wide channel will allow LNG tankers to enter the Black Sea.
In a big step to bypass Russian rail routes and connect Ukraine with the landlocked nations of Central Asia and the Caucasus, Georgia has approved a $250 million plan to double the capacity of Poti, its main Black Sea port. Denmark's AP-Moeller Maersk and the Pace Group, a Georgian American transport company, are to invest the bulk of the money, building two deep water, 700-meter long berths, and one 1.6 km long protective pier. Served by a trans-Caucasus rail line that starts in Baku, on the Caspian, Poti's expanded port is to be capable of handling an additional 500,000 containers and 9 million tons of bulk cargo a year, reports Interfax-Ukraine.
With the Kremlin blocking most rail cargo shipments between Ukraine and Central Asia, the Poti alternative is gaining popularity. During the first quarter of this year, the port handled 115,000 containers, up 40% q-o-q, and 2.1 million tons of cargo, up 31% q-o-q. Year round, UkrFerry runs two cargo and passenger ferries between Poti and Ukraine's Chornomorsk. Ferries also go from Poti to Constanta, Romania and Varna, Bulgaria.
In the latest step to restore the Dnipro as a working river, TransShipOil plans to increase its river fleet from three ships to five this summer, reports the Center for Transportation Strategies. TransShipOil tanker ships work the lower 700 km of the Dnipro, picking up sunflower oil at six river stations — between Svitlovodsk and Ochakiv, the Black Sea port. The new tankers, with average cargo capacities of 3,000 tons, have been imported and reflagged for use in Ukraine. Ukraine is the world's largest exporter of sunflower oil.
Note from the Editor: Ukraine Business News is available without charge — just visit our new signup page:  www.ubn.news/subscribe-to-ubn/. UBN – the must read for Ukraine investors and business leaders – comes every weekday morning to email inboxes by 6:00 am Kyiv time. Jim Brooke – jbrooke@ubn.news