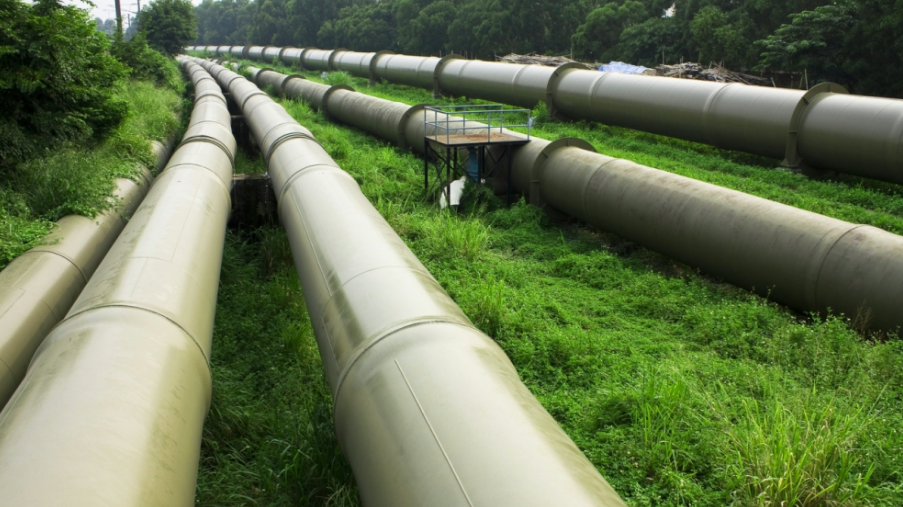 Ukraine's Cabinet of Ministers agreed yesterday to import enough US natural gas to cover half of Ukraine's annual import needs. Under the memorandum signed with Louisiana Natural Gas Exports Inc, Ukraine would import "at least" 5.5 billion cubic meters of gas via Poland. On an average year, Ukraine imports about 10 bcm. The gas would arrive as liquefied natural gas at Poland's sole LNG landing terminal, at Świnoujście, on the Baltic. The EU is funding a major expansion of the terminal.
The memorandum calls for official US and EU funding to triple the pipeline capacity between southeast Poland's gas hub at Hermanowice and Lviv region's massive gas storage reservoir and pipeline hub at Bilche-Volytsya. Yuriy Vitrenko, Naftogaz's outgoing business development director, tells the UBN that Poland is waiting for the EU to pay for expanding the interconnector.
Ukraine's gas import price would be pegged to prices at Louisiana's Henry Hub. Konstantyn Chyzyk, a deputy Energy Minister of Ukraine, wrote on Facebook: "This will strengthen our energy security and independence, as well as reduce Russia's influence, not only on Ukraine, but on Europe." Chyzyk, who worked on stepping stone agreements in December and in March, predicts the Poland-Ukraine pipeline connection will be ready in 2023.
Poland exported 690 million cubic meters of gas to Ukraine in the first quarter, Jerzy Kwiecinski, CEO of PGNiG, Poland's state oil and gas company, tells Polish Radio. He predicts Poland will increase exports in the 2020s, drawing on LNG arriving at Świnoujście and Norwegian gas arriving in 2022 through the Baltic Pipe gas line.
A gas glut forced Russia's Gazprom to stop shipping gas across Poland Tuesday on the Yamal-Europe pipeline, Bloomberg reports in a story headlined: "Russian Gas Flows to Europe Plunge After Prices Collapse." Prices dropped to $41/1,000 cubic meters, near the transit costs for Gazprom from its Yamal fields. Qatar says it has no plans to cut its LNG shipments to Europe. Under the 'ship or pay' clause in the new Gazprom contract with Ukraine, Gazprom has to pay for contracted pipeline volumes, whether they use them or not.
In the EU, gas storage reservoirs are 71% full. In Ukraine, which has the largest reservoirs in Eastern Europe, the underground caverns are 57% full. Ukraine has 17.6 bcm in storage, 60% more than this time last year.  
With two Russian pipe laying ships docked in a German Baltic port and preparing to complete the last 6% of the Nord Stream 2 Russia-Germany gas pipeline by December, Richard Grenell the outgoing US Ambassador to Germany warns: "Further [US] sanctions meet non-partisan approval…Despite the election campaign, legislation could go ahead quickly." Germany's business newspaper, Handelsblatt, predicts a showdown between Washington and Berlin over the gas line. One aide to Economy Minister Peter Altmaier is quoted saying: "It is not the time to turn the escalation spiral and threaten further extraterritorial sanctions that are contrary to international law."
The eurozone economy may shrink this year by 8-12% — twice the drop of the 2008 financial crisis, says Christine Lagarde, president of the European Central Bank. The IMF predicts these GDP declines: Poland – 4.6%; Russia – 5.5%; Belarus – 6%; Britain 6.5%; Germany – 7%; Ukraine – 7.7%; Spain -8%; and Italy – 9.1%.
Ukraine's central bank is downgrading its forecast of GDP shrinkage to 6-7%, from 5%, Dmytro Sologub, deputy governor of the National Bank of Ukraine tells Liga.net. "Based on the data on the decline in the first quarter, industrial production and transport in April, I think the decline may be more severe than expected," he says in a lengthy interview. "As for transport, which was actually banned – we see almost minus 100% there. The situation is a little better in the restaurant business."
The coronavirus lockdown is depriving one third of small businesses of more than half of their income, according to a European Business Association poll completed last week of 111 small businesses. Of the group, 44% lost up to half of their income and 7% are considering closing. One third cut staff and 59% kept staff levels unchanged. On salaries, 29% cut wages and 19% put employees on unpaid leave. After the two month lockdown, 60% of entrepreneurs are considering a full or partial switch to remote work mode.
Compared to big companies, "small entrepreneurs had a limited safety margin" says Olena Ayrault, who has surveyed both groups for the EBA's Unlimit Ukraine Project. "At the same time, we see that small businesses are more flexible. While large companies are considering only a partial transition to online mode, SMEs are ready for total digitalization."
The Finance Ministry sold $37 million in local currency treasury bonds Tuesday – a tiny amount compared to $791 million raised last week at the weekly auction. For 3-month bonds, the weighted average interest rate fell to 10.19%, from 10.50% one week earlier. For 6-month bonds, the weighted interest rate fell to 10.33%, from 10.78% one week earlier.
Concorde Capital's Evgeniya Akhtyrko writes: "The weak demand for local bonds at the latest auction implies that MinFin is not likely to succeed in further attempts to cut interest rates for local debt. And it's quite possible that it will have to raise interest rates amid increased needs in budget deficit financing."
Train and bus travel opens up Monday from Kyiv to southern and eastern Ukraine. Ukrzaliznytsia is selling tickets for night trains from Kyiv to these terminus points: Kharkiv, Kremenchuk, Mariupol, Konstantinivka (Donetsk), Lysychansk (Luhansk),  and Novooleksiivka, the last stop in Kherson before Crimea. In addition, UZ is resuming night trains between Odesa and Kharkiv and Odesa and Dnipro.
Also on Monday, Autolux buses start running again from Kyiv to Odesa, Kharkiv, Dnipro,  Kherson, Poltava, Mykolaiv, Zaporozhia and other cities with low levels of coronavirus. As with trains tickets can be bought online and passengers must wear masks.
Shopping centers open in Kyiv on Saturday – but without the entertainment centers and food courts, Mayor Klitschko told reporters yesterday in an online briefing.  He also said the lockdown has cost Kyiv's hotels, restaurants and tour operators $1 billion in lost revenues. He hopes Monday's resumption of train service and the planned June 15 resumption of air service will save some of the city's summer tourist season. On Monday and Tuesday, the Kyiv Metro recorded a total of 773,000 rides – about one quarter the normal level for two weekdays.
From the Editor – Ukrainians who grew up with the Soviet Ministry of Gas Industry – now Gazprom – may want to explore the Russian language Wiki entry for Henry Hub. "Henry Hub  – физический газовый хаб (газораспределительный центр), расположенный недалеко от города Эрат, штат Луизиана, США. Играет ведущую роль в формировании цен на природный газ в США." By this weekend, I am sure there will be Ukrainian wiki entry on the US price making center. From Gazprom to Henry Hub: another small milestone on Ukraine's westward journey. With Best Regards Jim Brooke jbrooke@ubn.news