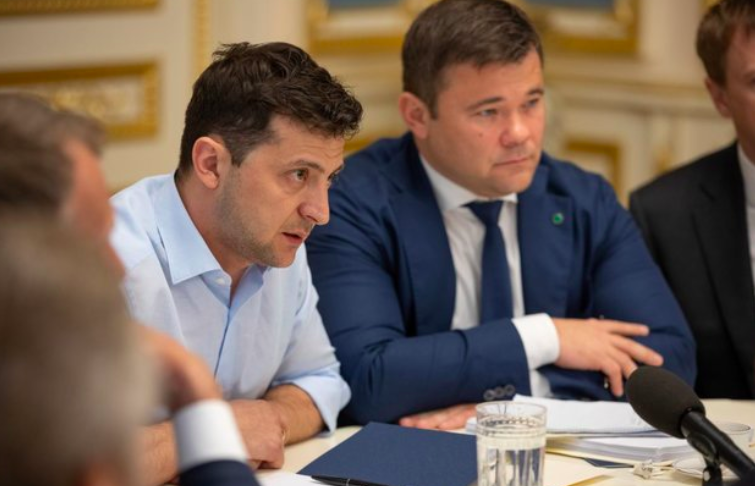 President Zelenskiy is drawing on his close circle of old friends and business partners to staff the presidential team. Reviews are negative.
Here is the lineup:
Andriy Bohdan, head of presidential administration; former lawyer to Zelenskiy and oligarch Ihor Kolomoisky. On Wednesday evening, he posted on Facebook a copy of his application to suspend his lawyer's activity, pledging in a note: "I am not a lawyer or a defense lawyer of Kolomoisky."
Serhiy Shefir, first assistant to the president; former longtime partner from Kvartal 95 studio.
Serhiy Trofimov, first deputy head of the presidential administration; until now executive producer of Kvartal 95.
Yuriy Kostyuk, a deputy chief of staff; previously a Kvartal 95 screenwriter and author of Zelenskiy's Servant of the People television series.
Ruslan Ryaboshabka, a deputy chief of staff; a former member of the National Agency for Corruption Prevention.
Kyrylo Tymoshenko, a deputy chief of staff; former CEO of the Good Media video production company.
Ruslan Stefanchuk, presidential representative to the Rada; law professor and campaign ideologist.
Mykhailo Fyodorov, presidential adviser; former head of digital strategy in Zelenskiy's campaign.
Andriy Yermak, presidential aide; film producer and founder/CEO of the International Law Company.
Andriy Gerus, representative in the Cabinet of Ministers; former Concorde Capital executive director, energy expert and head of Ukraine's Association of Consumers of Energy and Utility Services.
Ivan Bakanov, deputy head of the State Security Service, in charge of the Directorate for Combating Corruption and Organized Crime charged with fighting corruption; head of Kvartal 95 since 2013; leader of Servant of the People party.
"Ukraine's New Presdent Raises Eyebrows as He Picks Top Staff" headlines a Bloomberg story reflecting wide the skepticism about the new appointees.
"These first appointments were negative — the first reaction is negative," Tomas Fiala, president of the European Business Association, told a reform conference in Kyiv. Fiala, who is also CEO of Dragon Capital, said of the new head of Presidential Administration: "There is a certain skepticism about his track record and his proximity to one of the oligarchs in the country."
Concorde Capital's Zenon Zawada writes of the new head of Presidential Administration: "The big question is to what extent Kolomoisky will influence decision-making, now that his personal lawyer will be the brains behind the showman. Certainly, we can expect Kolomoisky will enjoy immunity from the prosecutor general's office."
Oleh Lyashko, an opposition party leader, said: "He is appointing all of his business partners to government posts. How is it different from Poroshenko?"
Writing from London, Timothy Ash warned the new head of Presidential Administration: "The future of Ukraine is at stake. Do you get this and are you ready to really serve your country? If you serve some other purpose, then you risk the macro financial stability and indeed very future of your country."
Looking at the parliamentary elections, 44% of 2,000 respondents to a poll completed Tuesday say they plan to vote for President Zelenskiy's Servant of the People party. In the five-day poll conducted by Rating Sociological Group, other party preferences were: 10.5% for the pro-Russia Opposition Platform – For Life coalition; 9% for Petro Poroshenko's Solidarity; 7% for Yulia Tymoshenko's Fatherland; and 5% for Ihor Smeshko's Strength and Honor. The Rada failed to discuss Wednesday a bill to reduce the voter threshold for entering the Rada from 5% to 3%.
In the poll, conducted before and after Zelenskiy's move to dimiss the Rada, over 70% of respondents supported such a move. In the south and east, support went over 80%. On Wednesday, Rada Speaker Andriy Parubiy said several
lawmakers will challenge the decision on dissolving parliament in the Constitutional Court.
Why did President Zelenskiy's dismissal of the Rada and Prime Minister Groysman's surprise resignation have zero impact on the hryvnia/dollar exchange rate? "For the stability of the hryvnia, we must thank the multi-million army of Ukrainians who have left for work in different European countries," economist Andrei Starovoitenko tells Glavred, citing the estimated $1 billion in worker remittances injected into Ukraine's economy monthly. The 26.3 hryvnia to the dollar exchange rate changed little in the last week. Through the presidential campaign and handover, Ukraine's currency appreciated 5.5%. Analyst Alexander Okhrimenko tells Glavred that Ukraine's "politics are [now] outside the economy."
Former Finance Minister Oleksandr Danyliuk is the government's point man in dealing with the IMF mission in Kyiv, Andriy Gerus, President Zelenskiy's representative to the Cabinet of Ministers, told reporters. "He is very competent and professional in this, so everything is calm in this direction," Gerus said Wednesday. Danyliuk was appointed Wednesday Secretary of the National Security and Defense. Next week, Zelenskiy is to meet with the IMF team. Separately, Hugues Mingarelli, the EU ambassador to Ukraine, stressed to UNIAN that compliance with the IMF program is a key condition for Ukraine to receive a second €500 million low interest loan from the EU.
The completion of Kyv Boryspil's long-delayed multi-level parking garage is the pretext for a party tonight. Planned for the Euro 2012 football championship, the covered facing Terminal D opens today with 1,000 parking spaces, half the originally plan. To celebrate the opening, KBPAEROPARTY starts at 18:00, featuring races on Segways and monowheels and music by Onuka, Poligraf Sharikoff, Westlake, Gerollds, and Pomsta. Admission — and parking — is free until midnight.
Air France joins British Airways as the second European flag carrier to announce this week that it will suspend flights to Ukraine. This winter, from Oct. 27 to March 28, Air France will suspend its Paris Charles de Gaulle – Kyiv Boryspil flights. Flights are to resume March 29, with the current twice a day frequency. Air France and UIA face new discount airline competition on the Paris-Kyiv route. One month ago, French carrier Aigle Azur started flying between Kyiv Boryspil and Orly. On June 11, Ukraine's SkyUp starts flying between Kyiv Boryspil and Paris Charles de Gaulle.
On Monday, British Airways announced it will end flights between London Heathrow and Kyiv Boryspil on Oct. 3. Facing competition from Ryanair and Wizz Air, British Air said its flights to Kyiv are "no longer commercially profitable."
From the Editor: UBN will be the media partner for Ukrainian ID, the international economic and humanitarian forum, known as the "Ukrainian Davos." The conference runs June 7 – 8 in Kaniv, Cherkasy, under the theme: Revolution of Values. Last year 300 experts took part in discussions. This year, organizers plan to gather 500 opinion leaders. For more information, visit: ukr-id.com/en/#about_forum — best regards Jim Brooke – jbrooke@ubn.news.