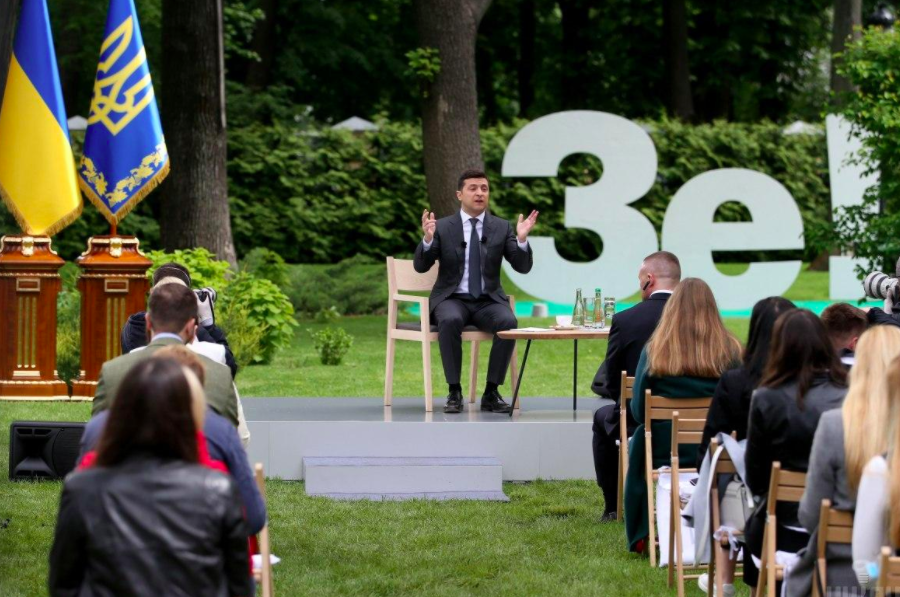 Thursday, May 21
Goal: $7 billion in New Investment by Spring 2022...Georgian Tapped To Work His Batumi Magic in Ukraine…Rada About to Legalize Hotel Gambling...Hotel Dnipro to Privatized This Summer...Zelenskiy-the-Builder Mulls Second Term…66 Road Crossings with EU Re-open this Weekend...Air Flights to Start June 15
In only the second press conference of his one-year-old presidency, Zelenskiy yesterday repeatedly talked about business. Highlights:
$7 billion in 18 months is the investment goal for a new, unified Ukraine investment office that President Zelenskiy plans to open in September.
Levan Varshalomidze, the Georgian politician who transformed Batumi during his eight years as Governor of Adjara region, will direct this new investment office,  Zelenskiy announced yesterday. During the 1990s, Varshalomidze studied at Kyiv State University, where he met Mikheil Saakasvhili. As governor under Saakashvili, he converted Batumi, a backwater Black Sea port, into a glittering international tourism and gambling destination with direct flights to 21 foreign cities.
A bill to legalize gambling in Ukraine could pass the Rada in next week, David Arakhamia, head of the Servant of the People faction, tells Interfax-Ukraine. With gambling largely illegal in Belarus, Poland, Russia and Turkey, the opening of hotel casinos in Ukraine is expected to stimulate international tourism.
Kyiv's landmark Dnipro Hotel is to be the first this year's 'big' privatization with a $10 million starting price at this summer's auction. Zelenskiy said all state-owned hotels are to be "legally cleared" and sold at auctions. He said Centrenergo will be sold in the second half of this year. While 'big' sales were suspended due to market turbulence during the coronavirus epidemic, 'small' privatizations continued, working toward a 2020 sales target of $220 million.
To encourage more foreign and domestic investment, Ukraine is lowering its 'investment nanny' threshold from $100 million to $30 million, Zelenskiy told reporters yesterday. In coming days, the Rada will receive a bill to create the position of 'investment nanny' — a man or woman empowered to cut red tape to advance investment projects.
President Zelenskiy is looking for $3 billion to restore Ukraine's bridges — the same amount as this year's massive road construction budget. As he spoke, a tractor trailer loaded with steel pipes crashed through a bridge built in 1954 over an arm of the Kakhovka Reservoir, in Dnipropetrovsk Region.  "The structure collapsed exactly during the statement of Vladimir Zelenskiy at a press conference about plans to repair the bridges," Nashe Misto reported from the scene. "Locals are outraged by the collapse of the only crossing. A highway of national importance is paralyzed."
Citing his infrastructure rebuilding plan, President Zelenskiy is considering running for a second term. "One term won't be enough to complete the whole list" of tasks, he said yesterday. He added that he wants to be remembered as the president who rebuilt Ukraine's road network. Last year, Zelenskiy campaigned on a promise to lead for just one term. In a poll conducted this month by the Rating Group,  31% of respondents considered his first year good or excellent, 37% satisfactory and 31% unsatisfactory.
By tomorrow, Zelenskiy plans to sign the 'anti-Kolomoisky bill,' clearing the way for the IMF deal, he told reporters yesterday. By May 29, the deal should be signed and the first tranche of $1.9 billion should be on its way to Ukraine, Finance Minister Sergei Marchenko said at yesterday's Cabinet meeting.
With an overhang of tens of thousands of unsold new apartments in Kyiv, Zelenskiy vowed yesterday to drive down mortgage rates to 10% "in the near future." Six months ago, seven banks offered mortgage loans with developers at rates of 19-20% for up to 20 years up to the hryvnia equivalent of $75,000. The National Bank of Ukraine predicts that mortgage rates could fall to 15% this year, roughly twice the prime rate.  Banks are reluctant to issue mortgages largely due to weak creditor rights.
A capital amnesty bill will be submitted to the Rada by the end of this year. The bill would levy a one time tax on unexplained assets — from real estate to bank accounts. "Zelenskiy stressed that it is necessary to turn the page of Ukrainian history so that everyone in Ukraine would like to be a taxpayer," Ukrinform reported from the press conference.
In April, at the height of the Covid-19 lockdown,  Foxtrot's online store quadrupled its turnover y-o-y, reports Kirill Popov-Cherkasov, e-commerce director for the company. In April, 8.5 million visits were recorded at the website of Foxtrot, which specializes in home appliances.
By this weekend, Ukraine will fully restore road traffic with Poland, Hungary, Slovakia, Romania and Moldova, Interior Minister Arsen Avakov reported at yesterday's Cabinet meeting. In all, 66 border crossings are to reopen. Border crossings will  remain closed with Russia, which bars foreigners from entering due to Covid pandemic. Crossings are limited with Belarus, which has a far higher infection rate than Ukraine.
Starting tomorrow, international and interregional bus travel is allowed, Infrastructure Minister Vladyslav Krykliy says on Telegram. Exceptions are regions with high rates of coronavirus infection,  such as Chernivtsi, Ivano-Frankivsk and Rivne. Intercity — and possibly international — rail travel is to start June 1.Through June, people entering Ukraine have to go through 2-week self-quarantine, enforced by monitoring through the smartphone Diia app.
Kyiv's 10-week strict quarantine ends Monday, Mayor Klitschko told the  European Business Association yesterday. This weekend will see the reopening of hotels, churches, stores under 1,000 square meters and surface mass transit: buses, trolleys and tramways. On Monday, shopping centers and the Metro reopen. Aside from the lack of rail and air service, the last major restrictions in place are bans on concerts, theaters, sporting events with spectators, and interior dining in restaurants.
Since mid-March, Kyiv has recorded 2,410 Covid-19 cases and 54 deaths. Of the 52 new cases identified yesterday, five required hospitalization, Mayor Klitschko says.
On Monday, Ukraine's three subway systems — Kyiv, Kharkiv and Dnipro — reopen. Passengers are required to wear face masks and rubber gloves are recommended.
 June 15 is the target date for restoring scheduled international flights. "Arrivals and departures of passenger aircraft will be relaunched from June 15," the Infrastructure Minister wrote yesterday on Telegram.
At Lviv, Ukraine's busiest regional airport, several airlines are ready to start flights, airport director Tatyana Romanovskaya tells Lviv portal. Windrose is ready to fly Lviv-Kyiv Boryspil. Wizz Air, Ryanair, Turkish Airlines and Belavia also are ready to fly. " A number of our carriers are ready to resume flights even today," she says. "Now the main thing is the specific date for the resumption of passenger flights from our government." Last year, passenger traffic through Lviv grew by 39% to 2.2 million.
From the Editor: Today, I join four US-based experts for a U.S-Ukraine Business Council webinar on "Moving Ukraine's Economy Forward." Joining me from the will be: Alexander Gordin, Broad Street Capital Group, New York; Pavel Lvov, Xtellus Capital Partners, New York; Blaise Antin, TCW Group, Los Angeles; and Eric Lindenbaum, Fidelity Investments, Boston. The panel starts at 9:30 am EST /4:30 pm Kyiv time. Sign up by clicking here. With Best Regards Jim Brooke jbrooke@ubn.news