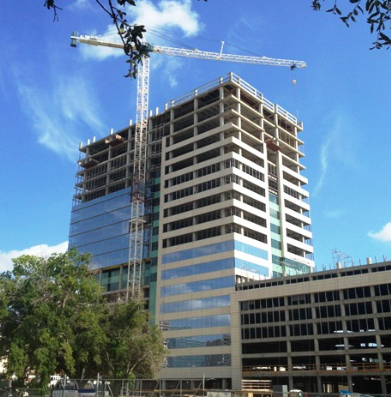 New office space is to double this year in Kyiv – to 117,000 square meters, according to a new study by CBRE Ukraine. In 2020, new space is to increase by another 20%, fully returning to pre-2014 levels. Of new construction, 58% is in the central business district, an area with good metro access. As vacancies dropped last year from 17% to 10%, monthly prime office rents rose by 9% y-o-y to $25/square meter. Last year, about $130 million of known investments were made in Kyiv offices, the highest level since 2008.
Driving demand, IT companies accounted for 38% of office take up and co-working hubs accounted for 24%. The biggest expansion was by Regus, which rented three new office spaces for a total of 8,300 square meters. Of this take up, upgrading accounted for 51% and company expansions for 34%. CBRE writes: "Demand for high quality, well-located offices came from IT, high tech and telecommunications and business services companies willing to open most competitive offices in the fight for the best talent in the market."
Dragon Capital has bought Aladdin Kyiv, its fourth shopping center in less than three years Ukraine. Located at a left bank highway interchange, near Poznyaki metro station on the Green metro line, Aladdin is 500 meters from Pyramida, a slightly larger mall that Dragon bought in 2016. Between those two purchases, Dragon bought Sky Park in Vinnytsia and Victoria Gardens in Lviv.  Vladimir Tymochko, Dragon's managing director for equity, says the purchase of Aladdin, with 10,571 square meters of leasable area, brings the total area of Dragon's shopping center portfolio in Ukraine to 160,000 square meters. The Aladdin purchase price was not disclosed. In 2016, Interfax-Ukraine estimated the purchase price of Pyramida was $25 million.
In a blunt speech, US Ambassador Marie Yovanovitch called on the government to take concrete steps to curb corruption, widely seen as cancer retarding business investment and economic growth. Yovanovitch asked the government to fire anti-corruption prosecutor  Nazar Kholodnytskyi, to approve a new law barring illegal enrichment, and to block 31 judges with dubious reputations from joining the Supreme Court. "Those responsible for corruption should be investigated, prosecuted, and if guilty, go to jail," she told a media event Tuesday night. "And in order for that to happen, all of the elements of the anti-corruption architecture must be in place and must be working effectively." The ambassador also told President Poroshenko to hold clean elections – or risk losing Western support.
Timothy Ash writes from London: "Stark warning to Poroshenko Administration that they cannot assume Western backing, and that they have to deliver on the anti-corruption front and also ensure free and fair elections, to be worthy of this support….it also suggests that the West and the US will work with any of the three main candidates in these elections, should they emerge victorious. Poroshenko should not take Western support for granted."
Veteran Ukraine watcher and business reporter Diane Francis writes in an Atlantic Council essay: 'Why Poroshenko Doesn't Deserve a Second Term': "Zelenskiy is an experienced and successful businessman whose hit "Servant of the People" provided viewers with an impressive guide to Ukraine's corrupt overlords as well as a playbook for reform."
Almost 40% of Ukrainians would like to open their own business, but two thirds believe the state hinders small and medium businesses, according to a late February poll of 2,500 people conducted by the Sociological Group Rating, a nonprofit entity. But only 27% see the government's role as promoting economic freedoms. A majority, 64% see the state's role as ensuring income equality and social justice, a jump from 48% last June.
An overwhelming majority – 77% – support cutting bank interest rates, currently the highest in Europe. Of respondents, 63% trust small entrepreneurs and 60% trust medium-sized entrepreneurs. Confidence in big business owners fell to 20%, and in 'oligarchs' to 6%.
It is now easier for foreigners to get work permits, the government says. Under regulations adopted Wednesday, foreigners are allowed to submit documents to the Foreign Ministry's Consular Services Department, without leaving Ukraine. The change was announced at the latest deregulation meeting of the Cabinet. At the meeting, Prime Minister Groysman said the government has abolished or changed 1,200 regulatory documents, including the removal Wednesday of 149 obsolete acts from the mid-1990s. The government abolished the obligation for companies to keep complaint books.
Ukraine's goal this year is to climb 10 notches in the World Bank's Ease of Doing Business ranking. Last year, Ukraine rose five points to rank 71st out of 190 countries. Charged with this deregulation mission, the current Cabinet is to remain in place until next November, when results of the Oct. 27 parliamentary election are known.
The government will renew the 3-year contract of Naftogaz CEO Andriy Kobolyev. Instead, a tender will open March 23 for his replacement. In response, Kobolyev held a press conference Wednesday afternoon, announcing that he refuses to resign and saying the decision to replace him is against the law and "contradicts the spirit of reform." Timothy Ash writes: "Idiotic move to replace Kobolyev. What a waste of reform effort. Whose interests does that serve?"
Of 10 oil and gas blocks up for electronic auction Wednesday, there were no bidders on seven and only Ukrainian bidders for three. In the three successful auctions, prices were bid up — from 43% to five times the asking prices. Nikolay Zlochevsky's Burisma group agreed to pay $925,000 for a lot in Poltava. A unit of Rinat Akhmetov's DTEK agreed to pay $3.1 million for a Kharkiv block, almost five times the lowest bid. State-owned UkrGazVydobuvannya agreed to pay $1.1 million for another Kharkiv block, three times the starting price. Foreign investors had complained about the lack of insufficient seismic data. They also expressed concerns that Ukraine's next president could change the rules of the game.
In a survey of 230 countries, Ukraine has the fourth cheapest mobile internet in the world. With an average price of US 51 cents per gigabyte, Ukraine was only bested by India, Kyrgyzstan, and Kazakhstan in the Worldwide Mobile, Data Pricing list compiled by Cable, a Britain-based broadband advisory service. At the other end of the scale are: Zimbabwe $75 per gigabyte; Greece –$33; Chad — $23; Switzerland — $20; Turkmenistan — $20; Greenland — $17; Mozambique — $16; Portugal — $14; and Norway — $13. Cheap internet boosts Ukraine's IT industry.