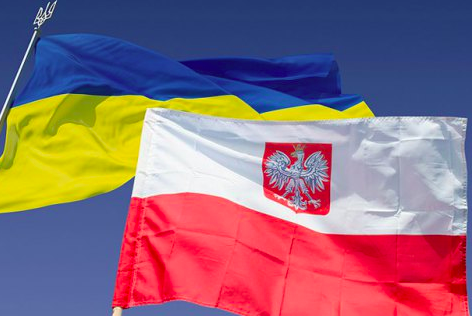 Thursday, March 28
Migration: Poland's Gain is Ukraine's Pain...Poland Worries Germany Will Open Doors to Ukrainian Workers...Nurses, Machinists Head West...Remittances Up...Gov't to Business: Adapt or Die...Black Sea Pearl Emerges From Shell With Flights to Italy, Germany, and Spain
"Turning Muslims Away, Poland Welcomes Ukrainians: Warsaw opens door to a biggest recent wave of migration into the European Union," The Wall Street Journal headlines about Ukrainians working in Poland. Reported from Warsaw, the article cites EU migration statistics indicating that Ukrainians moving to Poland account for 19% of all non-EU immigrants to the EU. Poles say Ukrainians blend in on ethnic, religious and linguistic lines. Presidential candidate Yulia Tymoshenko asks at last month's Munich Security Conference: "How much time do we have to close our eyes to the fact that one million Ukrainians leave the country each year? Three, two, five years? How much creative class do we still have left before we allow them all to leave?"
"Poland seeks to protect its Ukrainian connection" headlines Euractiv Poland. Noting job vacancies increased by 12% every quarter in Poland, reporter Michał Strzałkowski worries: "Changes concerning foreign workers that Germany wants to introduce by early 2020 are seen in Warsaw as a threat…Ukrainians will have easier access to the German labor market, where there are higher wages and more job vacancies." The article notes that Ukrainians account for three-quarters of all foreign workers registered with ZUS, Poland's Social Insurance Institution. Noting that Poland's economy grew by 5.1% last year, Andrzej Kubisiak, a labor expert at the Polish Economic Institute, says: "If not for Ukrainians, the level of vacancies in Poland might have been a serious impediment for our economic growth."
Migration of Ukrainians to work abroad is the top threat facing the nation, said respondents to a poll conducted in January by Sociological Monitoring Center, Yaremenko Ukrainian Institute of Social Research, Info Sapiens and Rating Group Ukraine. Of 10,000 people polled across the nation, 55% identified labor migration as the biggest threat to Ukraine. Full-fledged war with Russia was cited by 35%.
Remittances to Ukraine through 35 money transfer companies jumped by almost one-quarter last year, to $2.3 billion, reports the National Bank of Ukraine. While this is a 24% increase over 2017, it accounts for only one-quarter of money sent home last year by Ukrainians abroad, according to the central bank. This year, using friends, relatives, bus drivers, banks and money transfer systems, Ukrainians are expected to send home $1 billion a month.  Last year through money transfer systems, the top sources of remittances were: US – 17%; Israel – 13%; Russia – 9%; Italy – 8%; and Poland – 7%.
Latvia, Poland, and the Czech Republic are recruiting Ukrainian nurses to care for their fast aging populations. The Czech embassy in Kyiv is fast-tracking work permits for nurses. In Riga, Ilze Aizsilniece, head Latvia's Medical Association, tells The Baltic Times she advocates importing nurses from Belarus and Ukraine and teaching them 'basic Latvian.' In Poland, Katarzyna Kowalska of the Digital Association of Nurses, warns Gazeta Wyborcza: "Many nurses will reach retirement age in a year or two, and then things will snowball…There will be a lack that we won't be able to fill."
About 20,000 rail workers – about 5% of Ukrzaliznytsia's 400,000-strong workforce – have left since 2016 to work in Central Europe, largely Poland, Yevhen Kravtsov, the railroad's chairman, complains to reporters. Most damaging, he says, is the loss of trained machinists. Compared to other railroads in the former Soviet Union, Ukrzaliznytsia's average salaries are 10-15% below Kazakhstan, 20% below Belarus, and 20-25% below Russia. Last week, Infrastructure Minister Volodymyr Omelyan promised to raise rail worker salaries by 15%.
Ukrainian employers should raise salaries – or risk losing their businesses, says Pavel Rozenko, a vice prime minister who once served as labor minister. "Employers and company executives must understand that today we are working on a completely open labor market, that we are competing today for labor potential not only domestically, but also with Poland, Germany, and other states, where there are even laws for attracting labor from Ukraine," he says, reports UNIAN. "If you do not increase the real wages of your employees, then… in two or three years you will be forced to stop your business altogether because you will not find a qualified employee."
Real wages will grow by 7% this year, forecasts National Bank of Ukraine. Next year, annual wage growth will slow to 4% as labor migration slows and the Central Europe-Ukraine wage gap narrows predicts the central bank. Ukraine's average wage ended last year at $391 a month.
Krakow joins Lodz, Poznan, Warsaw, and Wroclaw this year in programming bus and tram ticket machines to sell tickets in Ukrainian. Tomasz Kunert, the spokesman for Warsaw's Public Transport Department, tells Poland Today: "We received a signal that we should think about an additional language – Ukrainian – because there are many Ukrainian students in Warsaw, people who come to work, and it will be easier for them to buy a ticket."
Ukrainians accounted for 60% of the 77,200 foreigners not allowed into Poland last year, Polish Border Guard spokeswoman Agnieszka Golias tells Polskie Radio. At the land border with Ukraine, 46,700 Ukrainians were turned back, a tiny fraction of the 21.6 million border checks. Ukrainians were leaders in trying to use fake documents to enter Poland or to work there – 1,138 people. Ukrainians also accounted for 95% of cases of people detained for working illegally in Poland – 19,600.
Ukraine should double its road border checkpoints with its four EU neighbors, Petro Tsyhykal, head of the State Border Guard Service, tells Channel 5 TV. "There only 18 — but we need almost twice as many," he said, noting that many facilities date back to the Soviet era. He said cross border car traffic with Poland increases every year by 400,000 to 700,000 vehicles. Speaking on a TV channel controlled by President Poroshenko, he said the President is taking steps "to increase the number of staff at all checkpoints. The priority is the border with EU countries."
Odesa joins Ukraine's low-cost air revolution, starting flights to Italy, Germany, Poland, and Spain. On April 19, Ernest Airlines launches Odessa-Rome. On June 2, SkyUp starts Odesa-Rimini. SkyUp also starts Odessa-Barcelona on May 25. On Wednesday, Ryanair announced flights from Odesa to Berlin and to three Polish cities – Katowice, Krakow, and Wroclaw. The Krakow flight starts on June 16.
With a new runway to be completed this summer, Odessa is shedding its isolation and working to catch up with Kyiv and Lviv on flights to EU cities. "Opening four new destinations is only the beginning of our cooperation with Ryanair — we are already actively working on the possibility of opening new flights to Germany, Spain, Greece, and other countries," Vyacheslav Cheglatonev, the airport's marketing director, told reporters Wednesday. "One of our main priorities for the near future is to make trips for Odesans and residents of the south even more accessible."