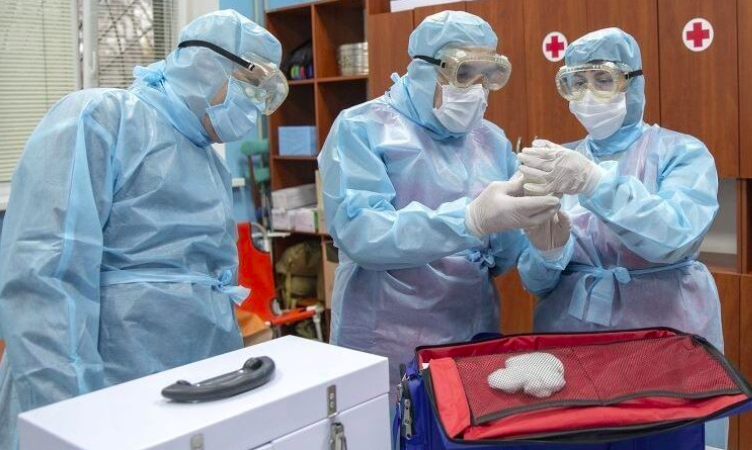 Thursday, March 26
Ukraine's Quarantine Extended One Month, Possibly into May Holidays...Cross Border Travel Stops Tomorrow Night...Business Leaders Forecast Unemployment Spike...Power Consumption Drops...Great Time to Rent a Kyiv Apartment...Boryspil Looks Like Pyongyang Airport
Overriding business objections, Ukraine's government is extending the national quarantine for an additional month, until April 24, and is blanketing the nation with an "emergency situation" designation. The Kyiv Post reported a government source saying the quarantine – closed schools, restaurants and metro – could be extended to May 9, near the end of the May holidays.
As part of the shutdown, Ukraine's land, sea and air borders close to all travelers, starting tomorrow night. "There are two days," Minister of Internal Affairs Arsen Avakov warns on Facebook. Referring to Sri Lanka, he "After that, if you sit somewhere in Ceylon in a good hut, well, keep sitting there since you decided to do so." The emergency 'situation' empowers authorities to carry out compulsory medical examination of people with COVID-19 symptoms, to carry out compulsory hospitalizations, and to enforce home quarantines.
Prime Minister Shmygal told an emergency Cabinet meeting Wednesday: "This is an urgent need, because we see in recent weeks that the only way the coronavirus got into Ukraine was the flow of citizens from abroad. And this flow continues. And this strengthens and increases the number of people infected."
Ukraine has 145 confirmed cases of COVID-19, including five fatalities, reports the Health Ministry. Cases are spread across the nation, in 15 regions plus Kyiv. Kyiv City and Region account for 58 cases, or 40%. Ukrainians returning home account for five new cases: two from Israel; one from the United Arab Emirates; one from Sharm El Sheik, Egypt; and another from Courchevel, the French ski resort.
Business leaders warn that prolonged quarantine will lead to mass unemployment.
"The cost of stopping the economy for a few months can have devastating consequences for the entire population," says Anna Derevyanko, executive director of the European Business Association. "Along with saving lives, you should think about saving the economy." According to a poll of member companies taken on Monday, an extension of the quarantine will force 23% to cut salaries, 17% to cut staff, and 6% to partially close their businesses. In the first 10 days of quarantine, almost half of companies recorded losses – between 20% and 50% of revenues.
Before the government's decision, the Ukrainian Business Council, representing 84 associations, said: "We must save the economy, business must work and pay taxes – all as one…We propose to partially resume business activity from April 3, by no means introducing new measures and gradually canceling the current restrictions."
In poll conducted earlier this week, Gradus, the marketing agency, found that 57% of respondents said they do not have the savings to get through one month. In eastern Ukraine, people on average said they only have enough money for two weeks.
In a concession to farmers, the Cabinet is lifting quarantine bans on the sale of seed, fertilizer, feed, pesticides and veterinary medicines. Food is Ukraine's top export. In a concession to industry, the Cabinet is setting hygiene standards for company buses.
On Wednesday, for the second day in a row, the central bank did not have to sell dollars to defend the hryvnia. "The interbank market is balanced without our participation – at levels close to 28 UAH per US dollar," reports the National Bank of Ukraine Facebook page. Also on Wednesday, the central bank provided 11 banks with a total of $130 million in US currency. A new load of US dollar bills is to arrive in Kyiv in coming days and the bank plans to conduct a similar operation on Monday.
Ukraine's electricity consumption will fall by 8.2% in March y-o-y, UkrEnergo tells Montel, the Norway-based European energy data provider. Separately, Ukraine's State Statistics Service reports these year-over-year reductions in February: coal – 4.7%; natural gas – 2.9%; and gasoline – 2%. Due to the mild winter, Ukraine starts this week to pump natural gas into its storage reservoirs. As of March 1, coal reserves were 4.23 million tons, 56% more than last year.
Losses of Ukraine's concert and theater industry amount to $20 million during the first 10 days of quarantine measures, Dmitry Feliksov, co-owner of Concert.ua ticket service, said on the Freedom of Speech TV show. Predicting that losses will double if quarantine measures are extended through April, he said: "The concert and theater industry is not only about artists. These are tens of thousands of people involved — from drivers, engineers, technical personnel to advertising agencies, ticket operators."
Kyiv apartment rents dropped by one third in March, reports Obozrevatel, citing Maxim Baburyak, a real estate broker.  "Now it's very difficult to rent an apartment," he tells the news site. "There are no showings. Realtors have lost their jobs. Earlier, if a good economy priced apartment got three to five showings a day, now there are not any calls."
Hotel occupancy in Ukraine on Saturday was 86% below one year earlier, STR Inc, reports. Across Europe, 39,988 hotels are closed., reports the US-based hotel industry research company. On Sunday,  revenue per available room in Europe was 44% percent level of one month earlier, a far steeper drop than in 2009. Yesterday, in Golden Gate, Kyiv's historic core, Air B'nB was listing apartments for as little as $18 a day.
Traffic through Ukraine's airspace on Monday was 87% below one year earlier, UkSATSE, the air traffic control agency, posts on Facebook. Overflight fees cover a much of the agency's budget.
Ukraine's aviation industry – largely airlines and airports – could lose $500 million during the first quarter of this year, warns the Aviation Committee of the Ukrainian Chamber of Commerce and Industry.
With Kyiv Boryspil a ghost town, the airport does not enough money to pay its 3,500 employees on leave beyond  early April, airport director Pavlo Ryabikin tells Liga.Net. "We already felt massive non-payments from all airlines," he said.  "Starting from our own, which simply have nothing to pay, and ending with the Turks and KLM, who simply write letters about payment deferrals for three to five months."
Wizz Air, the leading discount carrier serving Ukraine, forecasts that European air travel will normalize in May and most demand will recover in June. However, before then, the air transportation market is shrinking by 25% in March and is to be even worse in April, József Váradi, CEO of the Budapest-based airline tells Index.hu, Hungary's leading news site. Váradi says the airline has a financial reserve of €1.5 billion and is preparing for the recovery by ordering more planes.
From the Editor: Several readers email me confidently predicting the future of the pandemic. I feel safer pondering the past. Oddly, at age 8, my mother lived through the Spanish Influenza of 1918. (Yes, we are slow to reproduce). At the family summer house in the Berkshires, my grandfather read reports of the deadly flu returning to the US Northeast. The American dacha was winterized, they did not return to New York City that fall, and they sat through the plague in an isolated village of 3,000. Meanwhile, in Boston, on the far end of Massachusetts, doctors treating doughboys coming back from France had found that flu suffers had far higher survival rates if they were taken out of their tents and stretched out in the sunshine and fresh air. So, this weekend, open your windows and take a walk in the park. If you see me, keep a 'social' distance. Best Regards, Jim Brooke jbrooke@ubn.news