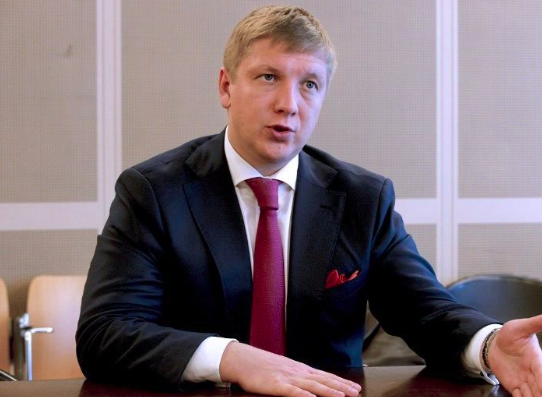 Thursday, March 21
Naftogaz CEO Stays On – at Half Salary…25 Oil and Gas Blocks Up For Auction Through June…Foreign Companies Interested in PSAs… Zelenskiy meets with AmCham and EBA members in Kyiv, Spooks London Bond Traders …But Bonds Sold Well on Wednesday
With the Naftogaz CEO's five-year contract due to expire tomorrow, the government has decided to renew it for one more year. With two elections and the Gazprom gas transit contract expiring, the government evidently decided Wednesday to keep a steady hand on the tiller to traverse a potentially stormy year. In response to the government's objection to his "stratospheric" salary, CEO Andriy Kobolyev accepted a proposal by the Supervisory Board to cut his salary in half, to $19,330 a month without bonuses. Two weeks ago, the Cabinet of Ministers amended the Naftogaz charter to shift hiring and firing power over the CEO from the Board to the shareholders, i.e. the government.
Contract renewal is subject to two other conditions. To meet EU rules, a gas transportation company must take over management this year of Ukraine's gas pipeline system. In addition, Prime Minister Groysman wants domestic gas production to increase to reach energy independence. National production, largely by a Naftogaz unit, accounts for about 70% of Ukraine annual consumption of 28 billion cubic meters. Ukraine has 1.1 trillion cubic meters of gas, the largest proven deposits in Europe, according to the 2018 BP Statistical Review of Energy.
"The Naftogaz production program failed," Groysman complained to reporters, referring to stagnant production by UkrGasVydobuvannya. "The failure of Naftogaz in production creates problems in the country." After the cabinet meeting, Energy Minister Igor Nasalik was equally blunt, telling reporters: "The program adopted by the government for gas production absolutely failed. There is no increase in production, despite the fact that extremely large amounts of money were invested."
To jump-start foreign investment in energy production, 25 oil and gas exploration and production blocks go up for auction in May and June, according to details posted on ProZorro.Sale, the government's online auction house. Seven blocks will be auctioned May 2. Nine more blocks will be auctioned June 18. All blocks are onshore with licenses for 20 years. Separately, production sharing agreements for nine more blocks, with a total area of 11,600 sq km, go up for electronic auction in June. Although no foreign companies bid for licenses in the first round of auctions, on March 6, upcoming rounds are winning news reports in the Oil & Gas Journal and S&P Global Platts.
"There is interest from American, British, Norwegian and Canadian firms," Energy Minister Nasalik told reporters Wednesday, referring to the production sharing agreements. The agreements are for 50 years. The fields are spread among six regions — Ivano-Frankivsk, Lviv, Poltava, Chernihiv, Sumy, and Kharkiv. Interfax-Ukraine writes: "It is assumed that the state's share in profitable products should be at least 11% of its total volume, the maximum investor's share – 70% of total production." Later this year, production sharing agreements for three more fields are to go up for auction.
To prepare for a winter without Russian gas, Ukraine should store an extra 18% of gas in its reservoirs this summer and fall, Kobolyev, the newly re-empowered Naftogaz CEO, tells RBC-Ukraine. Naftogaz officials are pessimistic that Gazprom will send much – or any – gas through Ukraine's pipelines after the transit contract expires on Dec. 31. Kobolyev said: "Many experts, whose opinion I appreciate, believe that the Russian Federation will interrupt transit from January 1." With Russian gas supplies through Ukraine to the EU in doubt, Gazprom has said it plans to stop supplying gas to Turkey through Ukraine next year.
Sliding gas prices in Eastern Europe will allow Naftogaz to charge Ukrainian households 2% less for gas in April than in March, the state energy company reports. Last November's move to raise household gas prices by 23.5%, toward the regional market parity, is a big issue in the campaigning before the March 31 presidential election and the expected April 21 runoff. In April, industrial customers will pay 19% less for their gas. UNIAN calculates the industrial price of $262/1,000 cubic meters will be 14% cheaper than household gas. Due to dropping gas prices at European gas hubs, Ukraine's prices are now at import parity. The government plans to talk with the IMF to drop a December commitment to raise gas prices by another 15% in May.
After riding a near 10% rise in the value of Ukraine sovereign bonds since the start of the year, foreign holders of Ukraine bonds are selling and taking profits, citing concerns over the presidential election, Reuters reports from London. In a recent briefing in London, former finance minister Oleksandr Danylyuk apparently did not ease concerns about Volodymyr Zelenskiy, the leading candidate in opinion polls. "He lacks political and public administration experience, and that is where the market reacts with its feet," Kevin Daly, investment director at Aberdeen Standard Investments, tells Reuters. "On a Poroshenko win, you probably have a mild rally, and if you get Zelenskiy or Tymoshenko, you'll have a much larger sell-off."
Former central bank governor Valeria Gontareva "painted a stark picture" of a Zelenskiy government in a separate London briefing. Zsolt Papp, emerging market debt specialist at JPMorgan Asset Management, later told Reuters: "Poroshenko is a case of 'better the devil you know' – he is a known quantity for markets, we know what he has done and what he hasn't done."
At a meeting with leaders of the American and European chambers of commerce on Monday, Zelenskiy stressed he wants to keep on track with the IMF and "will not return PrivatBank" to its former owner, Ihor Kolomoisky, reports the Kyiv Post. Fostering his campaign image, dressed in a black tee shirt before the chambers' members, Zelenskiy said: "I work, develop my business, and pay taxes, and I'm one of those people who shape the positive image of Ukraine abroad." He promised to fight corruption, start real judicial reform and to promote e-government.
 Ukraine's Finance Ministry raised UAH 12.5 billion, about $463 million, at its weekly bond auction on Tuesday. This is more than triple the UAH 3.5 billion in equivalent raised last week. The government satisfied all bids for dollar-denominated bonds, $85.2 million. Concorde Capital's Evgeniya Akhtyrko writes: "Investing in UAH-denominated government bonds is very rewarding at the moment as interest rates remain high…. As at the prior auction, a significant share of UAH auction receipts came from the sale of 2Y bonds. This a positive development indicating some growth in investor confidence."
French airline Aigle Azur launches Kyiv Boryspil's sole direct flights to Paris-Orly on April 18. From its Orly hub, Aigle Azur offers connections to Algeria, Brazil, and China. Orly is France's second busiest airport, after Charles de Gaulle, and closer to central Paris –17 km to the south.