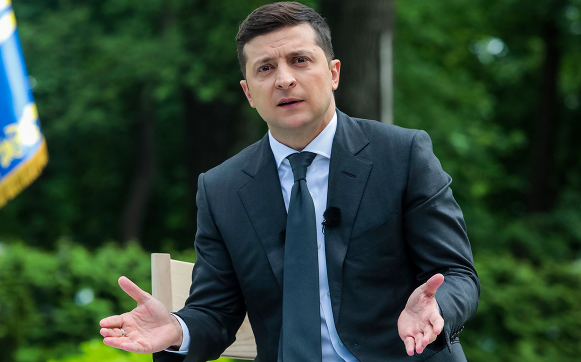 Fresh from purging the leadership of the central bank, President Zelenskiy told business leaders yesterday that Ukraine's exchange rate should match the rate in the national budget – 30 hryvnia to the dollar. That would represent a 11% devaluation from today's National Bank of Ukraine rate — 26.93 hryvnia to the dollar. Last December, the hryvnia strengthened to a recent peak of 23.22 to the dollar. Today's rate is half of one percent weaker than one year ago, July 8, 2019.
"Companies lost millions and closed because of this rate – this is true," he told business leaders in Chernivtsi, reports Interfax-Ukraine. "We have been fighting this since the very beginning of my term, since [last] summer…We told everyone: how can we live, if our budget is calculated at the rate of Hr 30 per $1, and you see what hryvnia we have? We were told that these are market conditions, the bank is independent, etc."
Zelenskiy took aim at Valeria Gontareva, former head of central bank. From self-exile in London, she urged the IMF to ask for their money back if Ukraine's president dilutes the independence of the central bank. The president retorted: "There are enough people who 'help' Ukraine from abroad. But we know how many Ukrainian enterprises that just closed because of this exchange rate."
The State Security Service, or SBU, took a more censorial tack, posting on Facebook that it "considers it inadmissible to declare statements that could harm the national security of the state, in particular in the financial and economic sphere, and adversely affect the situation in the country. We urge any expatriates to refrain from making any such ambiguous comments and to take care of Ukraine's national interests and not to sow panic among the population and shake the economic stability of the state."
Tim Ash writes from London: "SBU in effect telling Gontareva, Smoliy and Churiy to shut up as Zelensky and crew take over the NBU… Clear Zelensky wants a team at the NBU who will do his bidding, cutting policy rates and weakening the UAH to boost growth."
Ukraine's foreign reserves hit $28.5 billion on July 1, the highest level in eight years, reports the National Bank of Ukraine. Boosting reserves 12% over the June 1 level, the IMF deposited its first tranche – for $2.1 billion – on June 12. This deposit triggered hundreds of millions of dollars in additional deposits by the EU and the World Bank.
"There likely won't be any more [IMF] tranches distributed to Ukraine, unless the new NBU Governor is acceptable to the IMF and its conditions are met," Robert Homans writes in a bne IntelliNews article headlined: "Smoliy's Resignation and the soft coup underway in Ukraine."  "The definition of a "soft coup" is a forcible change of government control but without the use of physical force," he writes. Listing 'Euromaidan Reformers' who have been purged from the government in the last 90 days, he concludes: "These developments potentially increase the flow of graft in Ukraine, for the likely benefit of the coup plotters, a flow that was staunched by many of those who have been removed from their posts."
Turkey hopes 100,000 Ukrainians will visit Antalya this month, down from 145,000 in July 2019, Interfax-Ukraine reports from Antalya Airport. Ukrainian groups go to Turkish hotels that follow Covid containment practices, says Nurkhan Kaplan, deputy director of local partner of Coral Travel. Yesterday, the online arrival board of Antalya Airport showed flights arriving from Germany, Kazakhstan, Serbia, and Switzerland. There were nine flights from Germany and nine flights from Ukraine — from Kyiv, Kharkiv, Lviv and Odesa. Tourists planning to fly to Turkey need health insurance to cover Covid treatment.
Ukraine's Foreign Ministry is asking airlines and travel agencies to stop selling tickets to countries that don't allow Ukrainian tourists to enter. With Ukraine's Covid infection rate well above the EU cutoff of 25 per 100,000 people, it is unlikely that normal travel will resume to the EU this summer. Ukrainians who first spend two weeks in a country rated 'Green' by the EU are allowed to enter the EU for tourism. Last weekend, 13 Ukrainian tourists were detained at Athens airport and later returned to Kyiv.
Five Balkan nations, Albania, Croatia, Montenegro, North Macedonia, and Serbia — welcome Ukrainian tourists. Visitors planning to fly to Croatia should fill out this Croatian Tourism Ministry form.
Betting that air travel will normalize next year, Ryanair next summer will add five new routes between Lviv and five Italian cities: Bari, Naples, Palermo, Turin and Treviso (Venice). On Monday, Ryanair flew its first Ukraine-Italy flight since March – from Kyiv Boryspil to Milan Bergamo. The discount airliner says it will fly 11 Ukraine-Italy routes this summer, with a frequency of 28 a week. The flights target Ukrainian women who work as caregivers in northern Italy.
Ukraine's beach resorts – on the Black Sea and Azov Sea – are booming this summer, Vodaphone Ukraine reports citing movements of 4G users. "Judging by the increase in Internet traffic and the number of 4G users, in general, domestic tourism in Ukrainian sea resorts in Odesa, Mykolaiv and Kherson regions has grown by 30% compared to the same weekend last year," Vodaphone says, referring to Constitution Day weekend. In Donetsk region, tourism booms in three Azov beach towns in the 50 km stretch from the frontline city of Mariupol to Zaporizhia oblast. From west to east, Vodaphone reports 4G users are up: 101% in Urzuf; 124% in Yalta (Donetsk); and 117% in Bilosaraiska Kosa.
Shut off from the EU after three years of visa-free access, Ukrainians will discover that Ukrainian hotels and amenities modernized while they were away, Peter Dickinson writes in an Atlantic Council UkraineAlert blog. "The post-Soviet stereotype of moribund Ukrainian holiday resorts is now out of step with the upgraded reality of the country's increasingly competitive tourism industry. With record numbers of Ukrainians set to discover this for themselves as they spend their 2020 vacations in Ukraine, the country's hospitality sector could emerge as one of the few Ukrainian industries to benefit from the coronavirus crisis."
To answer foreigners' questions about entering Ukraine, the government launched this week Visit Ukraine Today, an internet site that provides information on entry and exit requirements for foreign travelers who plan to visit Ukraine. The website contains information about self-isolation, and medical insurance. It also shows how to take a COVID-19 PCR test and submit results through the "Dii vdoma" app to exit self-isolation.
Ecolines resumes bus service from Kyiv to Moscow today and from Kyiv to St. Petersburg on Saturday. Rail service was suspended in late March due to the coronavirus epidemic. There have been no commercial air flights between the two countries since Oct. 2015.
From the Editor: After the slow motion purge of the Euromaidan Reformers, the question is: how will they react? Kyiv, the king-making city, has been more skeptical of Zelenskiy than the rest of the nation. But it is the slow days of summer. The Rada starts its 6-week break on July 17. People take off for the beach or their dachas. Drop a frog in hot water, and it will jump out. Better to put it in a big pot, and then slowly turn up the heat. Zzzzz…With best regards, Jim Brooke jbrooke@ubn.news