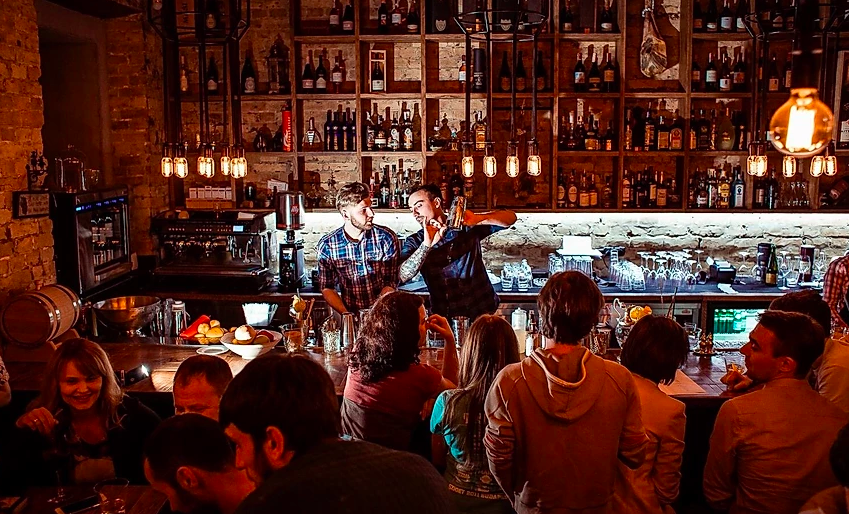 Thursday, June 4
Kyiv-Odesa Flights Start Tomorrow...Indoor Restaurant Seating Resumes Tomorrow...Bureaucracy Keeps Migrant Workers from Working...EU Gas Pain = Ukraine's Gain...Solar, Wind Companies Take Their Case to IMF...Corona Recession Pulls Down Steel and Construction...
Tomorrow domestic air flights and indoor restaurant service are to resume, ending nearly a nearly 3-month corona suspension, Prime Minister Shmygal announced yesterday. He confirmed that international flights re-start June 15.
UIA responded immediately, announcing Kyiv Boryspil – Odesa flights for Friday and Saturday, with returns on Monday and Tuesday. The cheapest seat is $55 one way. Windrose Airlines lists its first flights on Saturday, between Dnipro and Lviv.
UIA offers two more flights from the US to Kyiv – from Seattle tomorrow and from Miami on Tuesday. The flights are only open to Ukrainians and foreign residents of Ukraine. After arrival, passengers are to go into two weeks of self-isolation. From Kyiv, tickets are on sale for the Miami flight.
With next Monday a holiday in Ukraine, hundreds of restaurant workers banged pots in front of the Cabinet of Ministers Tuesday, demanding restoration of full service for the 3-day weekend. Garik Korogodski, co-owner of Dream Town mall, wrote on Facebook: "One million Ukrainians work in the industry. That's how many people are sitting at home with no money and waiting." According to OpenDataBot, 76% of Ukraine's restaurants were working at the end of May. Restricted to takeout and to summer terraces, they earned 56% of pre-lockdown revenue. Before the protest, the Prime Minister said restaurants would open June 10.
Ukraine's migrant workers, free spirits who often took casual jobs in the EU for less than the 90-day visa limit, increasing are desperate to get back to work, Politico Reports in a story headlined: "Ukraine's trapped migrant workers look for roads back to Europe." Workers are hitching rides west with long distance truckers, or using car pools set up on social media networks. "Ukrainians who were making a living in Europe and hurried back now find themselves stranded at home, cut off from their source of revenue as authorities enforce strict new rules about who is allowed out of the country," reports Lily Hyde. Evgenij Kirichenko, founder of Gremi Personal recruitment agency for Polish employers says two thirds of Ukrainians who came home before the coronavirus lockdown now want to go back.
The government squeezed the migrant flow to a trickle by requiring a minimum three-month contract, medical insurance, housing and organized transport there and back. These new rules "strongly affects people's rights to freedom of movement and right to leave the country," says Pavlo Kravchuk, spokesman for Europe Without Borders, a Ukrainian NGO.
On July 6-7, Ryanair restarts flights between Ukraine and Italy, a major destination for Ukrainian elderly care workers. Flights will leave from Kyiv Boryspil, Kharkiv, Lviv and Odesa. Flights go to Bolognia, Catania (Sicily), Milan Bergamo,  and Rome Fiumincino.
With a gas glut spreading in Europe, Naftogaz is well positioned to earn record rents storing EU gas in Ukraine's western reservoirs, says Yuriy Vitrenko, the state company's outgoing number two. Now covered under a duty free 'warehouse' regime, the reservoirs can hold 31 billion cubic meters. If Ukraine increases its own stocks from 18 bcm today to 21 bcm, last year's pre-winter level, 10 bcm will be available for European traders to rent.
Natural Gas May Be the Next Commodity to Trade Below Zero headlines a story about the world gas glut – over supply caused by two mild winters, the corona recession and high production. "Unlike the oil market, there's been no sign of a coordinated response to address the glut, meaning the fallout could be deeper and longer," Bloomberg writes referring the production control pact between Russia and OPEC that has brought oil back to $40 a barrel. Noting that EU storage is at a season record of 73% of capacity, well above the 5-year average of 45%, Bloomberg warns: "The key factor is the lack of storage to absorb excess supply. Traders and analysts point to Europe as the first market likely to hit that crisis point [negative prices]."
Solar and wind energy companies have written to the IMF saying the government's plan to lower energy tariffs complicates the country's cooperation with the IMF and turns off future foreign investors. Faced with mounting electricity bills, the government has asked renewable operators to 'voluntarily' accept rate cuts of 10-20%. The investors wrote: "We are concerned that the government of Ukraine may be on verge of going beyond the mediated solution and seeking to impose punitive, retroactive unilateral changes to renewable energy sector contracts." Talks have dragged on for nine months.
On Tuesday, the IMF Executive Board will review the proposed $5 billion Standby Arrangement with Ukraine, according to the IMF calendar posted last night.
President Zelenskiy's future 'investment nannies' are profiled in a Bloomberg article that describes the archetype as  "a dedicated local minder to navigate the former Soviet republic's often hair-raising bureaucracy." Noting that Ukraine attracted only $2.4 billion in foreign direct investment last year, the article reports: "Zelenskiy wants to attract $7 billion from abroad in the next 18 months, trading tax breaks for thousands of new jobs in factories and logistics centers." After interviewing Olga Magaletska, director of the 'nanny' project, the Bloomberg reporters conclude: "With strong agriculture, metals and engineering industries, Ukraine can be a place for multinational companies to expand facilities for food processing, spare parts and finished goods."
Ukraine's steel production was down 11% during the first five month of this year, compared to the January-May period of last year. According to Ukrmetalurgprom, the steelmakers association, the drops were: pig iron – 10%; steel – 11% and rolled metal – 18%. Last year, the combined total of these three categories was down about 2% over 2018.
Ukraine's construction slump sharpened in April, with construction work dropping 16% y-o-y, reports the State Statistics Service. Residential was down 29%. During the first four months of the year, construction was down by 9%, to $1.3 billion. In Kyiv and Lviv regions, construction during the first four months was up 5%. In Kyiv city, the nation's largest market, construction was down 9%, to $331 million.
On the Move:
Daniel Bilak, former chief investment adviser to the Prime Minister of Ukraine, joins Kinstellar as Senior Counsel. Bilak, a Canadian lawyer with almost 30 years work experience in Eastern Europe and Ukraine, most recently created and headed UkraineInvest, the government investment promotion agency.
Peter Teluk, most recently advisor on investment, privatization and governance to the Economy Minister, joins Sayenko Kharenko as partner. Teluk, an American lawyer, work for almost a decade as managing partner of the Kyiv office of Squire Patton Boggs.
From the Editor: It will be good to see scheduled air service resume tomorrow. It seemed a mite odd to allow buses, trains, and BlaBlaCars to make the 5 to 7-hour overland trip between Kyiv and Odesa, but to ban airplanes from making the 1-hour hop. Hopefully, the Black Sea resorts can salvage some of their summer season. With Best Regards Jim Brooke jbrooke@ubn.news